As I'm regularly reminded by the video that plays each time I board an American Airlines flight, "There are so many places to go in this world..." While I've been fortunate enough to visit many wonderful destinations, until recently, Santa Fe, New Mexico has not been one of them.
Having just returned from this Southwestern Shangri La, I can honestly say that I'd return tomorrow. There's something about the light and the air and the general vibe that make it inviting, intriguing and endlessly interesting to me.
It's also safe to say that I've never visited a city as friendly as Santa Fe. From the cab drivers to the staff at the hotel, to retailers to strangers on the street, this town is populated by people who clearly love it -- and love sharing it with others. And if I heard this line once during my visit, I heard it a hundred times: "I came here for a visit, and I never left." After my trip there, it's easy to understand why so many visitors become residents.
Starting with the airport, I was immediately charmed by the adobe architecture, and the terra cotta and teal tile work. In fact, the exposed wooden beams and gentle lighting made it feel more like a lodge than an airport. As we shared a shuttle from the airport to the hotel with others, I felt a bit like the visitors who just arrived on "Fantasy Island" (sans Mr. Roarke and Tattoo).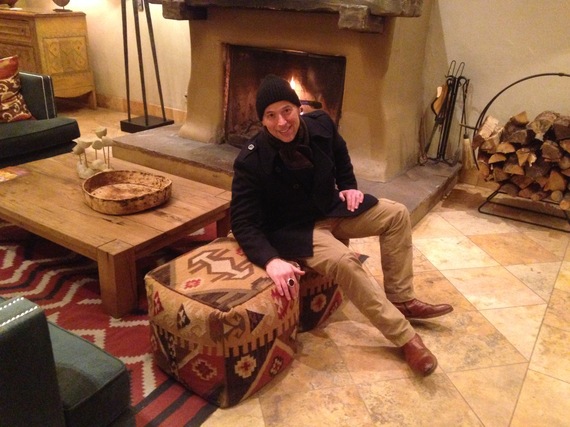 The lobby at The Hilton Santa Fe Plaza was intimate and inviting.
A Most Historic Hilton
Whenever possible I prefer staying at historic hotels, as they often provide an authentic home base while in another city. The Hilton Santa Fe Plaza was exactly that and more. Originally the home of Santa Fe's founders, the Ortiz family, this hotel's 350-year-old adobe walls are literally rooted in history.
There are many historical markers in and around the property, but one told me what I needed to know right away. It seems the Ortiz family walked from Mexico to this location and began building Santa Fe's first structure, thus becoming the city's first family.
While the hotel offers every modern convenience, it is warm, intimate and feels very true to the vibe of Santa Fe. The lobby is small, yet grand, with a welcoming fireplace, Native American pottery and comfortable seating. The rooms are generous and well appointed with original artwork and furnishings that feel fitting for the Southwest without ever feeling forced or hokey.
The Concierge (aka my new friend Jane) provided customized suggestions based on our interests and even gave us information to help us on our next trip (to Amsterdam). Every staff member from housekeeping to front desk was charming, friendly and incredibly helpful.
For one of the oldest buildings in Santa Fe, the property is in fine condition (adobe walls are made to last), and it is centrally located in the Historic Plaza, which is filled with shops, museums, and lots of other historical properties. Since we didn't have a car, this was key in creating a very easily navigable trip.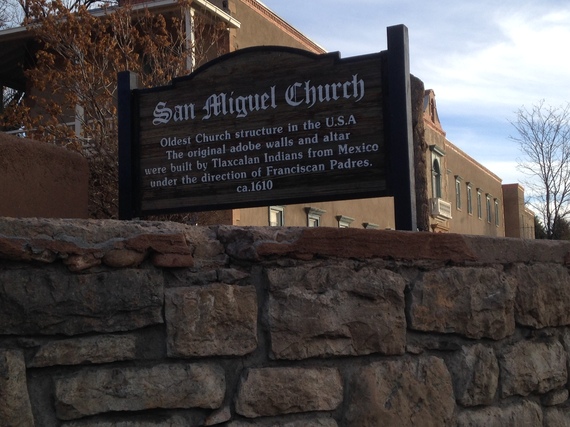 The oldest church in America is in Santa Fe.
The Oldest House and The Oldest Church in America
Two historically significant structures are just a short walk from the historic plaza: America's oldest private home and America's oldest church.
One of the many reasons I love to travel is that I am fascinated by history and love learning about new places. I would have figured the oldest house and the oldest church in America would be somewhere in New England, but that is not the case. It turns out they are both in Santa Fe.
At face value, the home is pretty unremarkable. It's just a very small adobe structure. I think the coolest thing about it is the very idea that you're standing in front of the oldest house in America. Since it is a private home, we didn't get to see the interior, so maybe that would have sweetened the pot a bit.

While the oldest house wasn't much to look at, the one next door was kinda cute, and it was for lease. Something to ponder...
Just across a narrow side street, The San Miguel Mission (otherwise known as the oldest church in America) was a bit more intriguing than the house. It is nothing grand or flashy, but that's part of its charm. With the aroma of incense wafting outside, the sweet, humble mission embodies the beauty of simplicity. And at $1.00 Admission, it is accessible to all.
Both are stops on The Santa Fe Trail, which is another fascinating historical walk, which is easy to hop on while touring the town.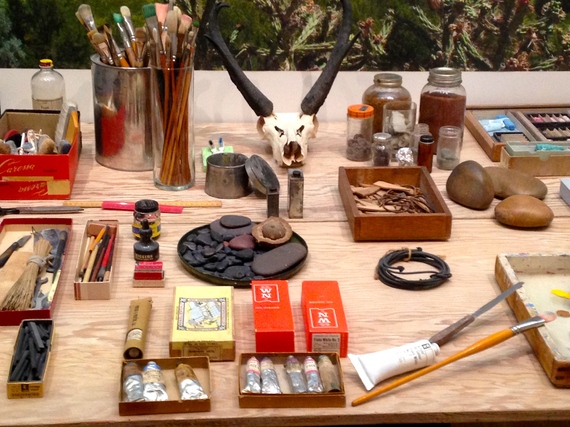 A tablescape in the "Ghost Ranch" exhibit at The Georgia O'Keeffe Museum.
The Georgia O'Keeffe Museum
Also a short walk from the historic plaza is this fine, intimate museum dedicated to the artist who fell in love with New Mexico and created many of her most famous paintings there (think landscapes with skulls and flowers).
Shortly after entering, we watched two films all about O'Keeffe's love of Santa Fe and her establishment of "Ghost Ranch" in Taos, NM. The films captured O'Keeffe's awe of the land and the light of Santa Fe, which reverberates throughout so much of her work.
After that we had the good fortune to see a fantastic exhibit called "Ghost Ranch Views," which paired works she created there with settings and artifacts from the actual ranch itself. O'Keeffe purchased the ranch in 1940 and spent summers there every year thereafter.
A tablescape with paintbrushes, still life props and other artistic elements are set on a table in front of a picture window that shows a very realistic looking view of what the artist saw when she painted. As a person who appreciates personal artifacts, I greatly enjoyed this exhibit. Seeing one of O'Keeffe's original paint boxes filled with tubes and tools was a real treat.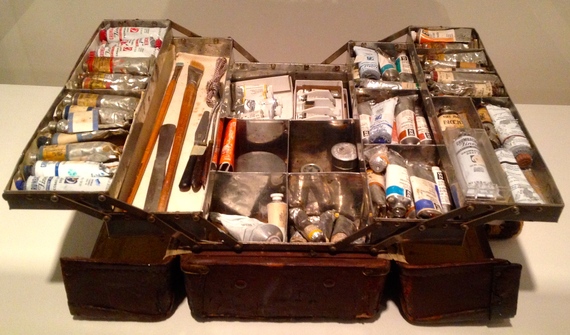 One of Georgia O'Keeffe's paint boxes was fun to see.
The exhibit was by far my favorite aspect of the museum, but a close second would be some of the black and white photography of O'Keeffe that suggests she had a great sense of humor. In one, taken in 1937 by Ansel Adams, she's sporting a particularly impish grin as she shares the screen with Orville Cox. In another from 1944 called "Georgia O'Keeffe Hitching A Ride To Abiquiu" by Maria Chabot, she's all smiles on the back of motorcycle.
The insight into O'Keeffe's personality and opportunity to see behind the scenes of her work made me appreciate this artist even more. I can't wait to return to New Mexico to visit the ranch itself.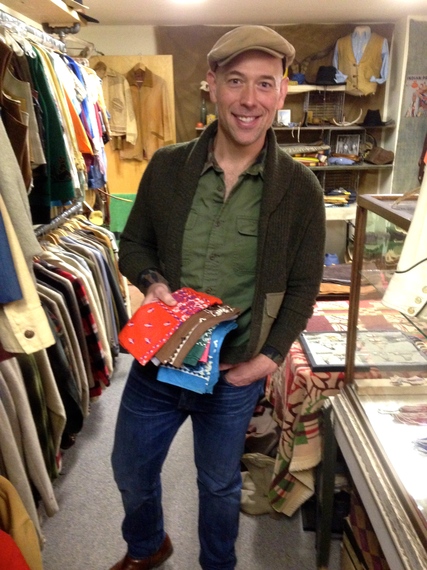 I was in Bandana Heaven at Santa Fe Vintage.
Santa Fe Vintage
No trip for me is complete without some vintage shopping. Since I'm a huge fan of Southwest and Cowboy style, I was biting at the bit to dive in and see what I could find. Santa Fe Vintage was recommended to me by multiple friends and fashion mavens who told me point blank: "If you go to one place while you're there, make this that place."
The showroom is by appointment only, so I dialed the owner, Scott Corey, to set it up. Within the first minute of the call, I felt like I was on the phone with an old friend. Since his showroom was not walking distance from the hotel, he said if we took a cab there, he'd drive me back into town.
When we arrived, I felt like the vintage clothing heavens had opened up. Before me there were multiple rooms (and floors) of beautifully curated one-of-a-kind garments, accessories and objects. After a warm greeting by Scott and his colleague Teresa Mascia, I was ready to get shopping.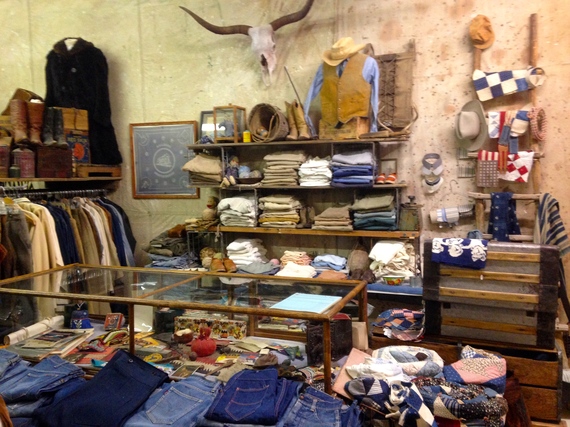 Just one small glimpse at the beautifully curated collection at Santa Fe Vintage.
As my eyes began to adjust to the seemingly endless -- and surprisingly orderly -- array of garments, I began to navigate the vintage oasis. I soon realized that while I could spend days there, I needed to get it together and focus. So after a few deep breaths, I started shopping.
The first thing I scored were some vintage bandanas (not just your run of the mill red or blue bandanas -- ones with three colors and interesting patterns, which are harder to come by).
Then I moved on to coats. I found a WWII barnstormer trench with a shearling collar and a glove coat with great Catalan toggles and rope closures.
As I shopped, I chatted with Teresa who is in charge of the mending and repair of the garments. Also a visual artist, Teresa told me about her process of repair. She literally endeavors to get in the head of those who might have worn the garments originally -- and those who might have done the mending.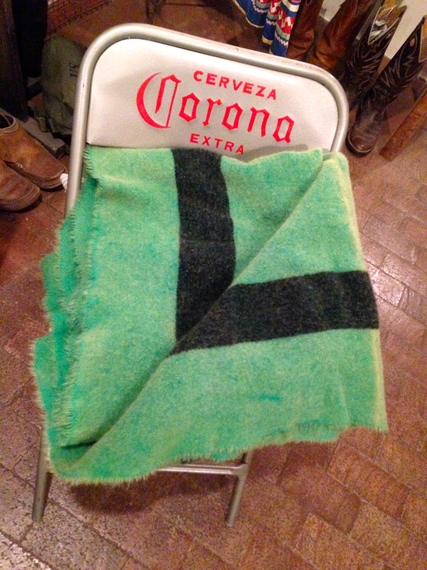 One of many vintage blankets that caught my eye at Santa Fe Vintage Outpost.
She made sure to indicate that she doesn't 'over-mend' or adorn, but rather, provide a simple and often visible fix. Clothing for working people was meant to last, and the clothing here has stood the test of time. My fascinating conversation with Teresa made me all the more engaged in the care and preservation of vintage clothing. And since I do my own mending, I was grateful to compare notes as well!
Next up were blankets. Scott had a myriad of beautiful ones. But before I got too far into the selection, he let me know he had another location in town that was open to the public. So since we had to get going anyway, we headed there next, with Scott as our driver and guide.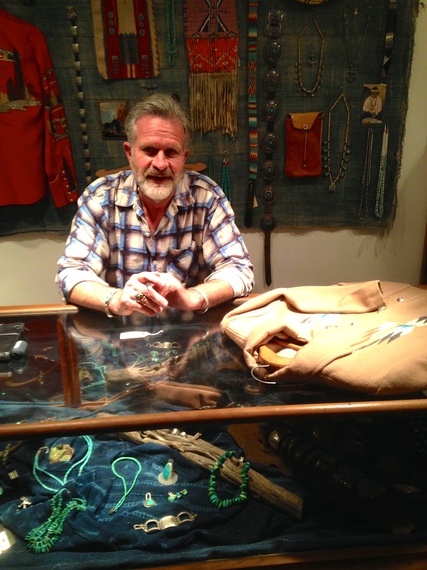 Owner Scott Corey at Santa Fe Vintage Outpost.
Santa Fe Vintage Outpost
Santa Fe Vintage Outpost is back at the historic plaza and like the showroom, it is filled with a sensational selection of one-of-a-kind statement pieces. As an antiques dealer and designer, I was attracted not only to the merchandise, but to the artful arranging of it as well.
Also on display are beautiful pieces of jewelry by Julienne Barth, who shares the space with Scott. Their merchandise lives together in perfect harmony and everywhere you turn there are one-of-a-kind garments, baubles and home furnishings.
I found a black leather biker jacket with a band collar. I've been looking for one for years, but hadn't found one with the right fit. This one not only fit like a glove, but it also has just the right amount of age, so the leather is supple and has a great patina.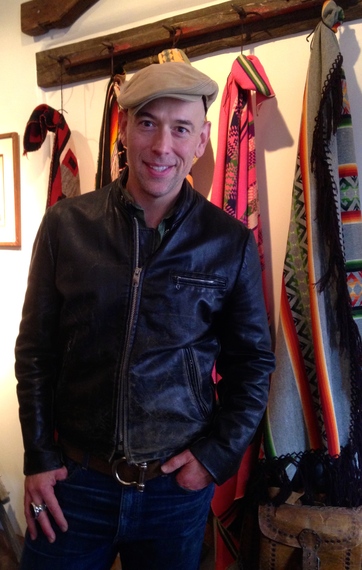 This perfectly aged biker jacket was a great fit and a great buy.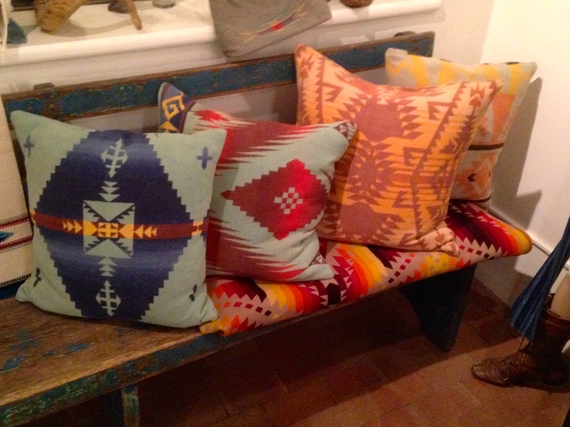 Pillows made from vintage blankets at Santa Fe Vintage Outpost
Before we left, Scott asked if we'd like to meet another dealer the next day. Of course I did. So Scott agreed to pick us up and drive us to the private showroom of Peggy Gonzales, proprietress of Pegasus Antiques.
For the sake of space I'll just say that the next day at Pegasus was another opportunity to shop, learn and meet another Santa Fe citizen. Like Scott, Peggy has a great curatorial eye and her showroom was filled with every imaginable category of antique. There I found some holiday gifts and a vintage Santa Fe Chevrolet License Plate as a vintage souvenir for myself.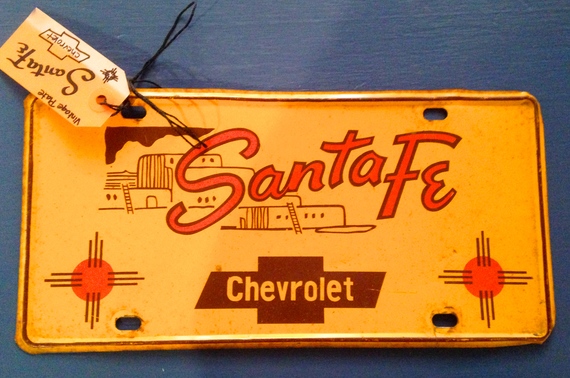 A perfect vintage souvenir of Santa Fe from Pegasus Antiques.
On the way back from Pegasus, Scott pointed out a goat herder's chapel on the side of the road. We pulled over for photos, of course. In that moment, I felt such gratitude for my new friend, who went out of his way to give us an experience that is mostly reserved for locals or those in the know. Meeting Scott and those he introduced us to was an enormous highlight of the trip, and it underscored that seemingly ubiquitous kindness that I found in Santa Fe.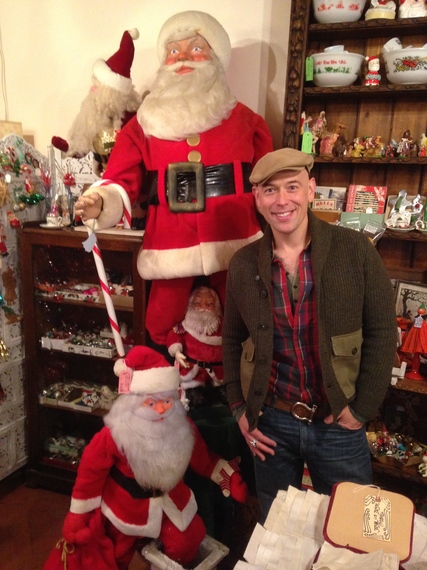 I got in the holiday mood in the Christmas area at Pegasus Antiques.
The Rail Yard Flea Market
In addition to vintage clothing hunting, I try to add at least one flea market to every trip. I was happy to learn that The Rail Yard Flea Market was going on while we were visiting. Outdoors in the summer and indoor in the winter, this market features homemade food, live music and a lot of incredibly sweet people.
As I made my way in and around the booths, I was taken in by great vintage clothing, art and artifacts. One of the favorite things I spied was a New Mexico Road Sign. In addition, I found some great ephemera, jewelry and gifts.
Since it seems every one in Santa Fe is either an artist -- or at the very least, artistic -- I enjoyed seeing creations such as handbags made out of vintage Native American textiles known as saltillos. I also saw a lot of jewelry and original artwork.
Like all great flea markets, it felt like a community to me, and I enjoyed meeting the locals and making some new friends.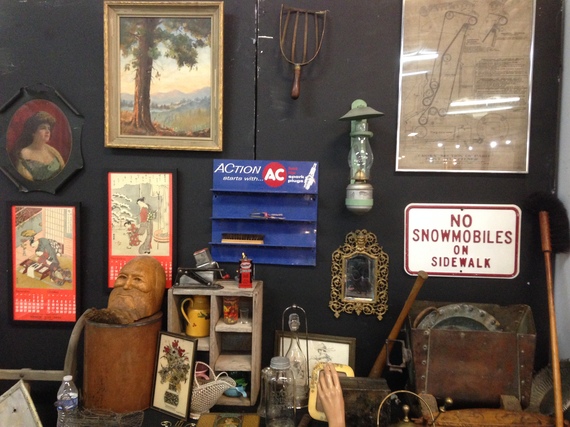 An inviting corner of The Rail Yard Flea Market.
A Favorite Local Restaurant
A quick walk from The Rail Yard Flea Market is a Mexican restaurant highly recommended by the locals called Tomasita's. Family owned and operated for over 40 years, this lively place has great, authentic Mexican food and excellent service.
I had a burrito bathed in green sauce and some fantastic guacamole with a bit of a kick. A feast for the eyes and the palate, the food was hearty and flavorful.
In fact, it was so good I ignored the breadbasket. Who needs bread at a Mexican restaurant, right? Wrong! As it turns out, just about every culture has a variation of fried dough that sets your taste buds' dial to DROOL. Such was the case with the bread at this establishment. It was essentially, a light, airy, sweet dough served with honey butter. So naturally it was dessert.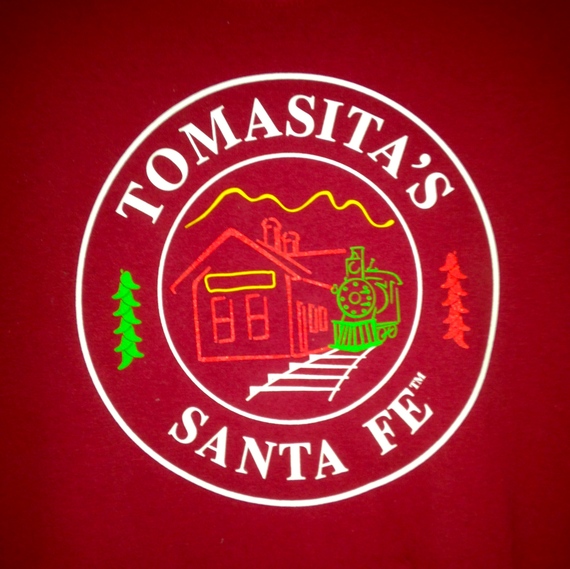 Tomasita's is a fantastic Mexican restaurant I'd highly recommend.
With a very full stomach, I appreciated the opportunity take the long road home and walk a bit of it off. But no regrets -- it was a meal I'll not soon forget. In fact, the entire trip -- while just a long weekend -- was one of my most memorable and enjoyable to date.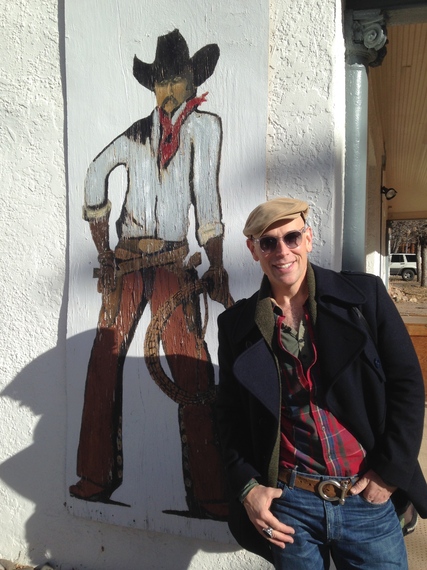 I break for cowboy murals.

The Hilton Santa Fe Historic Plaza: http://www3.hilton.com/en/hotels/new-mexico/hilton-santa-fe-historic-plaza-SFEHIHF/index.html
The Georgia O'Keeffe Museum: http://www.okeeffemuseum.org
Santa Fe Vintage: http://santafevintage.com
The Rail Yard Flea Market: http://www.santafeflea.com
Tomasita's: http://tomasitas.com
WATCH THE VIDEO: Tag Along As I Visit The Rail Yard Flea Market in Santa Fe:
Video by Blake Drummond