Some half-million people live in the balmy Mexican city of Tuxtla Gutierrez, and tonight it looks like every one of them has shown up at a downtown square known as Marimba Park. Surrounded by dancers, musicians are beating out hip-shaking salsas, merengues and socas on the wooden slats of their xylophone-like marimbas, backed by blaring trumpets and saxes.

Tourists are welcome to get out there and shake it up, too, even if you're trying to make a Texas two-step work for a Latin three-step. But it's all in fun, and foreigners willing to take a shot at it are rewarded by applause from the crowd. The party goes on every night, from 7 p.m. to 9 p.m. And it's all free, other than what you'll shell out for snacks and drinks from sidewalk vendors and at nearby cafes.
Tuxtla is usually the first stop on tours of Chiapas, Mexico's southernmost state. Visitors get here on jets from Mexico City or on group tour buses from elsewhere in the country.

After checking out the park, most foreigners go back to the city's half-dozen tourist-class hotels, grab a quick Chiapanecan dinner (ranging from hot to blast furnace hot) and hit the sack for a busy sightseeing schedule the next day.

It's just 45 minutes up the road from Tuxtla, but the 16th century colonial town of San Cristobal de las Casas might as well be on another planet. For one thing, it's chilly up there. For another, many of the 130,000 "Coletos" as the locals are known dress like they did centuries ago when Spanish conquistadores ruled their lands. What's more, at times the whole town looks like a stage for a giant handicrafts show.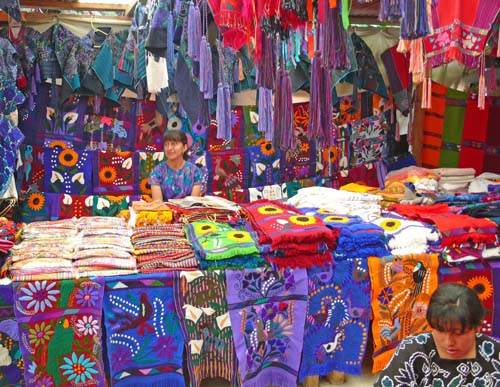 One shopping area is a maze of hundreds of side-by-side tents surrounding San Cristobal's main cathedral. Here, tourists ambling along the narrow lanes find themselves in a wonderland of stunningly gorgeous shawls, blouses, placemats, tablecloths, blankets, jewelry and the like, all hand made and at bargain prices (and even lower depending on your haggling skills).
Look close, and you'll see two unusual items for sale. One comes from the Zapatista rebellion begun in Chiapas in 1994, led by the masked, gun-toting Subcomandante Marcos. Besides putting the state on the map - for awhile, news coverage of the uprising showed up almost nightly on TVs around the world - the event spawned a sort of cottage industry in these parts: Vendors sell everything from coffee cups, keychains, tee-shirts and baseball caps to cute little stuffed figures clutching AK-47s, all bearing a likeness of the charismatic Marcos.
The other is amber, a rare, fossilized tree resin from the age of the dinosaurs. Price tags depend on a piece of amber's size, coloring and what was trapped inside it millions of years ago. Pieces containing bugs sell for thousands of dollars.
Loaded down with treasures and trinkets, visitors check out of the city's 10 or so three-star hotels and hop back on their buses to continue their tours. Some head south to Chiapas' beach resorts along the Pacific, while others go east to more colonial cities and then on to the natural wonders of the 820,000-acre Montes Azules Biosphere Reserve.
Still others go on to archaeological sites, such as the sprawling Mayan ruins at Yaxchilan and Bonampak at the eastern edge of the state bordering Guatemala.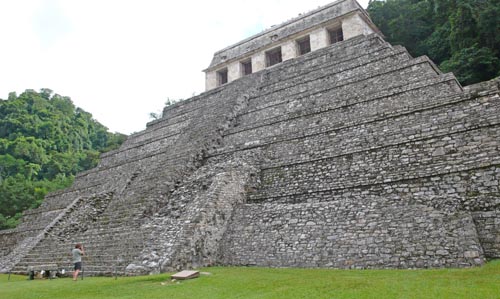 On its northern edge, about a five-hour drive from San Cristobal, are the better known ruins of Palenque. The grounds are usually packed with tourists scampering around its towering pyramids, tombs of ancient kings and other spectacular monuments, more than 200 in all. The city was once home to 10,000 people.
After spending the night at hotels in the modern-day Palenque City, visitors can take an hour-and-a-half van ride to Villahermosa to catch a jet heading back to Mexico City. For others, the tour buses await for more adventures.
About the cities' names
Tuxtla Gutierrez: The first word is said to come from a Mayan expression meaning a place is full of rabbits. The second honors Joaquin Miguel Gutierrez, a Chiapanecan hero in the mid-1800s. San Cristobal de las Casas: The name combines the city's patron saint, St. Christopher, with the latter part of the name of Chiapas' first bishop, the beloved Dominican Friar Bartolome de las Casas (1484-1566).
More info: Visit the Mexico Tourism Board at www.visitmexico.com. The state's official site (in Spanish only) is www.turismochiapas.gob.mx.