Each year, thousands of people in the travel business flock to Mexico for a trade fair called Tianguis, a word borrowed from the old-time Aztecs meaning marketplace. Ancient traders gathered to dicker over things like feathers, corn and chocolate; today, Tianguistas haggle over hotel rooms, airline seats and things to see and do on the ground.
Next time you're planning a vacation south of the border, chances are the bargain rates you'll see in the travel ads -- one might say: "7 nites in Los Cabos for $750 PPDO incl. air" -- came from a deal cut at Tianguis.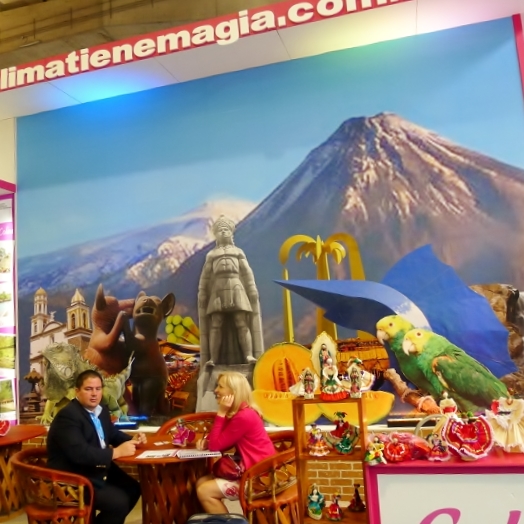 Travel 'buyer' and 'seller' do business at the fair.
This year's fair, recently held in the colonial city of Puebla southeast of Mexico City, was attended by some 7,000 delegates. Most were "suppliers" (representing Mexican resort areas, individual hotels, airlines and ground operators) who came to meet 673 "buyers" (mainly wholesalers or tour operators who put air and ground packages together for sale to the public through travel agencies) from Mexico, the U.S., Canada and 40 other countries.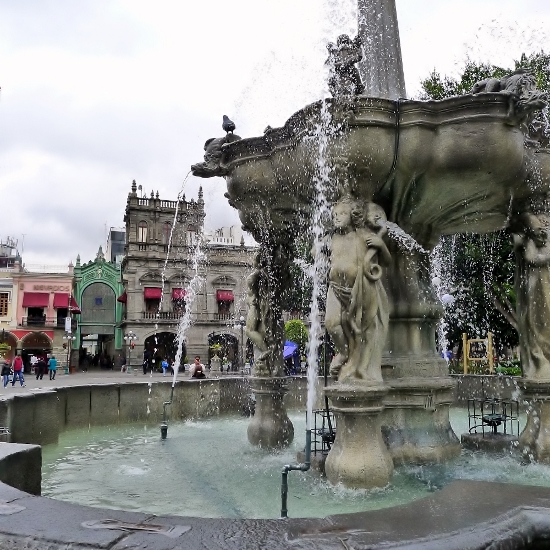 Puebla's historic district is a UNESCO World Heritage Site.
Puebla may be best known outside Mexico as the site of a battle in 1862 when Mexican peasant brigades beat the pride of an invading French Army on its way from Veracruz to Mexico City. The battle was on the 5th of May - giving rise to today's annual Cinco de Mayo celebrations.
Among newsmakers at the fair, Mexico's newly appointed Tourism Minister Claudia Ruiz Massieu reported that the country welcomed a record 23 million tourists in 2012. She said government officials have "great enthusiasm" for ongoing growth in the country's tourism sector.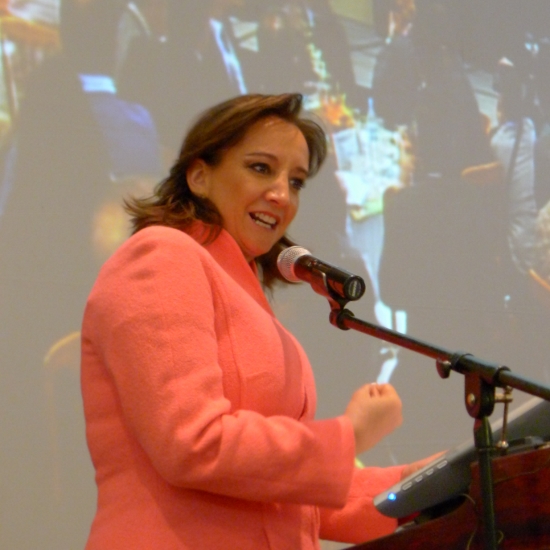 Mexico Tourism Minister Claudia Ruiz Massieu welcomes delegates to Tianguis.
At press conferences, state executives outlined plans to build a number of new train lines. One will be a high-speed system that will carry passengers on a 160-mile run from Mexico City north to Queretaro in less than two hours. Among top tourism attractions in the latter city is a historic district designated by UNESCO as a World Heritage Site (as is the downtown historic district in Puebla).
Another major high-speed rail system is planned to run across eastern Mexico's Yucatan Peninsula from Merida to Cancun, stopping along the way at archaeological sites such as the famous Mayan ruins of Chichen Itza, and at colonial cities such as Izamal and Valladolid. Later extensions of the initial route may run down the western Yucatan to Campeche and down the eastern side of the peninsula to the ruins of Tulum and possibly as far south as Chetumal near the border with Belize.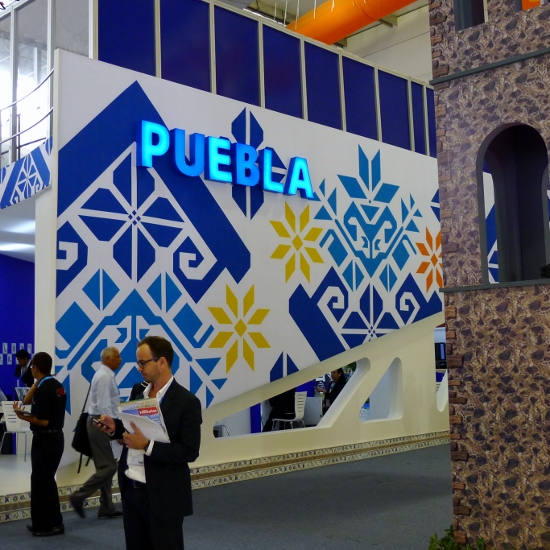 Puebla exhibit spotlights the city's native talavera pottery designs.
Among developments in western Mexico, a 130-mile highway set to debut this fall will run east from the beach resort at Mazatlan to the inland city of Durango, where it will link up to roads north to Texas and further east across Mexico. On the new highway, motorists will cross 110 bridges including a superbridge almost 1,200 feet high (about the height of two Eiffel towers).
Frank Cordova, secretary of tourism for the state of Sinaloa, predicted that the new highway will spark a huge upswing in tourism to Mazatlan. Within five years, he said, the city expects increasing demands for Mazatlan vacation stays will prompt developers to double the city's hotel capacity - from 10,000 rooms at present to 20,000 rooms.
At a press briefing, Mazatlan Hotel Association executive Carlos Berdegue reported that cruise ships will again dock at the city later this year after having pulled out in the wake of a few criminal incidents. As a result of stepped up security programs, he said, "we've had no (visitor) incidents for two full years, and we'll soon be welcoming back our cruise guests."
Berdegue said hefty improvements in air service to Mazatlan are on tap as well. He said the city has commitments from various airlines to increase their service to Mazatlan by a whopping 40 percent on both existing and new routes.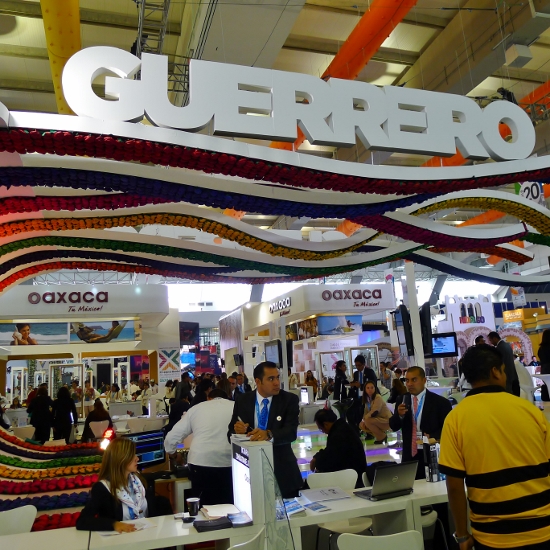 Delegates from Acapulco, Ixtapa/Zihuatanejo and Taxco staff the state of Guerrero exhibit.
In other interviews, Palace Resorts' Chief Operating Officer Sandor Winkler said the upscale hotel chain is studying Mexican beach locations for new properties outside its current concentration of seven resorts along the Mexican Caribbean. Enhancing the Palace brand is its extension of all-inclusive hotel stays to "awe inclusive" -- meaning that its all-inclusive price includes such amenities as free massages, premium liquors and even lobster dinners (which are often not covered at standard all-inclusive resorts).
The Tianguis fair was held in Puerto Vallarta and the adjoining Riviera Nayarit in 2012 after a 36-year run in Acapulco. It will move to Cancun on the Mexican Caribbean in 2014, and to Acapulco again in 2015.
Images by Bob Schulman