Spanish explorers first showed up on the beaches of the Mexican fishing village of Cihuatlan in 1522. They scoped the place out, figured it didn't amount to much, tagged ejo (meaning "of little importance") on its name and then sailed away, presumably to look for more important spots.
After that, things remained quiet around Cihuatlan-ejo - or Zihuatanejo as it ended up on the Spanish maps - for a hundred or so years. Until the pirates moved in.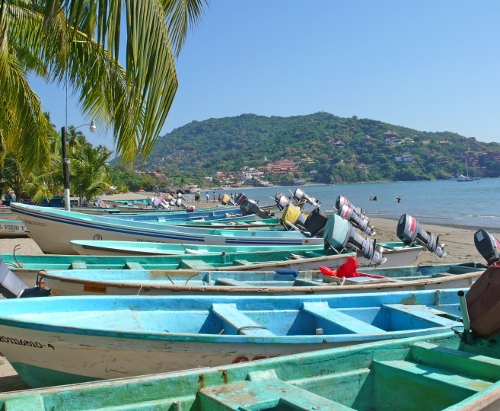 Fishing boats line the beach at Zihuatanejo.
The brigands found the town's cozy, mushroom-shaped bay was a great place to lay in wait for Spanish merchant vessels heading down the Pacific coast to their home port at Acapulco. So ships sailing under the skull and crossbones became a common sight at the bay, including the Jolly Rogers of scofflaw superstars of the likes of Thomas Cavendish and Sir Francis Drake.
The pirates pulled out of the bay in the mid-1700s when the plundering business began to peter out. And Zihuatanejo (pronounced zee-wha-tah-NAY-ho) again went back to being a sleepy fishing village.
Until big-time tourism came this way.
In 1970, the Mexican government announced plans to build a luxury resort just down the road from Zihuatanejo along two miles of virgin sands edging an old coconut plantation. The development was named Ixtapa (eeks-TAH-pah), meaning something like "white place" after a nearby stretch of salt-bleached beach.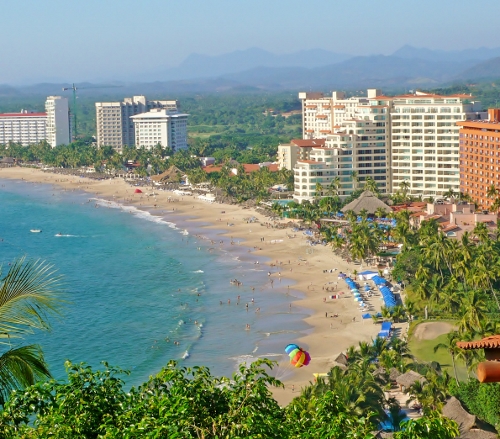 Luxury hotels dot the once-barren beach at Ixtapa.
The resort's first hotel debuted in 1974. Today, some 20 tropical palaces dot Ixtapa's palm-lined beaches including such upscale brands as Barcelo, Las Brisas, Presidente Intercontinental and Capella, all told with roughly 4,000 rooms. That's big enough to rank Ixtapa as a major resort, but small enough to attract the kind of visitors who'd rather rest up on the beach than line up at the discos.
Need to work off some calories? Guests have a choice of slicing away on two designer golf courses. Or peddling around on seemingly endless bike paths. Or sweating it out in the hotels' gyms and Pilates classes.
Rounding out Ixtapa's top attractions is a half-mile-long shopping center along with a marina, a children's park (complete with a pirate village) and a "dolphinarium" where visitors can swim with the bottlenose sea animals.
It didn't take long for the commercial boom at Ixtapa to trickle over to its next-door neighbor. For instance, Ixtapa's hotels needed everything from workers to watermelons, and if it couldn't be made or grown locally, outsiders were called in to help out - many of whom wound up moving their businesses and homes to Zihuatanejo.
Remarkably, despite becoming a much bigger city, Zihuatanejo (or Zihua, as the locals call it) has somehow retained much of its small town charm. Its vegetable stands, bakeries, barber shops and other everyday businesses commingle with T-shirt stands, handicraft stalls and other touristy shops in a commercial area of several blocks.
Lining Zihua's beachfront are dozens of al fresco eateries where visitors can enjoy some cool ones, snack on ceviche (marinated raw seafood) and soak up the town's crown jewel: its picture-postcard bay. Meandering outward for five or so miles from both sides of the village, most of the bay's shoreline is overlooked by hills peppered by small hotels, bungalows, condos and vintage villas.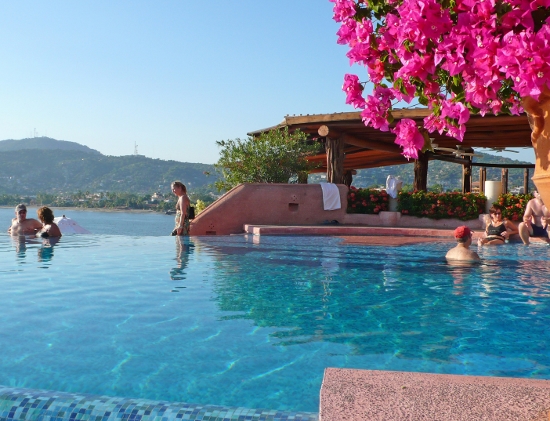 An infinity pool overlooks Zihuatanejo Bay.
It's about a 15-minute ride by water taxi from Zihua's municipal pier to the secluded swimming and snorkeling areas (and not-so-secluded wall-to-wall restaurants) on Las Gatas beach at the southern tip of the bay. Along the way the taxis skirt the beach at Playa La Ropa, where in the 1600s a Spanish galleon loaded with cargo from Asia made the mistake of entering the bay - and ran right into the blazing cannons of a pirate fleet anchored there. Fine Chinese silks from the ship drifted ashore on the beach, from which it got the name Playa La Ropa, or "beach of the clothes."
Playa La Ropa today is the home of a cluster of "Special Category" hotels (Mexico's supreme luxury rating). One, La Casa Que Canta , is where Andy Garcia and Meg Ryan burned up the screen in the 1994 hit movie, When a Man Loves a Woman.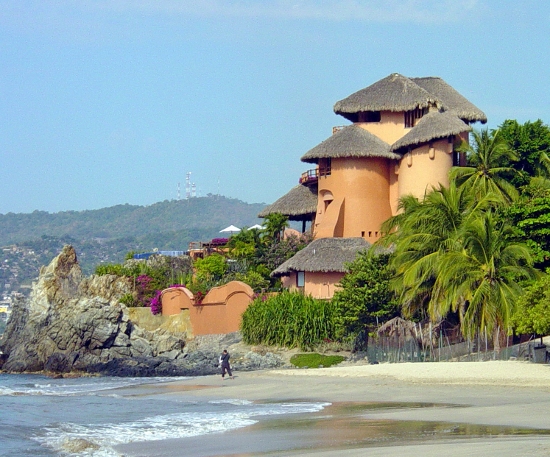 Andy and Meg stayed at La Casa Que Canta.
Besides these posh getaways, Zihua's guests stay in some four dozen hotels around the city, mostly rated four stars and below. All told, they offer 500 or so rooms to visitors on tighter budgets.
Getting there: A few U.S. and Canadian gateway airports offer nonstop flights to Ixtapa-Zihuatanejo International Airport, but most passengers get there by way of flight connections to AeroMexico and other carriers at Mexico City.