Next time you're browsing through the tiny art galleries of Puerto Vallarta, keep an eye out for some unusual ceramic statues -- typically of ancient Aztec gods and goddesses -- with the words "Mamo Mono P.V. Mex" cut into the bottom of the base.
P.V. (as the locals call their city) has long been a spawning ground for big-name Mexican artists. Some not only hit the jackpot there, such as the late Manuel Lepe, acclaimed for his sketches of happy children, little angels and whimsical street scenes, but became global legends in the art world as well.
This story is about an artist who's a legend in the city, but isn't so well known elsewhere. Her name is Marta Ramirez, but she goes by the nickname Mama Mono because she specializes in "monos," or replicas of pre-Columbian art.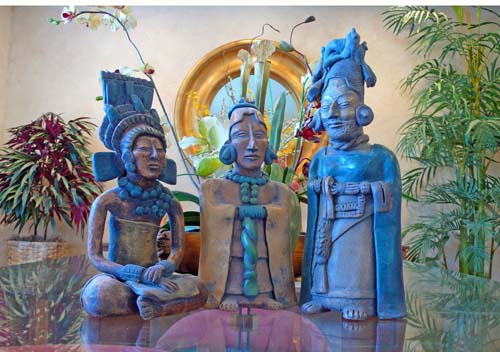 Her climb to prominence on the local art scene started back in the early 1980s, when her studio was her modest home in the hills overlooking P.V. There, she spent her days creating exquisite statues and other pieces while many of her 19 children (that's right, 19) scampered around the house.
It was easy to do business with her. You simply leafed through her photo albums of hundreds of figurines of the likes of the Aztec war god Huitzilopochtli, the rain god Tlaloc and the flying serpent supergod Quetzalcoatl, then picked the ones you wanted her to copy.
Several of the youngsters pitched in, helping to shape the statues out of clay or painting on dyes and glazes. Some helped ready them for baking in an ancient kiln that looked like it was going to explode at any moment.
Her main customers were high-class art dealers down in the city (who resold her works to the public at huge markups). Others were famous artists, including one who commissioned her to make a number of surrealistic, two-foot-high ceramic Christmas trees, which he personally finished off with a special glaze before they went into the kiln. Although it's believed he only paid her a few dollars each for the trees, it wasn't unusual to see them selling in the downtown shops with price tags topping $500.
Mama Mono's rise to fame was sparked one day in 1983 when a reporter for TravelAge West, an American trade magazine for travel agents, came by for an interview. At the end of their talk, reporter Scott Dial asked, "Would you give discounts (on the monos) to travel agents?" "Sure," she said, and Dial noted that in his story.
After Dial's article appeared, including pictures of Mama Mono's best figurines, travel agents started beating a path to her factory. So did their clients. Then the friends and neighbors of the agents and clients started showing up. The word was out: Mama Mono's studio was the place to go for hard-to-find quality monos -- and at a discount, no less. Her works even began appearing in international galleries, including one in the high-end shopping district of Carmel, Calif.
One of her sons, now a successful accountant, said Mama Mono cashed in on the business several years ago. He said she still makes a few pieces now and then, but just as a hobby. A number of her old statues, he noted, can still be found from time to time in the P.V. galleries.
One of her newer pieces showed up not too long ago on Ebay. It was a vase with two spotted iguanas wrapped around it, both with skins made of tiny beads. It was priced at $500. Some hobby.