On May 6, 1914, biplane Captain Gustavo Salinas and his copilot Teodoro Madariaga made history in the skies over western Mexico's port city of Mazatlan. Supporting a rebel army battling government forces below them, Madariaga tossed a pigskin packed with dynamite, coal and nails over the side of the plane, hoping to hit a federale fort on Neveria Hill. But aerial bombing hadn't yet become an art -- this was the first try at it in the Western Hemisphere -- and the makeshift bomb missed its target. Instead, it wiped out a shoe factory a few blocks away.
Fast-forward 98 years, and another army is invading Mazatlan. Only this time, its troopers are architects, painters, carpenters, plumbers and electricians. Their mission: to create a major new tourism attraction by restoring the colonial splendor of dozens of blocks of crumbling, long-neglected buildings running inland from the town's cruise docks.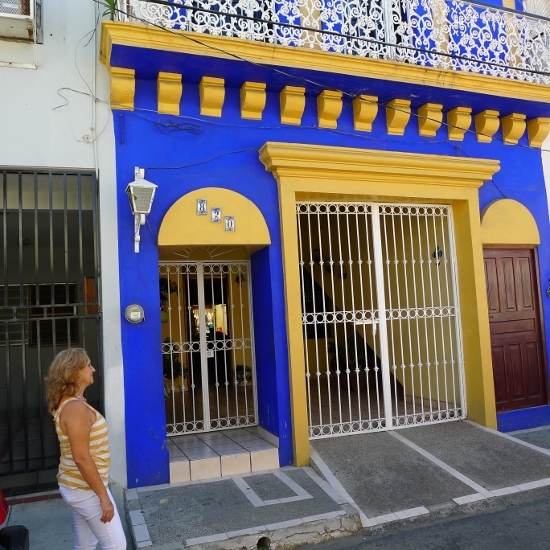 Rejuvenated buildings take visitors back to 19th century Mazatlan.
Called the "Tourist Pedestrian Corridor," the area already has the old-world ambiance of cobbled lanes and brick sidewalks lined by shade trees, metal benches and 19th-century-style lightposts, all built or set up this year at a cost of $3 million.
Hundreds of buildings on streets zig-zagging through the corridor are targeted for facelifts, including a good number already undergoing surgery. In some spots, entire blocks have been reborn, splashing the previously dingy area with a palette of pastel blues, greens, yellows, reds, pinks and browns. Accenting many of the new facades are arched doorways and balconies with bougainvillea poking through newly forged iron railings and lattices.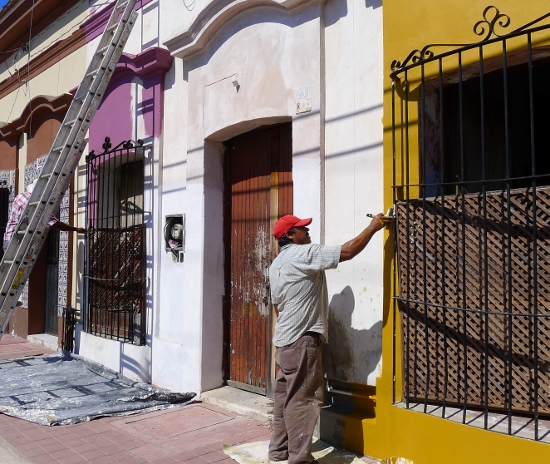 Hundreds of buildings are being facelifted.
On other blocks, painters and carpenters are scampering up and down ladders in the early stages of building makeovers.
Project planners see the corridor soon blossoming with sidewalk cafes, plazas, shops, art galleries, boutique hotels, museums and re-occupied mansions, all oozing old-world charm. Also to be spruced up will be about a half-mile-long section of town -- perhaps most kindly described as "visually polluted" at present -- running along the cruise docks.
The project is the latest phase of an architectural renaissance launched a decade ago in the city's 180-block downtown Historic District. First to be restored were some 50 inland blocks circling such picture-postcard attractions as the Plaza Machado (dating back to 1837) and the Angela Peralta Opera House (circa 1874), both earlier returned to their original splendor.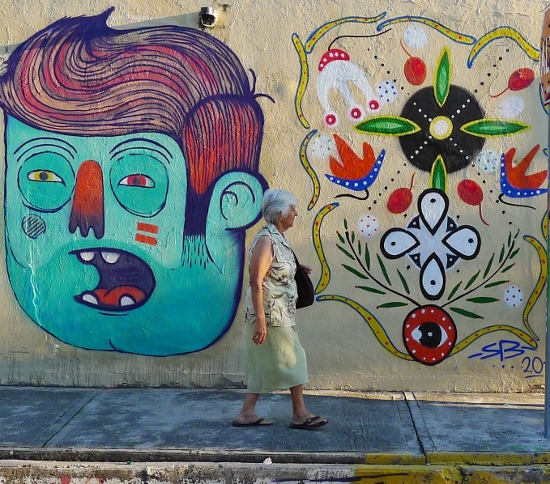 Artworks liven up the restored areas.
The corridor links Mazatlan's cruise docks to the previously rejuvenated section of town. "Future visitors from the ships will start getting immersed in our colonial heritage as soon as they step ashore," says a Mazatlan spokesman. "Along the way, information kiosks will tell passengers about the sightseeing gems awaiting them in the downtown restorations."
Additionally, the corridor is expected to draw hefty numbers of vacationers staying in the dozens of resort hotels peppering the beaches of Mazatlan's Zona Dorada (golden zone), about 20 minutes from the Historic District.
Eventually, the restorations may spread to another historic zone along the beach at nearby Olas Altas, once the playground of the rich and famous dating back to the 1920s. The four-block strip is framed on one side by Neveria Hill and on the other by Venustiano Carranza Park, named for the rebel general who gave the order for the aerial bombing of the hill in 1914. He was elected president of the country later that year.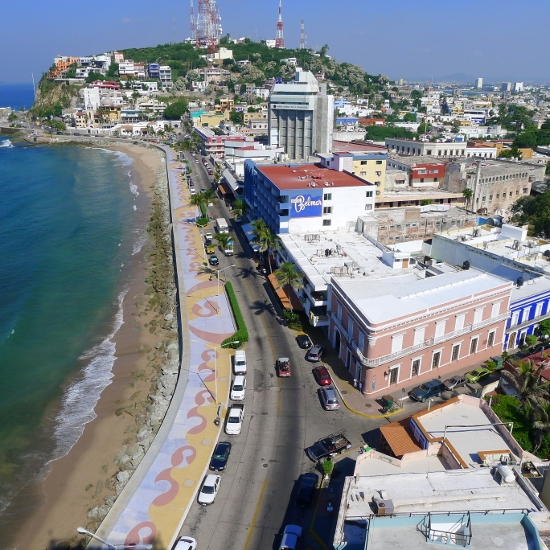 Neveria Hill stands on the far side of Olas Altas.
An historical footnote: He might have improved his aim, or just gotten lucky (or perhaps a bit of both), but copilot Madariaga somehow managed to hit the federale fort on Nevaria Hill with a second bomb on the same day. Possibly another factor in Madariaga's hit was that he might have been pressured to get his act together by Captain Salinas, who wanted to report the success of the mission to his uncle, General Carranza.