It's 1898, and the bartender at the Red Onion Saloon in Skagway, Alaska, is keeping a close eye on the ends of 10 copper tubes dangling from the ceiling near the cash register. When little weighted baggies of gold dust fall out of a tube, he takes one of 10 dolls laying flat on the bar and sets it upright. That means one of the shady ladies in a room upstairs is done with her customer and ready for a new one.
The tab was "5 for 15" -- $5 for 15 minutes -- and business was booming.
For two years at the end of the century, a gold strike in the Yukon region of western Canada lured shiploads of wanna-be miners to the area, many by way of the tiny northern Pacific port of Skagway. From there, the lads hiked across a 33-mile pass to the banks of the Yukon River, then rented a boat (or built one) to take them nearly 400 miles over the river's choppy whitewater rapids to the heart of the gold fields at Dawson City.
It's said close to 100,000 miners dropped by the Red Onion for a little R&R on their way to Dawson. A hefty number of them didn't make it back, having either frozen to death or otherwise died on the trail, some at the hands of robbers roaming the region.
Still, between newcomers to town and the lucky few who came back from Dawson with gold dust in their pokes, upwards of 15,000 miners typically could be found moseying around Skagway's 70 saloons and dancehalls on a given day. And there to meet their needs were 300 or so hookers, many working in brothels while others walked the streets dressed in scanty clothes and swinging their hips to advertise their trade.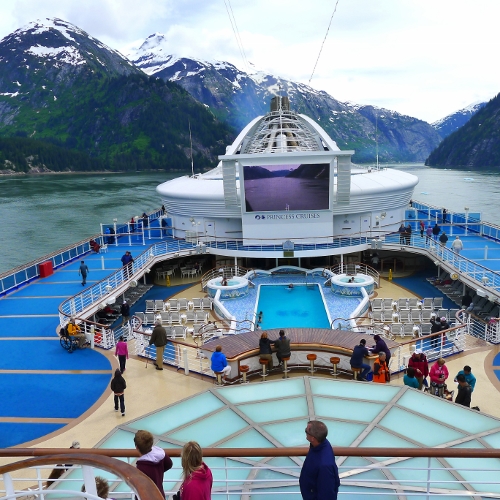 A cruise liner approaches Alaska's snow-capped peaks.
Fast-forward to today, and chances are you'll still see as many as 15,000 people wandering around the city. Like the miners, they mostly got here by ship, only tonight they're going to get back on one and sail away. "It's not unusual to see as many as seven cruise ships in port at a time," says Skagway resident Meridith Schmidt. "Perhaps 2,000 passengers get off each ship to see the sights around these parts."
Schmidt, who doubles as "Madam D. Flowers" to lead tours of the once-seedy side of Skagway, notes the hookers used an expression for their trade. It was called "mining the miners."
The Madam takes two dozen tourists up the city's three old-time prostitution lanes -- "Paradise Alley," "French Alley" and "Yokohama Row" -- and to bawdy houses that once operated behind bakeries, laundries, cigar shops and even a museum.
An option for frisky miners who didn't want to stand on line at the brothels was to engage the services of a streetwalker. But in Skagway's later days, as the townsfolk started putting a lid on the city's sinful ways, an ordinance was passed requiring all women to wear dark, inconspicuous clothing covering them from neck to toe.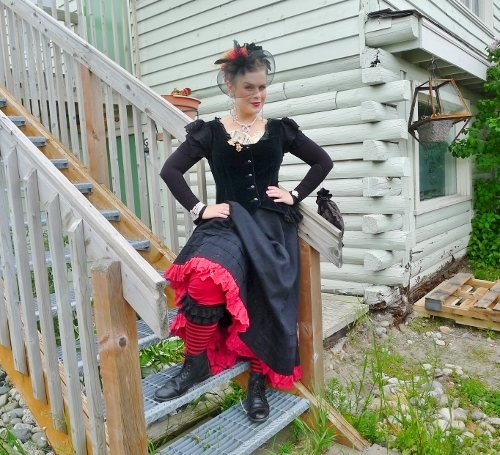 'Madam D. Flowers' shows off her red-striped prostitute socks.
Madam Flowers explains how the ladies found a way around the ordinance: "Under their dresses they wore black socks with bright red stripes, which they revealed every few minutes by slightly raising the hems of their skirts. It was impossible to miss that tip-off."
By late afternoon, the downstairs bar at the Red Onion is packed with thirsty tourists, worn out by a tough day of sightseeing (they had a choice of two dozen outings, from vintage train rides to freshwater fishing) and shopping for locally made jewelry, miniature totem poles and Eskimo dolls.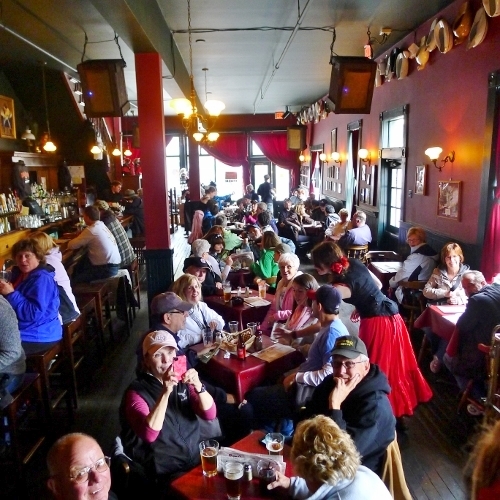 Tourists whoop it up in a saloon after day-long tours.
Just like in the old days, the saloon's customers are offered a chance to "go upstairs" -- only today, it's for a 15-minute guided tour of the brothel and a close-up look at the tiny cubicles once home to women with nicknames like Klondike Kate, Popcorn Lil, Birdie Ash, Kitty Pleasure and Big Bessie.
You might have guessed the price of the upstairs tour. Yes, it's still $5.
Photos by Bob Schulman