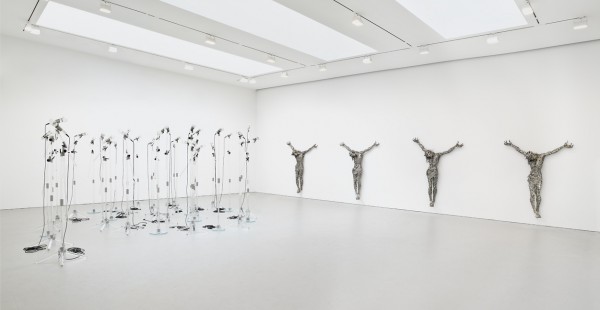 Adel Abdessemed, "Décor"
I wanted to give myself a challenge this Friday: Instead of going to the show I knew I would enjoy, Michael Rosenfeld's Benny Andrews, Alice Neel and Bob Thompson, I went to the show I had seen before, and couldn't stand. But I didn't make the trip down to Adel Abdessemed's Who's afraid of the big bad wolf (David Zwirner, 525 West 19th St.) to add fuel to the critical fire; I went because I wanted to be sure that I was being fair.
There are a lot of things about the Chelsea art scene that makes tempers flare. There's your typical gallery receptionist, who won't return your smile and answers your question only if he or she has to; there are the white walls that make you hold your breath until you leave -- and, of course, there's the art. The art that doesn't look like "art," the art that I could do, or you could do, the art that our five-year-old nephew does do. It's as if the galleries have done everything in their power to make your visit as unpleasant and vexing as possible. And they do a good job. I'll give them that.
But I like the challenge. I like being kind to the receptionists and moving beyond the distractions, as formidable as they are, to get down to the sweet business. As a viewer, the question has never been about whether something is or is not art -- the question is, whether it's any good. I generally resist charades and trends, but enjoy being won over; I like to give things a chance, and I'm willing to do some work, too, but I will not be reading Derrida to understand an installation. The more I enjoy, the better, and every time I go to see art, my goal is to enjoy it.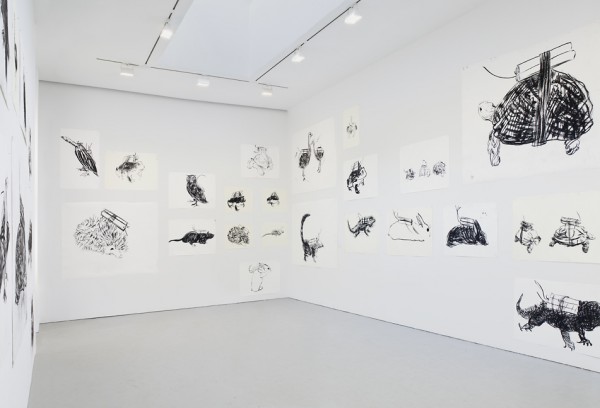 Adel Abdessemed, "La Grande Parade"
But the first time I wandered into Adel Abdessemed's second solo show at David Zwirner, I had already had enough of Chelsea. I thought the forty some-odd charcoal drawings that began the show -- of various rodents and reptiles with dynamite strapped to their backs -- were as "mundane" as the press release said Abdessemed's work could be, but not in a flattering way. The next room's "Décor" -- four troubling, life-sized sculptures of a crucified Jesus, made out of razor wire -- and a later piece from the show, "Hope," were the only two works that seemed worthwhile. The rest was an antics-ridden wash, and I was out of there after fifteen or twenty minutes and on my way uptown.

Now that I think of it, Abdessemed's work reminded me then of another Zwirner artist, Chris Ofili. An artist causing a stir -- Ofili's early obsession was with elephant dung, while Abdessemed has a peculiar interest in animal abuse and taxidermy -- for the sake of the stir. In Ofili's case, he is a talented artist, with a good deal of technical skill, who has ditched scatology; in Abdessemed, he is, at the very least, an ambitiously wide-ranging artist -- Who's afraid of the big bad wolf includes drawing, video art, installation and sculpture.
I came back to Who's afraid of the big bad wolf for two reasons, really: I did want to give it another chance and I had decided that I wanted to write about Adel Abdessemed's work. I can't say that I really believed that I would turn around and love Who's afraid of the big bad wolf, but I was fascinated by how negative my response to it was and curious if I could stay awhile the second time around.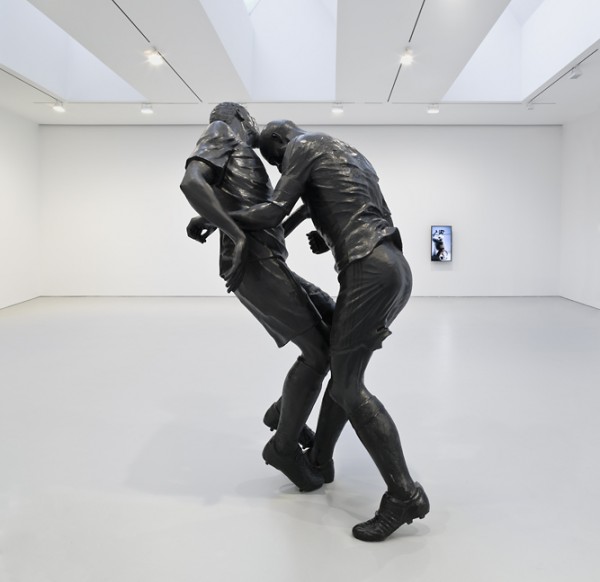 Adel Abdessemed, "Coup de têtê"
Abdessemed is what you might call a clever artist. He turns his four razor wire sculptures of Christ into mere furnishings by calling them "Décor" and he makes you wait until the very end of the show to discover the source of a wafting, sulfuric smell dominating the gallery. In terms of source material, his influences range from the 16th-century German painter Matthias Grünwald to the 2006 World Cup, in which Zinedine Zidane infamously head-butted Marco Materazzi. Although Abdessemed was born in Algeria in 1971, he is, as many have called him, a global artist, freely commentating on illegal immigration in America (in "Hope"), the Rwandan genocide (in "Mémoir") and taxidermy (in "Who's afraid of the big bad wolf").
On my second visit, the shock-value had dissipated considerably. I knew what to expect and when: the razor wire Jesus', the washed-up dinghy of "Hope" (Abdessemed surmises the boat was used to transport illegal immigrants to America), and the still-shocking source of that smell. "Who's afraid of the big bad wolf" is the show's brutal finale, a wall installation the size of Picasso's "Guernica" (roughly 11 feet tall and 25 feet wide) and composed entirely out of hundreds of taxidermied animals.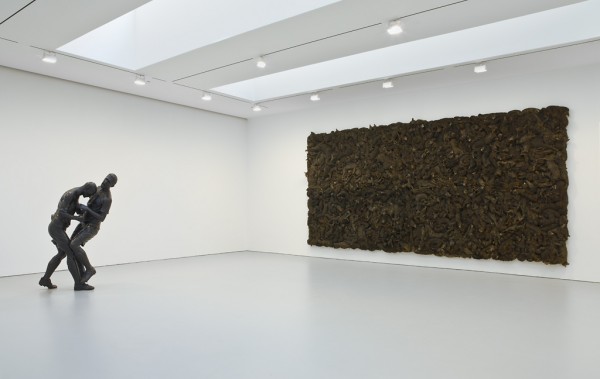 Adel Abdessemed, "Who's afraid of the big bad wolf"
Leading up to "Who's afraid of the big bad wolf," I had done a pretty good job at not letting Abdessemed get the best of me. I saw the pieces through and still thought "Coup de têtê" was tacky, "Mémoir" inconsiderate and the charcoal drawings, "Le Grande Parade," underwhelming. But there's no question that "Who's afraid of the big bad wolf," the namesake of Abdessemed's show, was the main event.
There really is nothing like it. It's as sensational and devious as art gets. I watched as some viewers held their ground at forty feet away, while others wandered up warily to see if it really was what they thought it was. Some left the room immediately and others laughed; I slowly made my way up to "Who's afraid of the big bad wolf" to try and see what Abdessemed was up to, beyond the button-pushing noise.
The closer you get, the sadder the vision becomes -- there are wolves, deer, rabbits and fox in the tangle, and Abdessemed has blackened their fur by burning it, which is why they smell. On both visits, it seemed to me that there was nothing in that act that was not gratuitous -- had Abdessemed refrained from it, "Who's afraid of the big bad wolf" could have possibly been a lament for the animals. But as it is, Abdessemed came across as the ruthless participant, making "Who's afraid of the big bad wolf" an odious and alarming piece, not to be confused with an interesting one. If it is a make or break moment for Who's afraid of the big bad wolf, and I think it is, it's not the kind you would hope for if you are Abdessemed or David Zwirner. And it's not the kind I hope for as a viewer.
I haven't heard Abdessemed discuss his final piece, but I would be very interested to hear what he has to say. With a survey of his work planned at Paris' Centre Georges Pompidou in October, controversy is sure to follow Abdessemed. The question that has always been asked of Adel Abdessemed, and the question that will continue to be asked of him, is whether he is anything more than a provocateur -- and when the smoke clears, I'm not so sure it will be that pretty.
Photos are of the installation view of Adel Abdessemed's Who's afraid of the big bad wolf at David Zwirner, New York, running Feb. 17 - March 17, 2012