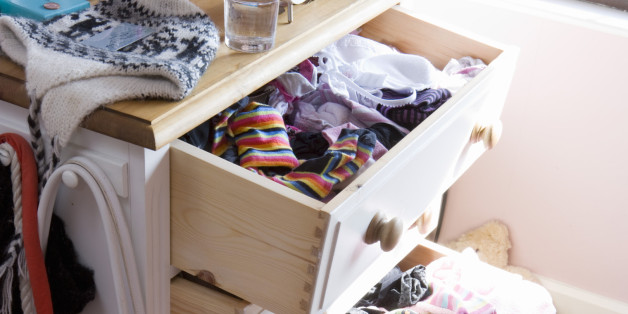 Have you ever just looked at a messy drawer and felt overwhelmed? In most homes, there are too many cluttered zones to count -- desk drawers, bathroom countertops, kitchen cabinets, and crowded bookshelves just for starters -- all of which could use a little organizational TLC. But buying enough organizers for all those trouble spots could cost a small fortune. Fortunately, the tidy drawers dreams are made of don't have to set you back a wad of cash. Try your hand at these easy projects to whip your tough-to-declutter spaces into (streamlined) shape.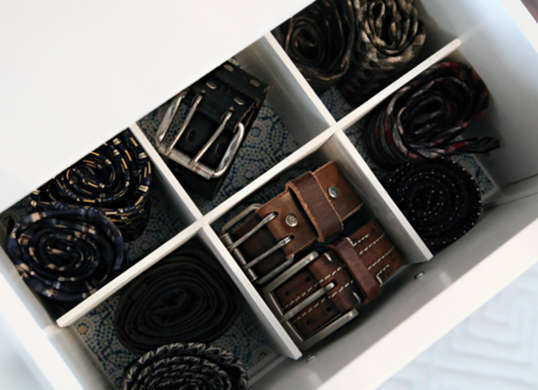 Divide and Conquer
Craving a more custom look in your current drawer setup? This project from I Heart Organizing turns a piece of oak molding into a stylish drawer organizer with individual slots for small accessories like belts and scarves.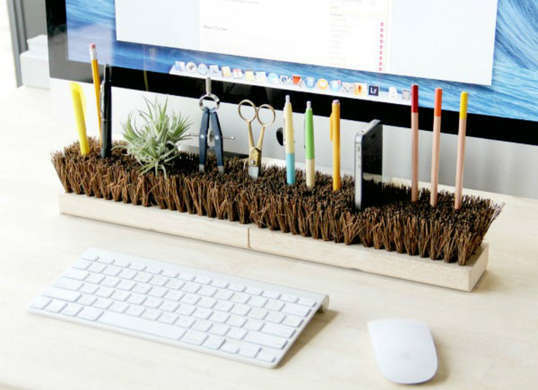 Clean Sweep
Keep all your desk essentials a mere arm's length away using an unorthodox cleaner-turned-organizer: a broom head. Follow the directions at Instructables to remove the broom handle, then flip the head up so the bristles can support your trusty writing utensils. The hole left behind by the handle even provides just enough room to thread a phone charger through the base.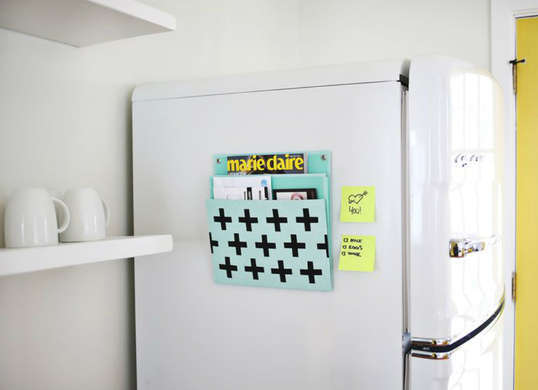 Priority Mail
A DIY that clears counters of the dreaded mail stack? We're in! The girls at A Beautiful Mess use a fridge-mounted envelope for organizing post. Their modest-size solution--a repurposed pocket folder with strong magnets glued to its back--holds you accountable for sorting the mail regularly.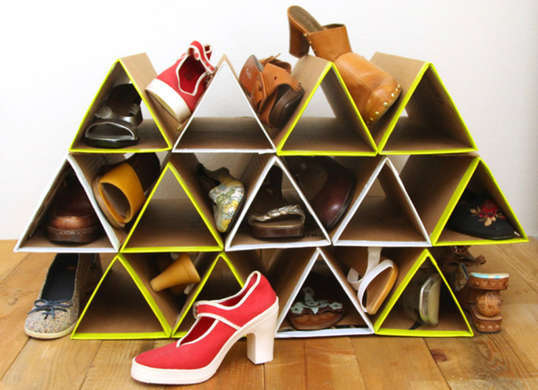 Fancy Footwork
Believe it or not, serious shoe storage in slim quarters is actually possible. This project by A Piece of Rainbow transforms folded cardboard and duct tape into a cool geometric design that can be customized to fit your closet's dimensions. Now, go ahead--give those cardboard shoeboxes the boot.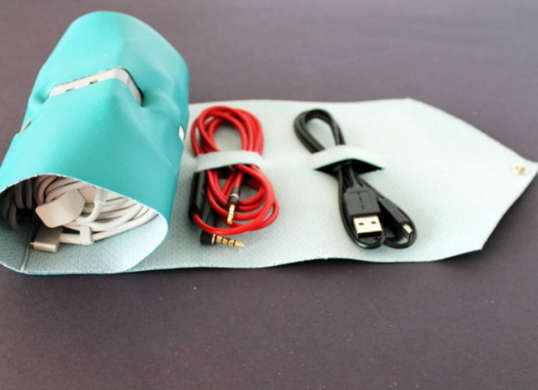 On a Roll
Simple and chic, Brit+Co's cable organizer requires only a sizable piece of leather (real or fake) and an X-Acto knife to DIY a wrap that'll keep your cords contained while you travel.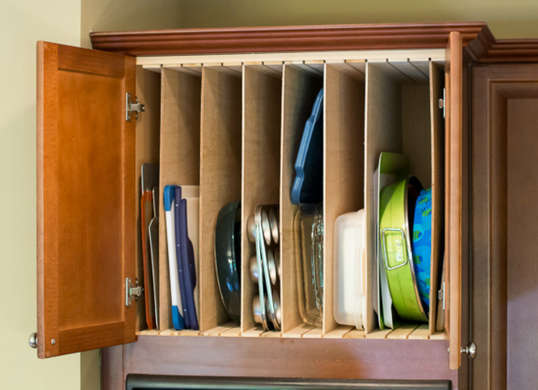 Tray Chic
Finally, you can take one big step toward your dream kitchen by controlling your chaotic stacks of baking sheets and casserole dishes. These custom vertical cabinet dividers devised by Taking on Today stand each piece on its side to save you the trouble of digging through a pile of pans to get to the one you need.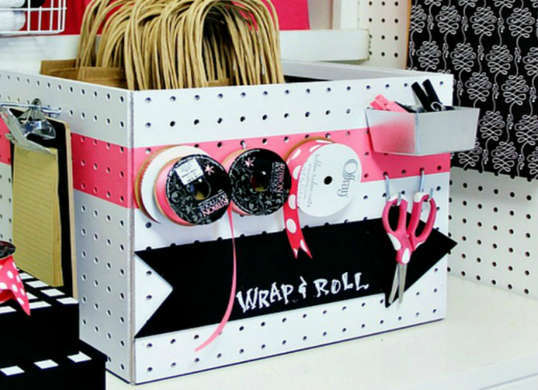 Outside the Box
It's double the storage when you're able to stash supplies both inside and outside this cool pegboard box from Thistlewood Farms. Start by building the box's frame with wood molding, then glue pieces of pegboard to the frame. Finally, decorate--and fill--the box to fit your style.
Check out more DIY organizers on BobVila.com!
For more from Bob Vila:
Bob Vila's 10 "Must Do" April Projects
DIY Lite: Make an Herb Garden from Kitchen Recyclables
7 Clever Ways for Hooks to Streamline Your Life
Before & After: Simple Upgrades Wake Up 5 Tired Sheds
13 Lazy Cleaning Tricks for a Spotless Home
Also on HuffPost:
PHOTO GALLERY
The 7 DIY Tasks Weve Been Putting Off Include...