Ever wonder if you're cut out for small living? Through the power and reach of the web--and community marketplaces that connect travelers with hosts, like Airbnb -- tiny homes are but a click away to rent for a weekend or a month. But even if you can't make it out to test-drive a super-small space, you can see, admire, and learn from the tricks owners of tiny homes are employing in their miniature abodes all around the world. We certainly did! Check out our favorite space solutions.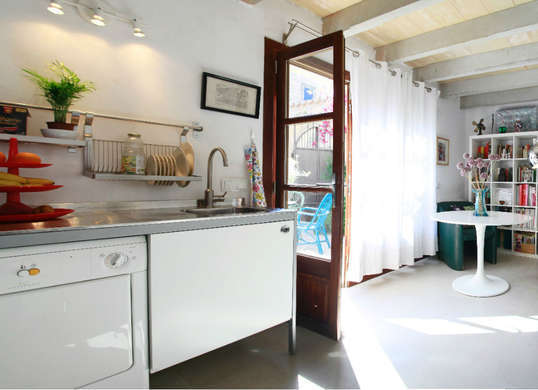 Lesson #1: Clear the counters.
Want to make your small space feel bigger? Wall-mounting is the way to go! The owners of this cozy home chose to hang a drying rack above their sink. More than freeing up valuable counter space, though, it works for both drying and storing a small collection of dishes -- double-duty at its finest.
See the listing: Independent House in Mallorca (Binissalem, Balearic Islands, Spain)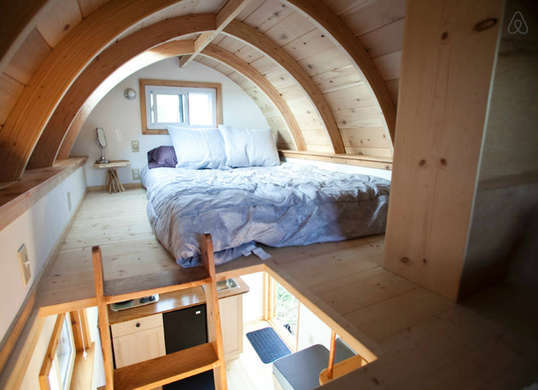 Lesson #2: Wherever possible, fake a high ceiling.
Not every home is going to be blessed with 11' tall walls, so learn to work with what you have. To make low ceilings appear further away than they actually are, fill the room with shorter furniture--even a bed without a frame.
See the listing: Private Cozy Tiny House, Large Yard (Berkeley, CA, United States)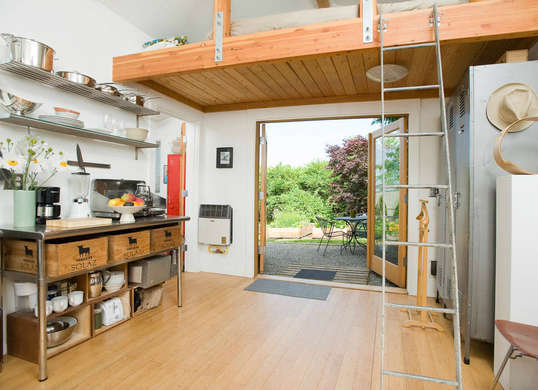 Lesson #3: Open storage is very forgiving.
Skip the standard, bulky cabinets; open shelving takes up less space visually while still offering comparable storage. Airy storage coupled with glass doors to the outdoors really works to lighten the space -- no claustrophobia here.
See the listing: Mini House, a Magazine Profiled Home (Seattle, WA, United States)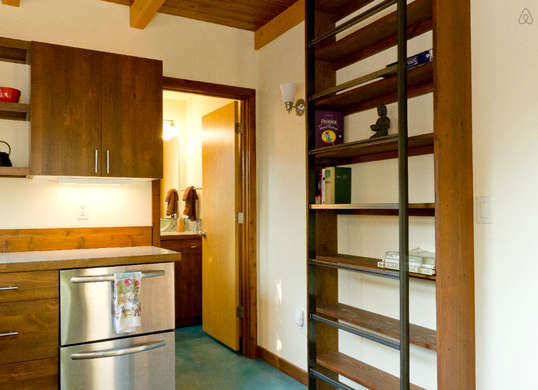 Lesson #4: Use every inch.
Take a creative eye to every bit of unused space in the room to make sure it reaches its fullest potential--even when it looks inaccessible. Small spaces work best with unconventional solutions tailored to the room. Here, an eight-shelf unit can house books or kitchen necessities behind a ladder to a lofted bed, converting an almost-empty wall to usable storage.
See the listing: Container Home, a Unique House! (Palma de Mallorca, Balearic Islands, Spain)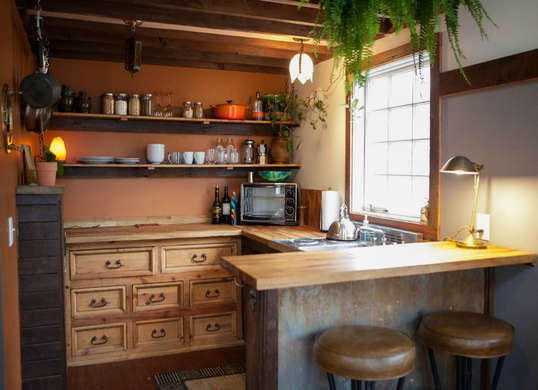 Lesson #5: Build in extra fuction.
It takes both discipline and creativity to fit the functionality of a kitchen into a space of compact proportions. As often as possible, insert extra purpose. These butcher block countertops, for example, make every available surface potentially usable for prep work.
See the listing: The Rustic Modern Tiny House (Portland, OR, United States)
Read up on 6 more ways to make the best of a small space -- all inspired by tiny homes listed on Airbnb.
For more from BobVila.com:
Bob Vila's 10 "Must Do" February Projects
7 House Sounds You Never Want to Ignore
Worth It: 8 Renovations That Pay You Back
10 New Ideas for Shared Bedrooms
10 Ingredients for a Cutting-Edge Kitchen