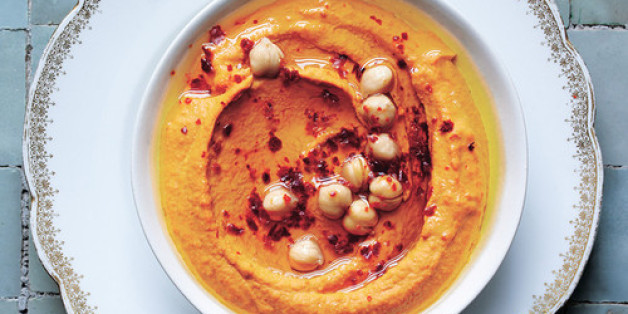 Rochelle Bilow, recipe by Anissa Helou, photo by Peden + Munk
We know you love hummus. We love it too. And you know what else we love? Pomegranate molasses and the slow, sweet heat of harissa paste. Put 'em all together and you've got one of the best dips we've seen this year.
SEE MORE: 8 Common Mistakes People Make When Cooking Steak
SWEET AND TANGY HUMMUS
Red pepper paste gives this garlic-free hummus its color and smoky-sweet flavor; find it in Middle Eastern markets or online.
Ingredients:
1 15.5-oz. can chickpeas, rinsed
1/3 cup tahini
3 tablespoons fresh lemon juice
1 1/2 tablespoon Turkish or Syrian red pepper paste or 2 tsp. harissa paste
1 tablespoon pomegranate molasses (optional)
Kosher salt Olive oil, Aleppo pepper or crushed red pepper flakes, and warm pita bread (for serving)
SEE MORE: Egregious Summer Cookout Mistakes
Preparation: 
Set aside 2 Tbsp. chickpeas for serving. Process tahini, lemon juice, red pepper paste, pomegranate molasses (if using), and remaining chickpeas in a food processor, adding water as needed, until hummus is very smooth; season with salt. Serve hummus drizzled with oil and topped with Aleppo pepper and reserved chickpeas, with pita bread alongside. DO AHEAD: Hummus can be made 3 days ahead. Cover and chill.
See more from Bon Appetit:
22 Recipes Everyone Should Know How to Cook
What to Eat, Drink and Do in June
The 13 Most Important Kitchens on Television