Julia Kramer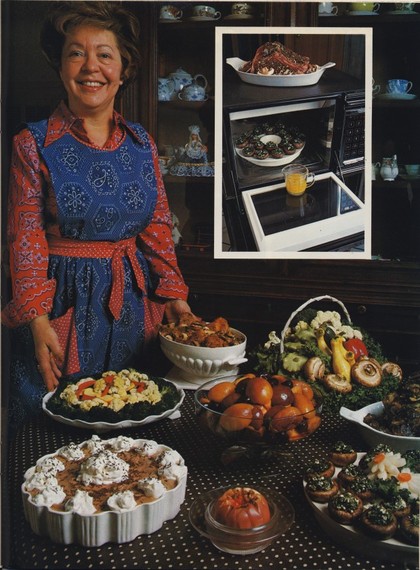 The microwave is dying, reported Quartz last month, citing the 40 percent drop in sales of the appliance since 2000. Well, here's some news: In the pages of Bon Appétit, the microwave has been dying since sometime around March 1982, when the magazine ceased publishing a peculiar column, simply titled "Microwave," which launched in 1978. But what a column it was! And perhaps, if we share some of its wisdom, the last days of the microwave will be glorious ones. Here, a condensed guide to four years of microwave-cooking advice.
How to Cook Pork in the Microwave
"With the exception of Italian or link breakfast sausage, pork is cooked in the microwave at lower power settings to ensure a tender, juicy result. Boneless roasts benefit from being prepared in plastic cooking bags that seal in moisture. To avoid overcooking, which will toughen the meat, cook the roast to 160 degrees F, wrap in foil, and let stand at room temperature until the internal temperature rises to 170 degrees F." --Thelma Pressman, March 1982
SEE MORE: 10 Celebrities Who Are Obsessed With Cheese

How to Simmer Foods in a Microwave
"Simmering is one technique most people do not associate with microwave cooking. They assume that meat, poultry, vegetables, or fruit have to cook slowly in their own liquid to result in a tender, flavorful dish. But by following a few simple guidelines, you can combine the superb results of conventional slow cooking with the timesaving qualities of the microwave system. Cooking foods in a covered, pre-soaked clay pot is ideal for this. The moisture released from the pot creates a hot steamy atmosphere for the food to simmer in." --Mary Jo Bergland, February 1982
How to Make Christmas Dinner in the Microwave
"Your big holiday dinner should be one of the most spectacular of the year: a mixture of favorite traditional foods served up with a bit of nostalgia, and several new dishes to add interest. The problem for most people today is trying to find time to create this masterpiece--between shopping, decorating, gift wrapping and parties, there often is not enough time to give the day its due. Not so for the microwave cook. This month we present a festive Christmas menu--everything from Turkey with Corn Bread-Mushroom dressing to a rich liqueur-laced Grasshopper Pie--that is an easy and delicious do-ahead meal. ... The turkey is the main attraction. Our technique of roasting it in a brown paper bag [in the microwave] ensures moist, flavorful, and tender meat." --Thelma Pressman, December 1981
How to Make Quiche in the Microwave
"Baking several quiches at once can be time-consuming, but not with the microwave. Twelve to fifteen minutes is the average baking time--considerably less than that required for conventional baking. Any pie crust recipe will be successful, but frozen pie shells, of course, save preparation and can be easily transferred to microwave bakeware." --Thelma Pressman, December 1979
How to Make Thanksgiving Dinner in a Microwave
"The microwave is the ideal way to cook your scaled-down holiday dinner, with a minimum of fuss and practically no cleanup, since dinner can be cooked and served in one dish--an elegant one, of course. If you can bring yourself to face the holiday without turkey, Cornish game hens stuffed with wild rice are a very satisfying stand-in. Whatever your choice, the microwave makes the trimmings easier, too. The Orange-Glazed and the Pumpkin Nut Bread are Thanksgiving favorites." --Thelma Pressman, November 1979
SEE MORE: The Best Cooking Tricks We've Picked Up Over the Years

How to Cook Potatoes in the Microwave
"Almost all new microwave owners develop an instant fascination, as I did, with baked potatoes. There is something almost miraculous about popping a potato in to cook and serving it minutes later--and the results are equally miraculous. Because it is not cooked with hot, dry air, a microwaved potato retains its moisture and does not require the ritual dressing of butter or sour cream--or both. It's delicious plain. This makes it a great bon for the weight-conscious, who should be reminded that a medium potato, sprinkled with a little salt and pepper, contains approximately ninety calories." --Thelma Pressman, October 1979

How to Barbecue in a Microwave
"Get your late summer barbecue off to a good start by precooking meats in the microwave, saving the coals for the final browning and crisping. Not only will you be spared the guesswork of determining when the meat is cooked, but you can eliminate many minutes from the total cooking time without sacrificing any wonderful barbecue flavor." --Thelma Pressman, September 1979
How to Make a Salad in the Microwave
"Our simple Spinach Salad is made even easier by the fact that the bacon can be 'grilled' quickly in the microwave. Just dice the raw bacon, place in a measuring cup, and cook until crisp. Remove the bacon bits with a slotted spoon and place on a paper towel." --Thelma Pressman, August 1979
See the rest of vintage Bon Appetit's 'tips' back at our site.
See more from Bon Appetit:
10 Snacks You Thought Were Healthy But Aren't

10 Restaurants from Books and Movies That Became Real