Rochelle Bilow, photo by Yossy Arefi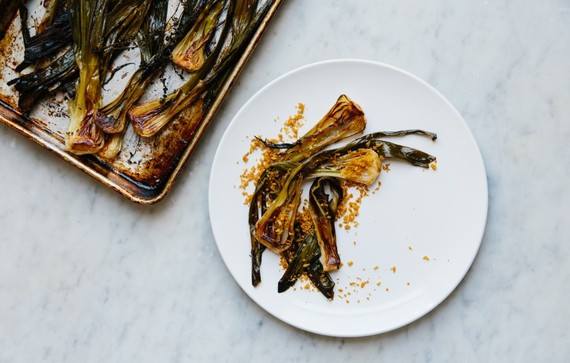 If you've never considered the onion as a side dish, it's about time you took a good, long look at these lovely alliums. No longer stuck in the land of soups and stocks, springtime onions are making a comeback; they're all the rage this season, really. We're roasting a bunch tonight and eating them with lemon zest, bread crumbs, and thyme. It's a perfect fit.
SEE MORE: 18 Healthy, Energy-Packed Breakfast Recipes

ROASTED SPRING ONIONS
Ingredients:
4 bunches spring onions, trimmed, halved lengthwise
6 sprigs thyme
6 tablespoons olive oil, divided
Kosher salt, freshly ground pepper
½ cup low-sodium chicken broth
1 cup fresh breadcrumbs
1 teaspoon finely grated lemon zest
SEE MORE: 16 Recipes to Use Up Leftovers, Clean Out Your Fridge
Preparation:
Preheat oven to 400°. Toss onions and thyme with 4 Tbsp. oil in a shallow 13x9" baking dish; season with salt and pepper. Add stock and roast until tender, 30-35 minutes.
When onions are almost finished roasting, toss breadcrumbs and zest with remaining 2 Tbsp. oil; season with salt and pepper. Toast on a rimmed baking sheet, tossing halfway through, until golden brown, 8-10 minutes.
Serve onions topped with breadcrumbs.
See more from Bon Appetit:
22 Recipes Everyone Should Know How to Cook
6 Common Brownie Mistakes
18 Fresh, Springy Salads with Seasonal Produce
The Most Common Cooking Mistakes Ever