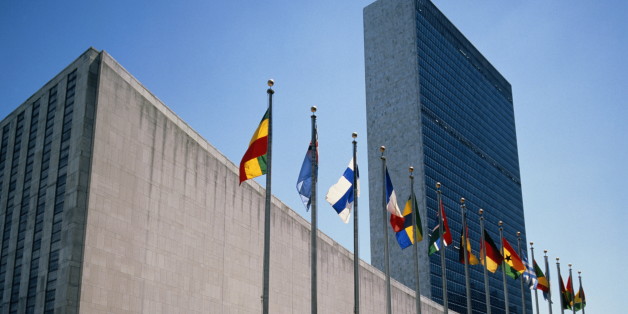 The United Nations (UN) Charter opens with the words, "We the peoples of the United Nations..." not "We the governments of the United Nations." Civil society --represented mostly by non-government organizations (NGOs) -- has been an important player at the UN since the very beginning, when delegates from NGOs around the world participated in the 1945 San Francisco conference that drafted this very Charter. However, over the years, the relationship between the UN and "the people," or civil society, has eroded, and hasn't kept up with the changing dynamics of global governance.
NGOs provide invaluable information and expertise to the UN and build public support for the organization. Furthermore, they are partners in carrying-out programs, a connection to communities, and a powerful force for advocating for a multitude of issues. In the nearly 7 decades since San Francisco, the international NGO community has flourished, and become very active in advocacy and program implementation. From campaigning to rid the world of nuclear weapons, and educating about environmentally friendly practices, to providing basic health services to the world's poor, advocating for gender equality, and fighting for the right of people with disabilities, the work of NGOs has become multi-faceted, to say the least. Many believe that, with this increased function and competence, NGOs deserve a more prominent role in global policy making. However, civil society is often excluded from decision-making. At the UN in particular, this is very apparent.
Unfortunately, there is no single, functional process or even a point of contact in place to facilitate NGO participation in UN dialogues and decision-making. The relationship between the UN and NGOs is extremely complex and disjointed and the pathways to engagement are difficult to navigate. Each UN entity handles their relations with civil society independently, and offers different types of entry-points for NGO participation. This is most discernible at the main UN centers in New York, Geneva and elsewhere, but it is also a problem at the national-level, and especially hard-hitting when it comes to NGOs from developing countries - who often lack resources for travel or access to advanced communications.
Space for civil society to participate at the UN is not only hard to access it is actually shrinking. Both physically and metaphorically. Admittance to the UN building and conferences has always been an issue and remains to be a top complaint, budgets for partnerships are being cut, positions created to facilitate engagement of civil society are being diminished or even eliminated. Perhaps even more importantly however, access to information, opportunities to get involved in UN processes, the ability to speak and share expertise, openings for ideas and proposals, and effective interactions with members of the UN and diplomatic communities are more elusive than ever. There is too much redundancy and not enough collaboration.
It's not entirely a lack of effort by UN offices that is at fault here. In fact, some parts of the system have been making a respectful attempt to engage civil society in meaningful ways, but overall it has not added up to much. There is general confusion and dissatisfaction on both sides, and a feeling that there is a missed opportunity here. At best, the true depth of the so-called UN-civil society partnership is shallow, and does not reflect the realities of contemporary global activism.
It is true that this is not a new challenge, rather one that has been brought up and examined time and time again. So are we "beating a dead horse"? Is this simply the best that could be done considering institutional limitations? We believe the opposite to be true. As the UN is undergoing significant, and sometimes painful reforms, and setting new universal development goals, this is a good time to evaluate how it handles its relations with civil society, and to advocate for better and open structures and a more streamlined process. Research and analysis needs to be conducted to assess the current landscape of UN-NGO relations, pinpoint the problem areas and offer practical solutions.
We appeal to all member states to give attention to this serious problem, and urge their UN Ambassadors, as well as the UN system at large, to take action to create a better platform for NGOs. With joint determination, it is possible to establish a stronger foundation for tackling global problems by inviting the "peoples" to the decision-making table.
Co-signed by:
Bonian Golmohammadi
Secretary-General of the World Federation of United Nations Associations, a global nonprofit organization representing and coordinating a membership of over 100 national United Nations Associations (UNAs) and their thousands of constituents.
Lucía Alberti
President of UNA-Argentina
Armine Podosyan
President of UNA-Armenia
Dr. Russell Trood
President of UNA-Australia
Mario Garnero
President of UNA-Brazil
Cissa Wa Numbe
Secretary-General of the UNA-Democratic Republic of the Congo
Sandesh Mainali
Program Coordinator of UNA-Nepal
Graham Hassall
President of UNA-New Zealand
Kari Solholm
Secretary-General of UNA-Norway
Aleksander Gabelic
President of UNA-Sweden
Richard T Baguma
Secretary-General of UNA-Uganda
Natalie Samarasinghe
Executive Director of UNA-UK
Norma Rojas Nóbrega
President of UNA-Venezuela