Just last weekend Anne Hathaway kicked box office and Kaos bad guy butt, in her role as Agent 99 in Get Smart. The film, which raked in $39.2 million — beating all competition — showcases Hathaway as the brilliant, beautiful, crime fighting straight man to novice Control field agent Maxwell Smart.
But while Agent 99 effortlessly skydives, tangos and finishes off evil doers in a powerful female role, Hathaway in real life has been a whole lot less than smart. Her boyfriend, Italian businessman Raffaello Follieri, 30, has just been charged with bilking millions out of investors.
So how could one of America's most promising young actresses happen to get tangled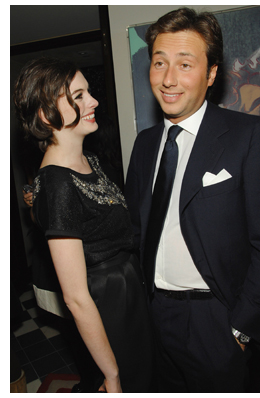 up romantically for over three years with a guy like this?
I mean, if someone who is as gorgeous and successful as Hathaway can't find a real life "good guy" is there hope for any single woman? And if a woman can "play" as empowered a role as Agent 99 — and I'm not kidding, 99 is a very impressive chick — how can she be so disempowered in her personal life?
Hathaway, 25, only split up with her boyfriend last week just before he was charged. But it's been more than a year since he was first accused of misusing the money of his investors.
In The Princess Diaries, Hathaway played an awkward teenage girl who finds out that she is actually a princess and heir to the throne of a small European country. It's an uplifting fairytale. In another of her films, Ella Enchanted, she plays the title role of an enchanted young woman, who ends up marrying a handsome prince. Maybe starring in two fairytales made her more willing to believe that a con man really was a globe-trotting multimillionaire who was representing the Vatican in real estate deals.
"She wanted to believe him. She probably felt that she had found her real-life Prince Charming: handsome, rich and debonair," celebrity psychiatrist Carole Lieberman. tells me. "But three years is a long time to be close to someone and be conned."
Follieri is accused of using his investors' funds to support a lavish jet set lifestyle fit for a modern day princess/Hollywood A-list actress.
"He may have felt he needed to be bigger, richer and more important, for her to love him," believes Lieberman, the author of Bad Boys: Why We Love Them, How to Live With Them, and When to Leave Them. "And Hathaway probably didn't want to let whatever clues to the truth that were there, penetrate her consciousness. She didn't want to wake up from the "fairy-tale," surmises Lieberman.
On the other hand, maybe Hathaway was so busy working — she is currently filming Bride Wars with Kate Hudson — and has recently completed two other films. She didn't have time to question her lover's business dealings.
"It's easy to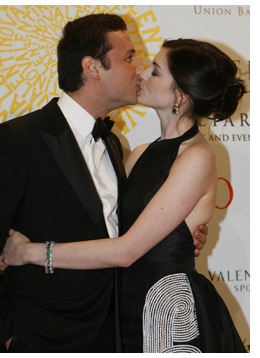 keep secrets from someone you hardly see," points out psychologist and syndicated radio host, Cooper Lawrence.
Hey, loads of couples keep secrets from partners that they see all the time and he clearly appears to be an exceptionally good con man.
But Hathaway can take some comfort in the fact that she is not alone — this has been quite the season of smart, successful women getting conned by the men they thought were princes.
But Hathaway can take some comfort in the fact that she is not alone — this has been quite the season of smart, successful women getting conned by the men they thought were princes.
So true. And — in this case — Hathaway's standout performance in Brokeback Mountain, she herself plays a wife in denial about her husband's homosexuality. In fact, even the extraordinarily capable Agent 99 ends up getting conned by an ex-lover who is revealed to be a
double agent.
Maybe, Anne Hathaway, shouldn't feel so badly after all. Almost every woman would still love to live a fairytale.
Photos: AP