This will be my first Mother's Day without a mom. My mom Tanya was such a fighter that even though she battled an incurable form of cancer for nine years I never really believed that this day would ever come. She was so determined to live to see her children grow and her grandchildren grow up, that she was undaunted by countless chemo sessions, painful side effects, and intermittent health crisis and hospital stays.
Through it all she was graceful and just grateful for the extra time that her mostly experimental treatments gave her. It was absolutely worth it, if it meant that she could have a few more precious months or even weeks to take a granddaughter for Sunday morning brunch at their favorite local diner, play a high stakes game of monopoly (and lose) with another granddaughter or compare notes with a grown daughter on Stephen Colbert's interview with Michelle Obama. It was the little every day things — the being an integral part of her children and grandchildren's lives that made her happy and that I will miss so much.
My mom was about as opposite as you can get from the current crop of high profile moms. To her, you didn't have your children to earn you fame and fortune. They weren't for building a reality show or any kind of TV show around. She would never have understood why wealthy celebrities would conduct bidding wars to sell their baby photos, and heaven help Annie Leibovitz if she had ever tried to take a half nude photo of either of my mom's daughters. My mom had all the right protective "mama bear" urges that so many Hollywood moms don't appear to naturally possess.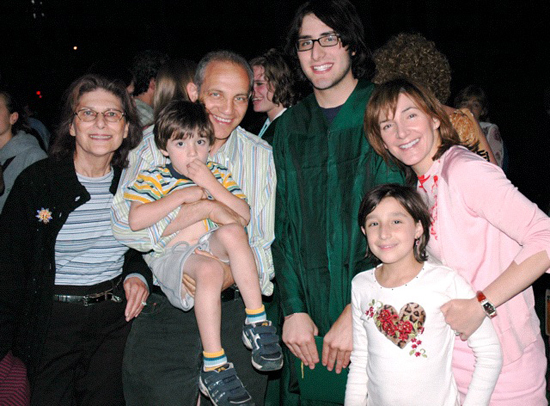 Happy Mom Milestone--my mom Tanya Warsh, Michael Fuller holding Sasha Fuller, Noah, Leilah, and Bonnie Fuller at Noah's high school graduation.
That's not to say that she didn't urge her kids and grandkids on to be accomplished and to fulfill their passions. No matter how she felt she'd rework her chemo schedule so that she wouldn't miss an important event. Hey, I knew that I had to do well so she could bask, just beam with pride, at a New York City cocktail party.
After my mother was diagnosed, she began aiming to live for key milestones — the bar mitzvah of my oldest son, the high school graduation of her eldest granddaughter and the birth of my youngest son. She was with me at the birth and didn't freak out or freak me out with her worries as I had worried beforehand. After all, my mom was one of those moms that still called to make sure that my plane had landed after every flight. She worried about salmonella — forcing my husband the chef to overcook the turkey at Thanksgiving one year. She worried about E. coli in carrots, she worried about unpasteurized orange juice. We had to practically mulch grapes before the kids were allowed to eat them.
I think my greatest sorrow right now is that my four kids won't have their grandmother Tanya anymore, to be interested in their every little and big bit of news. Angelina may have feuded with Brad's mom because she thinks she's a butt-inski with opinions and suggestions about their soon-to-be-six kids. But honestly Ange, who else but a grandma is truly as obsessed with your children for the long haul as you are (even if you and they are major celebs)?
So this Mother's Day, give your mom a HUGE hug and spend some time with her. You never know how much time you will end up having. My mom's decline, after years of successfully holding the bad cells at bay, was unexpected and very swift. We barely had time to say good-bye. It's been a little over a week since she's been gone, and I've already lost count of the times that I've habitually reached for the phone to call her and tell her "the latest."
Friends who've lost their moms say that it will feel a little less painful in about six months. But you never forget your mom. My friend Judy was planting pansies in her garden this week because her mom, who died four years ago, loved them. And another friend Bobby recently finished his first book manuscript — "And the first thing I did, was tell my mom, who passed away eight years ago, that it was finally done!"
As for me, I figure that if there's any way possible for my very determined mom to be hovering over, she's right here. Missing out on life, or on anything chocolate, wasn't her style. And you know what? I never knew before that there is something of a club among people who have lost their mothers, but I can tell you for sure it's one club you don't want to belong to.