It's no surprise that reports of a J. Lo marital rift have landed all over the media and on the cover of Us Weekly this week. If you were as beautiful as J. Lo and had once commanded the #1 spot at the box office and been #1 on top of the singles chart, would you be happy sitting on the sidelines in no-press land for as long as she has?
This is a woman whose every romantic move was documented in blow-by-blow fashion on the cover of every celebrity newsweekly, for months on end, just a few years ago. I remember, because I covered the Ben Affleck/JLo romance from the start, after they filmed the dud movie Gigli together, to the morning that they called off their wedding,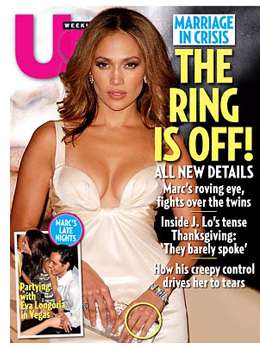 ON their wedding day.
Now, the last magazine cover that I can remember featuring JLo, was her sitting demurely with newborn twins, Max and Emme on People last March 31, after she sold her baby's photos, reportedly for $6 million.
When you're a diva, who's used to having scented grapefruit Jo Malone candles and white lilies fill your every hotel suite upon arrival, and when you got famous by wearing Versace gowns plunging down to there, you know when your star is waning, and .... that's when no one is talking or writing about you.
Guess who the press has been talking about A LOT in the past few weeks? Naked Jen Aniston, on the cover of GQ magazine, and nearly naked Britney, on the covers of Rolling Stone and Glamour magazines. Both those blondes have mounted significant comebacks in the past month.
No wonder J. Lo turned up solo,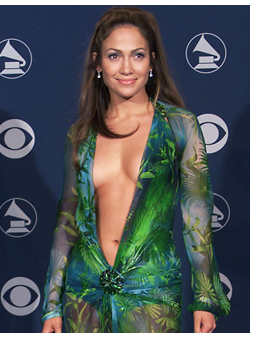 finally looking bootylicious again and ringless on the sure-to-be-highly covered red carpet premiere of Brad Pitt's new film, "The Curious Case of Benjamin Button." Who says that Hollywood divas can't mount their own press campaigns as effectively as four-star generals?
That's not to say that there isn't a significant rift in the Marc Anthony/J. Lo marriage, and that she just chose to go public with it now and give a hipcheck to Jen and Brit to get them off those mag covers.
J. Lo doesn't exactly have a stellar marital history. Marriage #1 to waiter, Ojani Noan, lasted two years. Marriage #2 to dancer/chorographer Cris Judd, less than a year, Her engagement to Ben Affleck, clocked in at about a year and finally, Marc is now four and a half years.
I doubt it's coincidental that J. Lo only left each of those relationships when she had another underway. She walked from the Ojani into Diddy's arms and so on and so on.
This is a woman who's called "a classic Tarzan" in romance, by relationship expert, Whitney Casey, author of The Man Plan: Drive Men Wild, Not Away.
"She's already got her hand firmly gripped on a new vine i.e. man," Casey said, "and is ready to spring, before she leaves the old vine (man) behind."
The only question is, who might the new man be? I guarantee you that fresh rumors will start, within the week. The very public, "romantic" dinner that J. Lo and Marc had this week in Beverly Hills just fuels new J. Lo/Marc on-again/off-again fire.
Lopez does appear to also be a woman who's addicted to the very passionate, early stage of a romance. That's the stage when body chemicals, like dopamine and adrenaline, fuel a natural high and it usually only lasts up to about three years. There are truly people who get addicted to it, according to psychologist, Dr. Victoria Zdrok.
So watch out Marc, your wife needs that romance high and she's not getting it from you. Even more significant, as a star, she NEEDS attention and she's going to do whatever's necessary to steal HER spotlight back from Jen, Brit, Angie, Katie and whoever else may have hijacked it!
Check out J. Lo's People covers, which track her various relationships, below:
PHOTO GALLERY
Jennifer Lopez's People Covers
For more about J. Lo the Romance Addict, follow Bonnie on Twitter at www.twitter.com/bonniefuller.