Looking hot is the best revenge!
That's clearly the strategy that Jen Aniston has finally settled on after watching Angelina bewitch her ex-husband Brad...and the rest of the world.
And thank the Lord, Jen. Going into battle unabashedly nude with a body toned to perfection, is a far superior strategy against Brangelina than the endless whining that has been your hallmark style since your post-marital split.
Now everyone knows that Jen's body truly is a wonderland.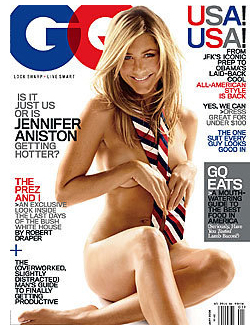 Playing the "poor, sad Jen" role would never make Brad eat his heart out. And we all know, Jen, that making Brad second guess his decision to leave you has been your goal all along.
Every woman who's ever been dumped understands this. No matter how much time passes or how fabulous your new boyfriend, you always want your ex to yearn to have you back... and your ex's new love interest to feel sick about it.
What better way to achieve this than to have the entire male global population drooling?
Everyone, even in Brangelina-land, would notice that.
It's the only offense that Jen could take. She can't compete against Angie's glamorous earth mother routine, which has so effectively hypnotized Brad.
After all he's talked more than once about wanting to have nine kids