Travel is more than the seeing of sights; it is a change that goes on, deep and permanent, in the ideas of living.— Miriam Beard
How to Do Exceptional Things Inexpensively
Post #2 Don't Own a Car!
I know this sounds radical, perhaps even anti-American, but if you choose to live in a place where a car isn't essential, you will save a ton of money during your lifetime. This was a deliberate decision I made in order to have the freedom to travel. Or just don't own a car for a couple of years as part of a savings plan. Pull out a calculator. Enter monthly auto payments, insurance, approximate gas usage, parking, car wash, tolls, etc. x 12. Add annual inspection costs and repairs to this number and multiply by 65. I optimistically based my personal calculations on driving from ages 18-83. You'll see pretty quickly that you can rent a car for trips or weekends whenever you want and still be way ahead of the game.
When you're thinking of traveling, keep in mind that many people in the world don't own automobiles. Foreign countries without mass transit systems usually have super cheap taxis or shared local ones--for example, colectivos in Mexico, dolmuşes in Turkey--that operate sixteen to eighteen hours a day. When I want to go further afield, I've never been anywhere that someone didn't have an uncle or a friend of an uncle with a nice car who would be more than happy to make extra money driving you around.
My friend Xila and I got particularly creative in Goa, India, when we agreed on a weekly price with a motorized pedicab driver. Before selecting Suresh, we explained that both Xila and I have long attention spans and can spend hours at a site; I need to stop and get food if I see a starving animal. Suresh was content to sit outside our beach hotel all day, reading the paper, chatting with local vendors and munching on snacks--available whenever we needed him. He made more money than if he'd been driving around in the hot sun all day; we had a driver with the patience of a saint and an easy smile. An unexpected bonus were the Indian delicacies Suresh brought us to sample as the three of us happily puttered around the state of Goa together for nearly a month.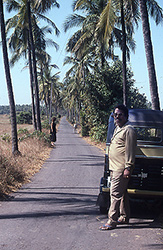 Suresh and a distant Xila
When you want to explore on your own, rent a car from a top local company. There are hefty taxes for businesses located on government property--costs big international corporations pass on to the consumer. This is why smaller companies rarely have an office at the airport; they're usually located within 5 kilometers offsite. After you exit customs, look for a man holding a company sign (frequently wearing a shirt of the same color) ready to whisk you into a free shuttle. I've rented locally everywhere from Jordan to Easter Island without a hitch.
If you can hold off renting a car at the airport, you can often negotiate an even better price. Do your research before leaving home and know the cost per day. As with many things, the per day cost decreases the longer the use. The last time I did this was in the Yucatán state of Mexico. The first-class buses between towns are state-of-the-art. But if you want to explore the magnificent Mayan ruins in the jungle bordering Guatemala and Belize or the long stretch of Caribbean beaches along the Sian Ka'an Biosphere reserve, you must have a car. EasyWay is my favorite car rental agency in the Yucatán and they have branches everywhere. Stop in an office and casually ask them to think about the best possible price they could offer if you wanted to rent a car for two or three weeks. Remember the name of the person you spoke with. When you return the next day, speak with the same person. Address him/her by name. I can almost guarantee that you'll come to an agreement. A lifetime of traveling has taught me that a personal approach still works best. This is another universal principle.
Check back every two weeks for my latest travel tips. I'm housesitting in Mexico this summer!