Travel is more than the seeing of sights; it is a change that goes on, deep and permanent, in the ideas of living.— Miriam Beard
How To Do Exceptional Things Inexpensively
Post #13 Adventure in the Caribbean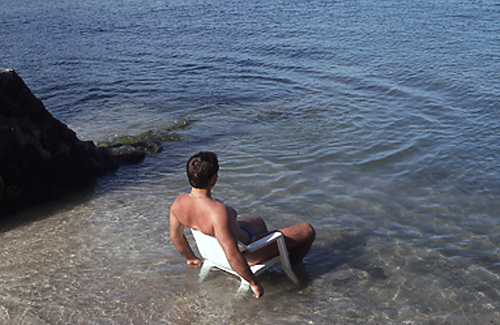 Any typical resort vacation in the Caribbean can be turned into an exciting adventure by taking advantage of the reliable and inexpensive ferry system that connects many of the islands. From Martinique alone, one can get to tranquil Marie Galante and Les Saintes, or the untamed wildness that is Dominica. But when I once asked a couple who'd spent a year sailing from Florida to Venezuela which were their favorite islands, without a moment's hesitation the wife said, "the Grenadines."
The Grenadines are a chain of over one hundred islands and reefs extending more than sixty miles between St. Vincent and Grenada. This is the least-developed edge of the Caribbean where small inns have not been replaced by high-rise resorts and casinos; whirling fans still outnumber air conditioners. Much of the population supports itself from farming and fishing, not tourism, and the few airports accommodate only smaller aircraft. Many of the islands are accessible only by sea, and their diversity runs the gamut from exclusive hideaways for the rich to those almost untouched by time.
1. Fly into Kingstown, the capital of St. Vincent, in time for the Saturday food market. This market is reputed to be one of the largest in the Caribbean. Vendors spill out of the main covered building into the surrounding streets; women in full skirts shield themselves from the sun with parasols. I was there with my friend Kristen, and we were overwhelmed by the variety of produce unknown to us as local farmers happily instructed us on how to prepare dasheen, christophene, callaloo, soursop, sugar apples, hairy, mangled tubers and breadfruit. We learned that the breadfruit tree was brought to St. Vincent in 1793 by Captain Bligh. It is rumored that when Bligh came from Tahiti on the Bounty, he gave more water to the plants than to his crew, thus fueling the mutiny.

Gouda stuffed with rum-soaked beef                Transporting goods on St. Vincent        
2. Rent a jeep and drive winding roads, up steep hills, and over rushing rivers into the lush interior rain forest aptly named Mesopotamia Valley to see where this bounty comes from. The nearby volcano has created acres of rich fertile soil that are jam-packed with pineapples, limes, and exotic tropical flowers -- the entire valley shrouded in a perpetual mysterious mist. This would be the first of many times Kristen and I would say to each other that we couldn't believe we were in the Caribbean. It wasn't like any place our parents had ever taken us on family vacations.
3. Hop on the inter-island ferry that departs twice a day: first stop, wonderfully unique Bequia. Crowds wait on the dock to greet friends, get mail and pick up things they've ordered. It intrigued us that there were no addresses on any of the items, only a name and an island: Enid Johnson, Canouan; Oliver Baptiste, Union. Bequia is one of the great meeting places in all the Caribbean. Plan to stay a while (you'd even be comfortable coming here alone). Yachters mingle with Rastafarians, expatriates with travelers, the young with the old.
The restaurants and shops in Bequia all have wonderful names like Whaleboner, Gingerbread, and Old Fig Tree. You can't be in Bequia more than two hours without hearing about Mac's lobster pizza. "Main Street" is a narrow path that meanders over sand, rock and through the water at high tide. After the first night out, everyone learns to wear only skirts or pants that can be easily hiked up. The windward side of the island reminded us more of the Scottish countryside than the Caribbean. Dairy cows, sheep and pigs graze in rich green pastures under the shade of tall broad trees.

    Typical Bequia inn                                    De Reef Beach on Bequia
4. Pick up a copy of the requisite Exploring the Windward Islands by Chris Doyle before leaving on the inter-island ferry again. It's hard to believe that Palm Island was barren until a young couple, John and Mary Caldwell, bought it and planted thousands of trees. Petite St. Vincent is so private, one has to run a flag up a pole to alert the staff if you want service. Mayreau was one of the trip's finest discoveries. No town, one road, gorgeous beach and two damn good restaurants. In the morning we ate the deepest colored orange papaya I'd ever seen squeezed with lime, and homemade coconut pound cake smothered in honey butter; at dusk, the turquoise water reflected off the bellies of the seagulls soaring above.
We visited five islands in three weeks. Reservations weren't necessary because it was off-season, and there was always a cute inexpensive place to stay no matter where we ended up. Of course we did our share of snorkeling and sunbathing expected of any Caribbean vacation, but we also cooked in the homes of women reputed to be the best in the islands, and were invited to Thanksgiving with twelve other guests aboard a yacht. Once hiking on Bequia, the aroma of cinnamon led us to a one-man bakery high in the hills -- and enlightening conversation with an enterprising native whose family had been on the island for generations. Whenever we got tired exploring on foot, we could always wave down one of the vans blasting calypso music that continually cruised the island.
Click on the green comment box to the left of the article as you read. Let me hear about your experiences. Ask questions. I'm happy to offer suggestions and look forward to solving challenges together. And check back every two weeks for my latest travel tips. Next blog: One-Week No-Hassle Getaways
*Disclaimer: I receive no compensation for my recommendations.