Travel is more than the seeing of sights; it is a change that goes on, deep and permanent, in the ideas of living.— Miriam Beard
How To Do Exceptional Things Inexpensively
Post #3 Housesitting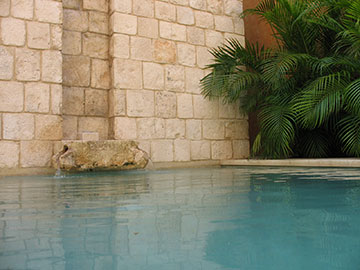 I'm a big fan of house rentals and housesitting, having done both many times in different parts of the world, from Morocco to Carriacou in the Caribbean. Not only can it be arranged within any budget, there is no better way to learn about another country and become part of the community.  After a couple of weeks, you and the shopkeepers will be addressing each other by name and calling "good morning" in the local language as you pass. Be sure to select a house in a historic area. There will be so many things to discover not far from "home" on easy day trips, you will save on transportation expenses as well.
I'm currently housesitting in Mérida, Mexico on the Yucatán Peninsula. Like a rental, there is a housekeeper who comes by once or twice a week and a pool man if there's a pool. Unlike a rental where you pay, there is no cost for housesitting, but in exchange for the use of a lovely home or apartment, you will have several important responsibilities. Almost all involve the care of beloved pets, so in addition to being reliable and tidy, you need to be an animal lover. A serious animal lover. If you are, this home-like feature is a joy, not a chore. For everything you will need to know, including the specific names of agencies worldwide, check out The Ultimate Guide to Housesitting by Jessica Ainlay and Dani Heinrich available on Amazon or their website, GlobetrotterGirls.  I originally came across this site by chance and it kept me up until two in the morning!

I arrived in Mérida fairly late at night and after being shown my room, the first thing I did was unpack the eight LED lightbulbs stashed in my suitcase at the owner's request. The garden lights were on; my windows overlooked the pool lined on one side with palms planted in front of an orange-tinged, pale terracotta wall. I knew instantly I'd be happy here. The next morning after discussing the care of the two formerly rescued cats Flora and Ollie, we reviewed the running of the house. Things like: leave the terrace lights on all night to keep the bats away ("we like bats, but not guano on the walls"), let the pool filter run for a couple of hours twice a week, be sure the garden gets enough water, feed the pond fish three times a week, and most importantly, if there's a hurricane warning, be sure the gas tank on the roof is full. A light tank could more easily blow away.
Mérida has everything--yoga classes, concerts, galleries, fun evening activities--even a great hospital. But I have to honestly say it's way too big a city for me. That being said, I'm in the delightful, tranquil landmark neighborhood called La Ermita and everything I need is nearby. José Gamboa's superb homemade Oaxaca string cheese and arroz con leche (rice pudding) are available at three in the afternoon (sold-out by eight) from his lecheria on Calle 69; Liliana does a brisk business in takeout ceviche from the small seafood restaurant La Estrella she owns with her husband Manuel; Ricardo on Calle 62 is my fruit guy; another Ricardo at tienda de Abarrotes on the square, my source for Cristal agua mineral and the Bimbo doughnuts I try to stay away from.

We all have different needs at different times in our lives. I came to Mérida not to travel, but to work. I needed time alone; when you're out of the country you're exempt from many obligations without anyone being angry! But whatever you're looking for, don't worry for a moment about being isolated in some unfamiliar part of the world. I've never been anyplace where I haven't met inspiring people and found ways to fill my days with engaging activities. Even if you are self-entertaining, Volunteer. Environmental and wildlife conservation projects always need help. Teach a child to read or how to use a computer.
I can hear the harmonious singing voices of a Sunday congregation in the distance as I'm writing. The almost three-foot iguana has already paid his visit. There's a stalk of bananas hanging on the wall about to ripen. When they do, I will share a few with the iguana before making and freezing banana/Kahlúa ice pops for myself. Simply said: I'm in paradise. And you can easily do this too.
Let me hear about your experiences. Ask questions. I'm happy to offer suggestions and look forward to solving challenges together. And check back every two weeks for my latest travel tips. Next blog: House Rentals