Smoking on airplanes may seem like a foreign concept to most, yet not too long ago it was a common occurrence. The No Smoking on Airplanes Bill, written in 1986, was the first legislation to restrict smoking in public spaces -- igniting the smoke-free revolution. This bill is just one of many laws passed in the United States Senate that have dramatically changed our lives. It was written by Sen. Frank R. Lautenberg (D-N.J.), my husband.
Six years ago, I embarked on a special art project to explore the legacy pieces of legislation of all the United States senators of the 109th Congress and the new senators of the 110th. I created a series of photographs to complement each law that was passed and signed into law by a sitting president that made an impact on the day-to-day lives of ordinary citizens.
This project was inspired by a gift I made for Frank using a photograph I took of him in the Senate Appropriations Room and combined it with text describing 12 pieces of legislation he authored and got signed into law. These included the smoking ban, the law that changed the national drinking age from 18 to 21 and the law that lowered the blood alcohol level to .08 to safely drive a vehicle. Upon completing this gift, I began to consider the other 99 senators and their legislative achievements.
Through my outreach, I managed to secure the participation of 113 senators, both Democrats and Republicans. Still, the process of photographing them proved to be a bit more difficult. Finding the right moment to snap a portrait often meant a five-minute window of time. This did not allow for any elaborate preparation, staging or professional make up, which resulted in remarkably natural images.
My photography allowed me to engage with the senators in a manner I had yet to experience. For example, I discovered that Sen. Thad Cochran (R-Miss.) -- author of the Hurricane Katrina Disaster Assistance and Recovery Act of 2005 -- was the only lawmaker to have a baby grand in his office, while the office of Sen. Ted Kennedy (D-Mass.) was a veritable photographic history museum. Walking into his reception room, I was overwhelmed with emotion seeing the images of John F. Kennedy, Robert Kennedy, Martin Luther King Jr. and the rest of the Kennedy family. Just as I was trying to regain my composure, Sen. Kennedy asked me where I wanted to take his picture.
In presenting these images, I wanted to show the series as a whole. I used text to bind the portraits together, creating a single impactful statement. I wanted to create something that was both informational and artistic and most importantly I wanted it to spark a dialogue. The installation is meant to ask the question: How have they changed our lives? What have the senators done for us? How have they served us, if at all?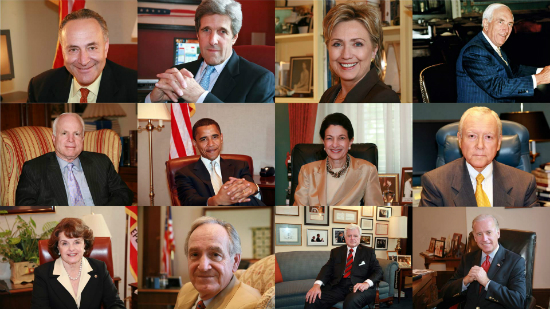 The exhibition "How They Changed Our Lives: Senators As Working People," the outcome of this project, will open at Mana Contemporary, located at 888 Newark Avenue, Jersey City, New Jersey on October 7, 2012. I am very happy this exhibit opens first in New Jersey, my husband's home state.