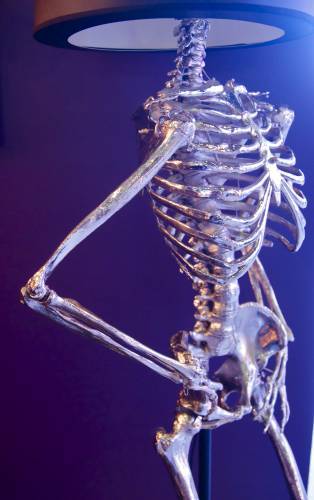 Every once in a while you see something that haunts the imagination -- like, say a skeleton lamp.
I noticed this gentleman lighting up a room at the Greystone Mansion Designer Showcase in Beverly Hills last fall and ran into him more recently at the WestEdge Design Fair.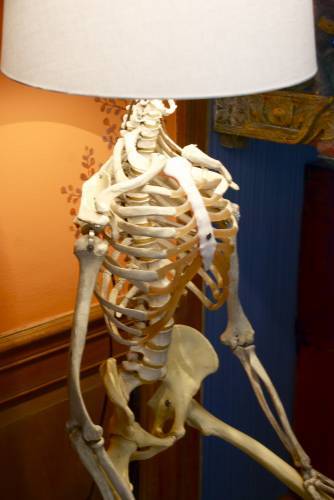 We've got to stop meeting like this...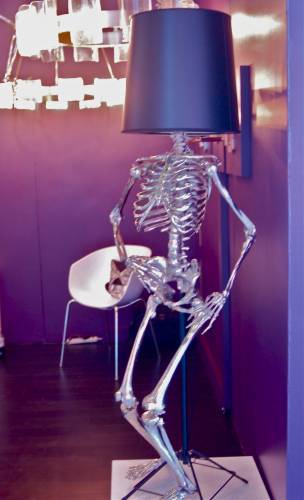 It turns out, the light-headed skeleton is the creation of Emmy-nominated set decorator Marcia Zia-Priven and Paul Priven, the husband and wife team behind Zia-Priven lighting in Los Angeles.
After working together in Hollywood, the couple teamed up to star in their own production and have been turning on design leaders such as Jamie Drake, Lauren Rottet, Geoffery Bradfield, and the late Oscar de la Renta ever since.
The duo designed the original, hauntingly beautiful piece for the designer showcase and it served as the inspiration for this year's glammed-up relatives.
The lamps are made using German-engineered teaching skeletons which are plated in 24 karat gold or silver using a proprietary process and priced between $1700 - $7000 (to the trade only).
Imagining how my dog might react to the expensive chew toy, and where I might put one in my own home, I asked Zia and Priven who they envisioned adopting the skeletal chic style.
"Celebrities, music industry clients, people looking to make a statement," said Zia, noting the lamp's inherent rock and roll vibe. "It's for people who want something that no one else has," added Priven.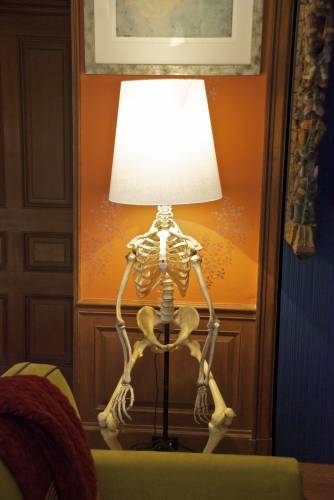 Steven Tyler are you listening?
Follow me on Twitter @ThsAmericanHome and Pinterest @Bonhome
All Photos by Bonnie McCarthy.