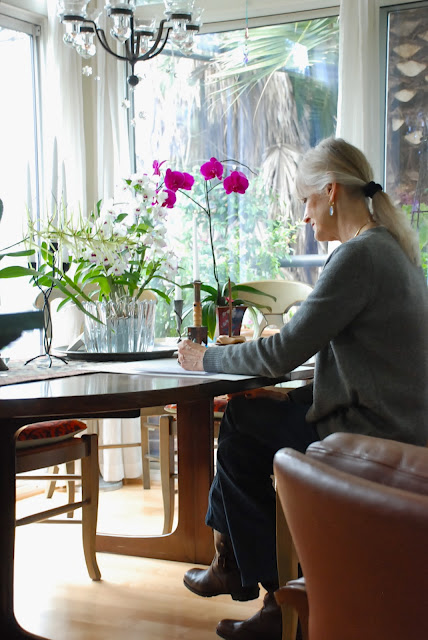 Walking into artist Dorte Christjansen's home is a bit like finding yourself in a sophisticated, art-filled treehouse.
Dramatic floor-to-ceiling windows dominate the second-story space and flood the rooms golden Southern California light. It's exactly the sort of place one might expect to find inspiration -- and perhaps an artist at work.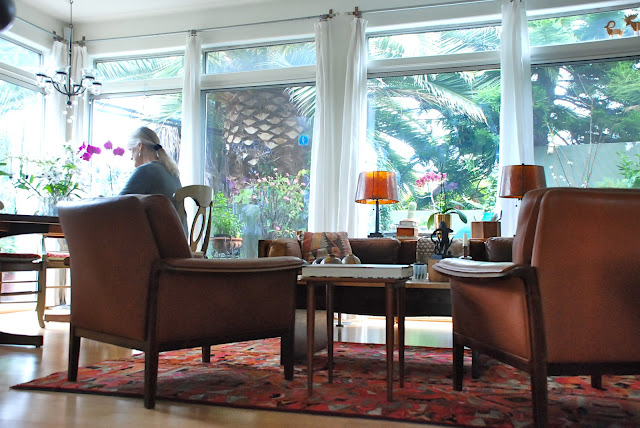 Dorte and her late husband, sculptor Stephen Werlick moved into the home in 1999 and she says the things she loves most are her views of the nearby lagoon (great vistas for landscapes), as well as her studio and garden patio.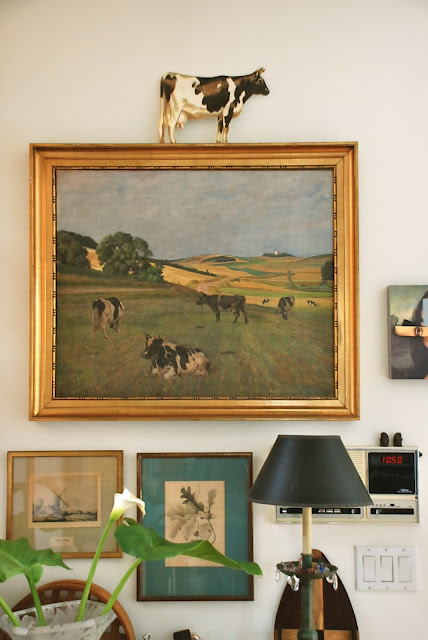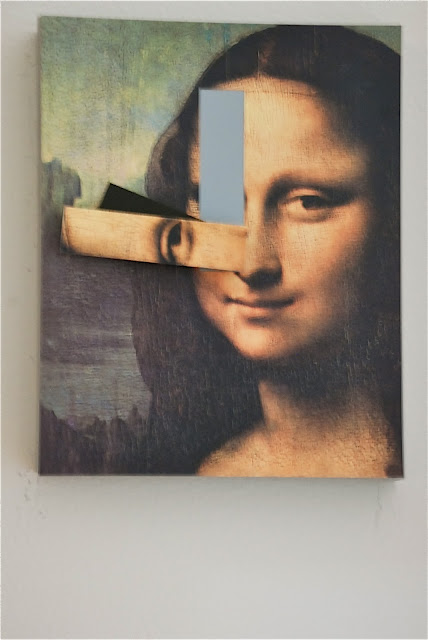 As one might imagine, art plays a major role throughout the interior providing elegance and character as well as clues to a very personal history. Above, the Mona Lisa clock was a gift, when it strikes 12, the portrait is complete. The rural landscape is an oil painting by Dorte's grandfather, Danish artist, Rasmus Christiansen.
Below, a pampered cat-in-residence and a collection of urns that have served as props and inspiration.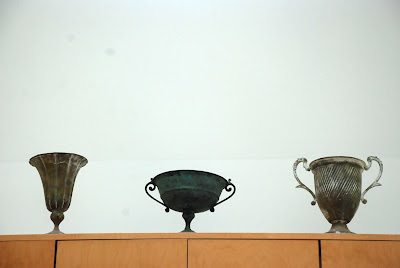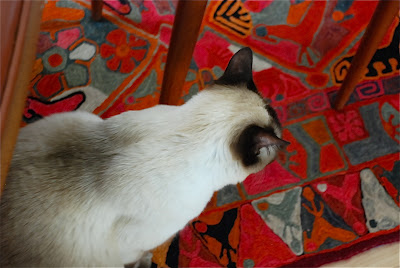 Outside, Werlick's sculpture of Proserpina, the Roman goddess whose myth symbolizes springtime and the story of life, death, and rebirth poses playfully on the patio. I love this sculpture, but would have guessed her the goddess of surfing.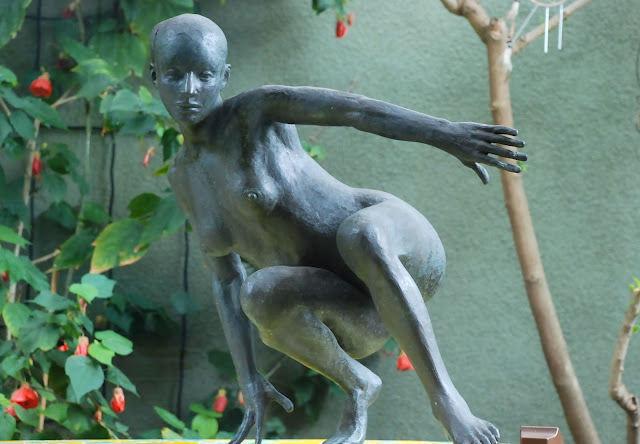 A bronze bust of Dorte surrounded by the artwork of family and friends.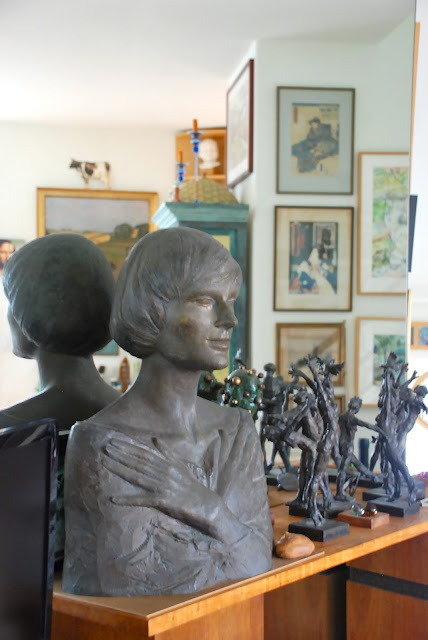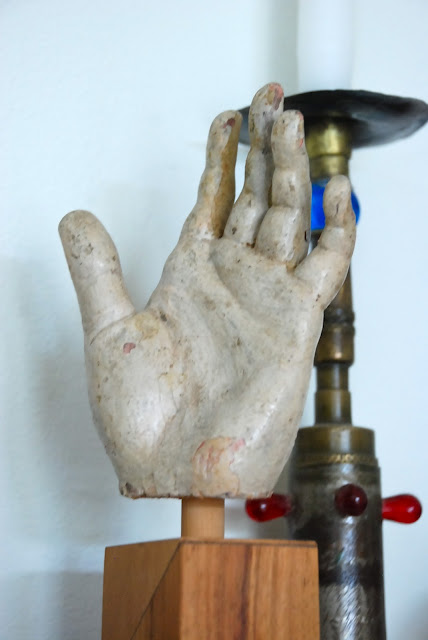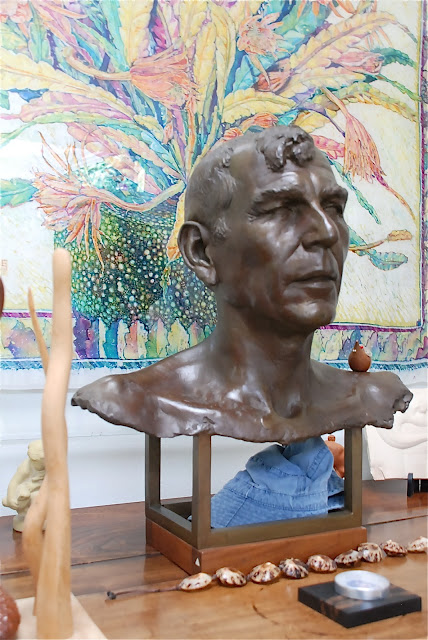 The bronze sculpture of Stephen was created by one of his former students, now an accomplished sculptor himself, Thomas Marsh. Dorte traded him for it with one of her own pieces, a batik mandala.
As for the denim bucket hat ensconced underneath, Dorte says it simply reminds her of her husband. "He always wore bucket hats to protect his head when he bashed into something while working in his studio. He pretty much wore a hat whenever we went anywhere, too. The denim is just one of a collection, but I figured it was such a part of him that it should be by his portrait -- and occasionally on it!"
Behind the bust hangs one of Dorte's own paintings on satin. "I refer to it as Epiphyllum and Lady Gouldian Finches," says the artist. "I had a pair of finches -- I really don't care to have birds caged, but they were so beautiful with their amazing colors -- they became models for paintings and batiks. I think they lived a good life -- I took care of them."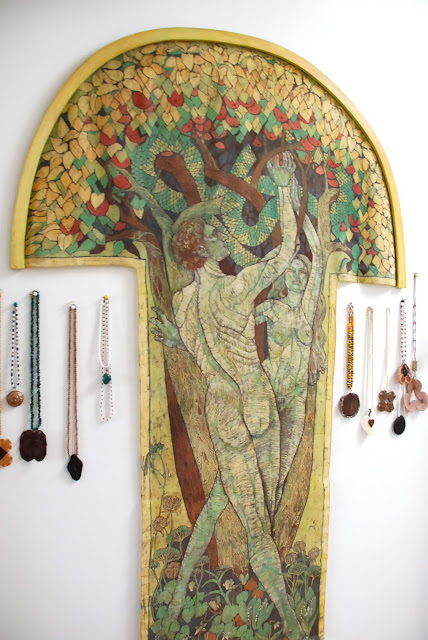 Another wall features Dorte's painting of Adam and Eve framed by a row of dangling pendants. Dorte says the collection started out as "little pieces of exotic wood."
"Then, Steve would transform them into these beautiful pendants for me. He enjoyed finding the right chain or set of beads to hang them. They would just sort of show up on the wall as a surprise. A couple of pieces are made from old ivory that was given to him many years ago. They are like wearable sculpture and created a lot of interest. There is one on the credenza in the entry that made people think I had a snake around my neck whenever I wore it."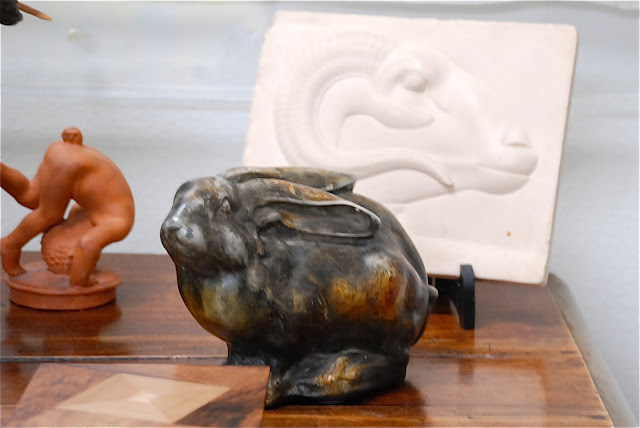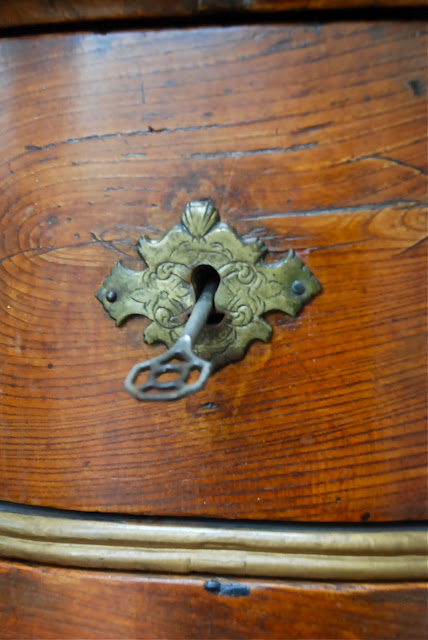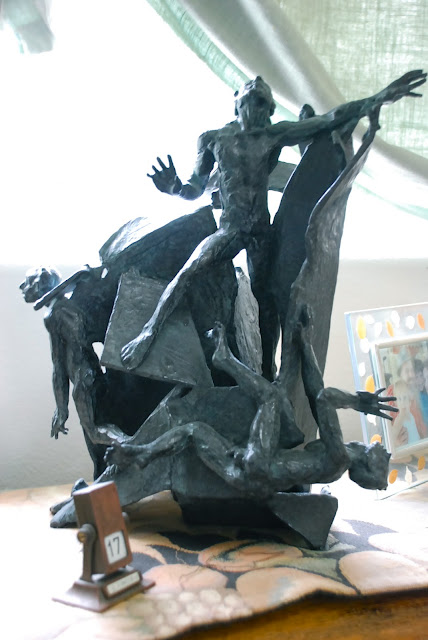 A key detail on an 18th century Danish country chest that sailed with Dorte's family when they came to America.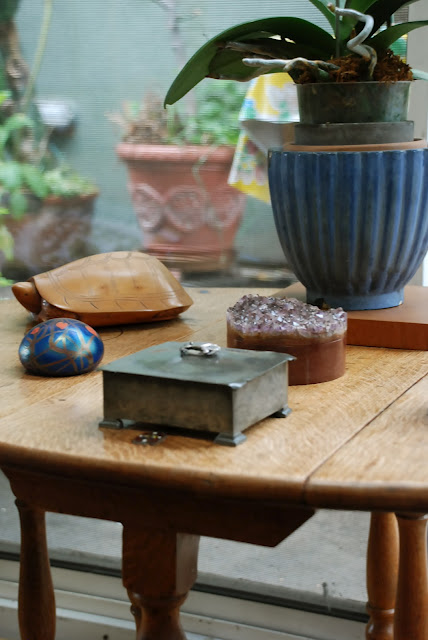 Dorte says although she couldn't choose her favorite piece of art, she is adamant that she couldn't live without it.
For those looking to begin their own collections, the art professor has this advice: "I think starting with local galleries, university and college galleries or open studio tours is a good way to go. The internet features zillions of websites too." Dorte notes that galleries are useful for tracking down favorite styles, artists and mediums. "Many studios and galleries will let you try [a piece] out in your home before purchasing."
Good to know.
More posts by Bonnie McCarthy can be found on her blog, This American Home.