Material possessions, our stuff, the things we love and live with are temporary -- just ask furniture designer David Rasmussen whose studio in Carbondale, Colo. burned to the ground one night last November along with more than $100,000 worth of equipment, tools and hand-made furniture.
"It felt like my career was over," says Rasmussen who describes watching the small factory burn on a night so cold the water froze in the fire hoses. It was gone. "All gone." And Rasmussen was not insured. "Mistakes happen," he says, "and sometimes we pay dearly.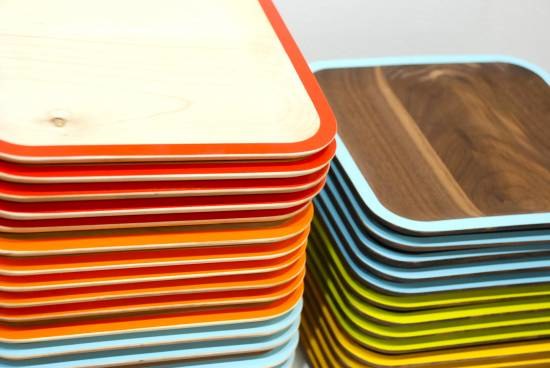 Luckily, talent and spirit are impervious to fire. "I haven't lost everything," says Rasmussen in a fundraising video (shown below). "I still have my hands, my mind, and the momentum... it's from inside that ideas are sketched, lines made smooth and shaped into the designs that drive my existence."
With a new goal of rebuilding a studio that will allow him to produce the high-end furniture he describes as, "a post-modern, mid-century mix," Rasmussen intends to standardize some of his designs so he will be able to produce more of them.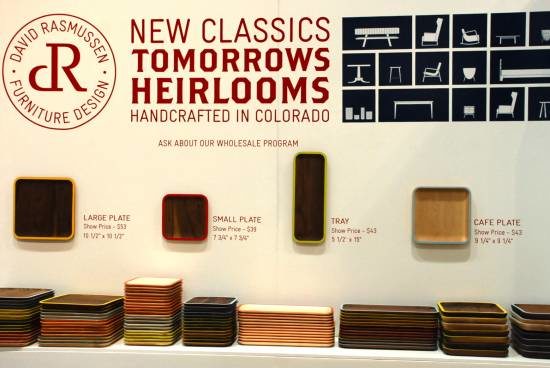 To fundraise, Rasmussen has applied for grants and held an art auction. He is also seeking financial backers on a fundraising website, called, Kickstarter.
Kickstarter works by allowing supporters to "pledge" to buy an item (from $5 and up) in order to meet a financial goal and deadline. In Rasmussen's case this goal is to reach $15,000 dollars in pledges by July 13, 2012. If he receives enough pledges to meet that goal, the fundraising project will be considered "funded," the credit cards of the donors will be charged, and the items purchased shipped accordingly. If the goal is not reached, the donors will not be charged, and the project will be over.
As of this writing, Rasmussen has 30 backers pledging $1,930 dollars. With less than 20 days left, there is a long way to go.
"The pieces I'm making right now are being made from wood burned in the fire. There's something powerful in taking something out of the ashes to build something new."
Rasmussen's WUD plates and trays -- part of the Kickstarter project -- are made from a single piece of walnut or maple wood and were on display at the Dwell on Design show in Los Angeles last week. The plates are finished with oil to allow years of maintenance-free use and finished with brightly colored rims in lime, blue, orange and yellow.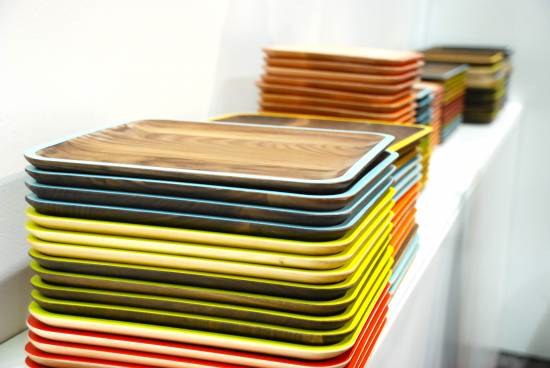 "Maybe someday I'll look at these months and only see the positive reflected back at me," says Rasmussen, "because then I'll know where this is leading me. But right now it's hard to see..."
Photos by Bonnie McCarthy; video courtesy of David Rasmussen Furniture Design.