It's hard to see the gifts that come with living inside a work-in-progress when it's, well, in progress, but as my family and I suffered through the dust and indignities of our latest home improvement project I realized the journey had its perks.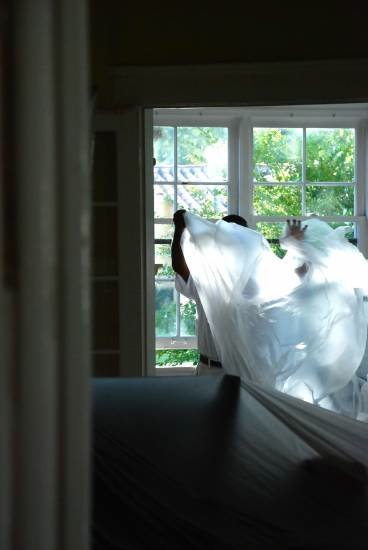 When the contents of my home were pushed to the center of rooms and covered with plastic, the floor a patchwork of drop cloths and the whine of electric sanders droned incessantly, I felt the same way about people stopping by for a visit as I did when I lounged poolside nine months pregnant.
You can suck in your stomach wearing that pregnancy poncho they call a swimsuit but it's not going to make one bit of difference, and the same goes for the dust and chaos. In a way it's a golden opportunity to let it all hang out.
I should have had a party. Except I looked like hell and there were times I couldn't reach my desk to contact friends. At one point, I accidentally directed the painters to cut my phone line. My bad.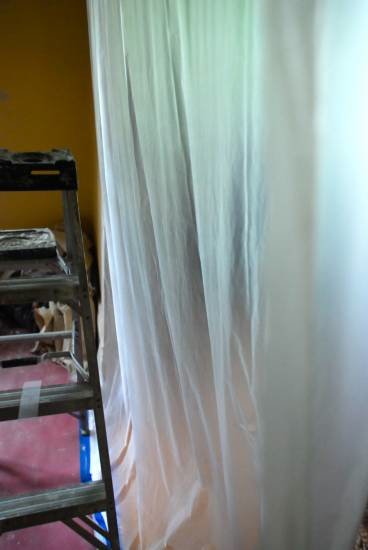 Plastic sheets taped to doorways attempted to separate the dust from rooms that were being worked on from rooms that weren't, but that was about as helpful as Lamaze breathing. Escape was futile.
I wonder why there's no reality show about living in a house undergoing repair? I may have to pitch that to the networks. A cross between Survivor and The Amazing Race, but with home projects. The scenario's got everything: endurance, drama, living by your wits, sleep deprivation, fight scenes, transformation, the ruthless culling of the weak, and ultimately, hopefully, a happy ending. I'm not sure where the hot bachelorettes come in, but maybe they could deliver the pizza.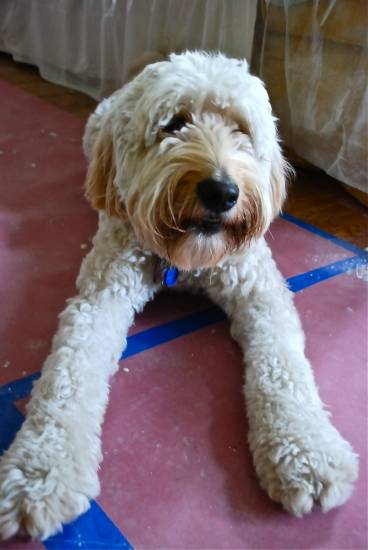 Which brings me to my next point of adding restaurant expenses to the reno/revamp/repair estimate.
Sure, I've had friends who tell tales of washing dinner dishes in their bathtub (while very pregnant!), and others who cobbled together makeshift encampments in the backyard to cook for their young. No microwaves or take-out for these folks. However, despite my fondness for Laura Ingalls Wilder books, and the fact I am about one-eighth (or is it one-sixteenth?) Native American, I would have lasted about two seconds on the prairie. I've always believed if I did have an Indian name it would be something like, Lazy Squaw Who Sleeps in Shade. But I digress.
And why, during home repair, does it not only become acceptable, but encouraged to allow complete strangers into your house around dawn and then let them come and go as they please throughout the day? It's like getting a house full of roommates without filling out a "preferences" survey. Sure, everyone is going about their business, but what are the rules of engagement? Should we chat? Is it polite to just walk by your team of workers with barely a nod, or should you constantly think up new pleasantries: "Looking good!"; "Wow, it's a hot one today!"; "Team Cullen or Team Jacob?"
Of course besides the obvious work-in-progress advantages: not being able to fold or put away laundry because the dresser drawers are mummified and the closets boast shiny wet paint; significantly reduced housework; a free pass to eat dinner away from the chaos; and a host of new friends for the Christmas card list, I was surprised by another unintended perk: namely, my kids began to crave order.
All in all, they were pretty good sports about the disruption to their lives, and I probably wouldn't have voted them out of the house for several episodes, but as the project came to a close they developed a real appreciation for calm, quiet and clean. Not to mention a fervent thankfulness for TVs and video games that were unwrapped and plugged back in... but I like to focus on the fact they were actually thrilled to put their rooms back together and clean up.
At one point, they even rhapsodized about keeping those rooms neat and clean permanently. Where's the video cam when you really need it?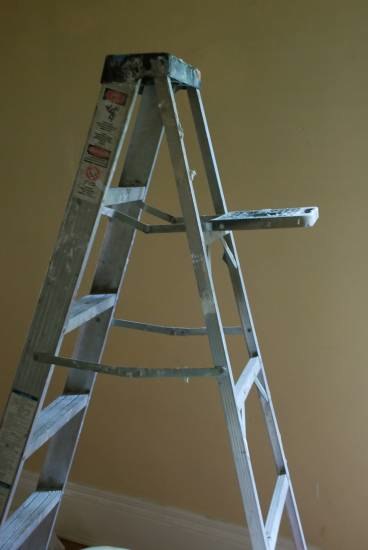 We're not out of the woods yet. Our project is not completely finished and there will always be another repair on the horizon, but in my attempt to keep calm and carry on, I relied on two internal mantras: "This too shall pass" (you know it's bad when you revert to old English) and "I am grateful to have a home I can work on."
And now, writing in a quiet house, with relatively normal levels of dust and clutter, surrounded by a few awesome repairs and a fresh coat of paint on the office walls, I remain very grateful indeed.
All Photography: Bonnie McCarthy