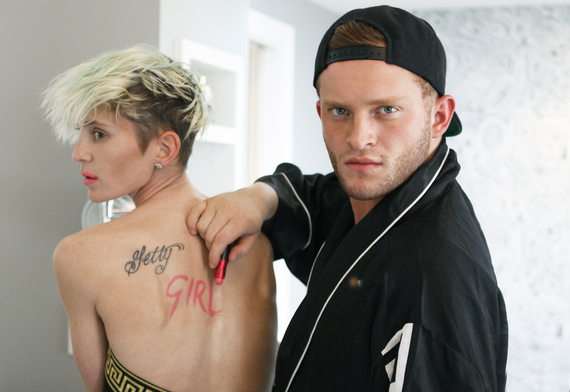 Natalia & August Getty (photo credit: Brad Hammer)
August Getty is still reeling with excitement from his first showing at New York Fashion Week. At a mere 20-years-old, August is one of the youngest designers to show on a main stage during this prestigious event. Knowing that August is such a talented and colorful character, I thought it would be fitting to introduce him to all of you.
It is a Saturday night, about 9 p.m., and August greets me at his front door wearing Adidas running pants, a hoodie, and a long blonde wig. He leads me through his perfectly manicured front garden, where I spot his dear friend, Vicky Vox, in the media room. We wave to each other through the huge glass doors. As we enter the house, I ask August where he would like to do the interview. "The kitchen," he says. "I'm Italian and I love the kitchen, it makes me feel at home and reminds me of my mom." As we make our way there, I cannot help but notice all the beautiful art. (He is a Getty after all)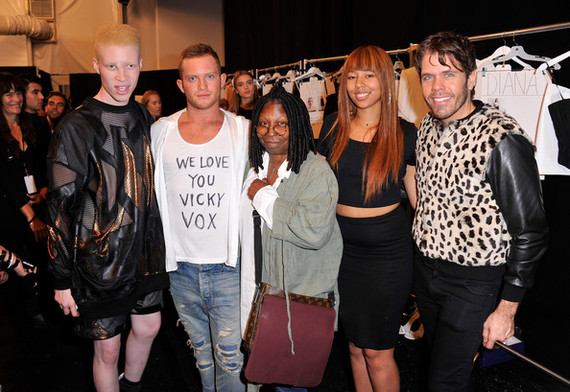 Shaun Ross, August Getty, Whoopi Goldberg, Jerzey Dean, Perez Hilton (photo credit: Zimbio)
The ambience is beautiful and warm, as we walk into the kitchen. Fresh cinnamon is boiling on the stove and gorgeous orchids are in full bloom on the granite-topped island. August recommends I try a glass of Moscato and pours it into a Versace wine glass. I offer a toast, "To your wig." We both laugh.
I figured I might as well start off by addressing the elephant in the room-the wig. I ask August about it and, he candidly replies, "I always have wig parties. Wearing a wig makes me feel comfortable." I think to myself, this is clearly a young man who is comfortable in his own skin, but what about the seemingly intimidating New York Fashion community, is he as comfortable around them? "I am still in a delirium and high from it all," he says. "I felt very comfortable and welcomed into the fashion world; I really am blessed. Even so, I try not to take things for granted. I actually have a funny story about that." I nod and smile as he continues, "On the night of my show I was the first one at the venue and I show up to the front door carrying multiple items. The security did not think I was part of the team. I stood there for a really long time because I didn't want to offend him, but finally I had to tell him that I was the designer for the show."
Wow! So, here I sit with a humble 20-year-old, from one of the most affluent families in the history of the United States. It is not every day you come across someone like this, especially in Los Angeles. As August lights up a Marlboro Light I ask him to talk about how he came to be a fashion designer. "I used to dress up metal forks by making gowns out of napkins," he laughs and takes another drag. "I also would cut up my mom's silk shoe bags and make couture gowns for Barbie dolls." I smile at this and tell August that my father was never very happy when I would play with Barbie's. "Luckily, my family has been supportive of my ways of expression. It helped that my sister and muse (Natalia) took over the tomboy role, but I was creative before I knew of the word gay. Gay is not a description of one's personality or of one's traits, it is simply one's sexuality," he responds. "Amen" I say. We clank our glasses and I propose a toast to August, "a true artist."
Immediately August reacts, "Don't you think that people today have abused the word artist? It is a shame that recently I have become embarrassed to say that word." I am intrigued as he continues, "Forgive me for being a little religious at this moment, but I believe an artist is a vessel, we are the vehicle to deliver a thought an inspiration, a movement. In the past I felt more in love with the word love. And my sketches now are less about my journey with love and more about the woman who will be wearing it. It is no longer about me. I cannot masturbate with my own art any more. This is for you."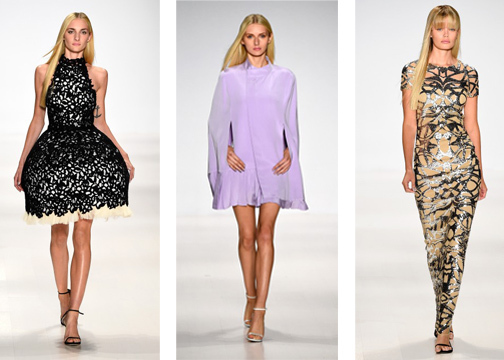 August Getty, Spring 2015 (photo credit: mbfashionweek.com)
Well, it seems fitting for me to have a cigarette after that statement, so I light up. As I go to ash, I notice that, even the damn ashtray is Versace! Although, it seems pretty clear at this point, I ask August if Versace is his favorite designer? He replies, " McQueen. Actually, I was told I would intern for Alexander McQueen before his life crescendoed. The whole thing is a very hard topic for me to talk about because I never met him. His vision is something that my mom and I care about so deeply. He was a true creator. I also have love for Vivienne Westwood and Stella McCartney because I remember my mom opening their garment bags when they arrived at our estate. As far as Versace, my adoration comes from not only the designs, but I also see a strong correlation between Giovanni and Donatella and my sister and I. We are strong, Italian, and stubborn. We, like them, are two sides to one coin."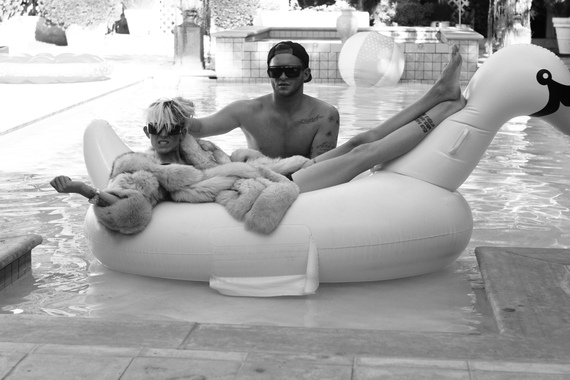 Natalia & August Getty (photo credit: Brad Hammer)
As I listen to August talk about his family and his story it all really begins to make sense why he came to be in the position that he is currently. Being surrounded by all the finer things in life is a great start, but is having the Getty last name enough? I took a healthy gulp of wine before I asked August what he would say to people who think he got ahead because of his last name. August very openly responded, "I don't care if people believe me or not. If I were homeless, I would still find a piece of paper and still sketch my heart out. It is not something I can run away from. It's almost as if the part in me that designs is my best friend, a best friend that knows the deepest darkest things about me and helps me release them." Captivated by this profound statement, I ask August what we can expect from his "best friend" in the future. "You can expect sheer elegance, daring sex, and prevailing creativity. There will be no divide between fantasy and reality for the Getty Girl."
As August says this I realize at some point in this interview he had put a wig on me. I look at him and with a hair flip I ask, "What have you done to me?" He replies with a sheepish grin, "Welcome to my reality."