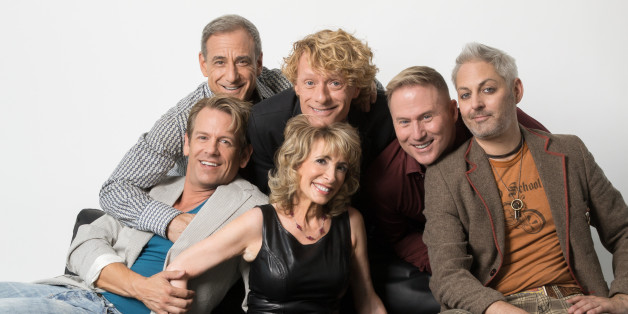 Carrie and Co.
Whether you love HBO's groundbreaking millennial hit or simply prefer to hate on it for its deference to conspicuous consumption, there's no denying that Sex and the City was, and still remains, a cultural force to be reckoned with. Like All in the Family, Cheers, and Seinfeld, its influence on episodic ensemble comedy is so expansive that a writer of this stuff would be lying if he or she said the show had no bearing on their work. Leon Acord is not a liar. "An inspiration that I will cop to -- and I hope it doesn't get me sued, because we do get compared to the show a lot -- is Sex and the City."
He reveals, "I remember seeing the Sex and the City movie, and at the end of it, Samantha is turning 50 and decides to break up with her boyfriend and go back to her single life, and I remember watching the movie and having sort of this moment of, like, 'Oh, that's so sad. She's 50 and single.' And then I checked myself before I wrecked myself and went, 'Wait a minute. You're not far from 50. Do you think it's sad?'"
Of course, things were slightly different for the actor/writer, who'd been in a committed relationship for 20-plus years, but as any gay man -- hell, anybody, for that matter -- over 40 and living in Los Angeles will tell you, age can be way more than just a number here. "In San Francisco gays of a certain age are still kind of marginalized, but there is this feeling of, 'They're the elders; they're the history bearers,'" Acord explains. "There is a kind of respect for older gay men that does not exist in L.A. L.A doesn't want to know from history -- gay, straight, or otherwise."
We talk a little bit about why he thinks this is, but in a town where an aging actress can be more terrifying than airborne Ebola, and where Greta Garbo is admired for her steadfast solution to the "problem," it doesn't take too much digging. Add to that the propensity of many gay men -- or men in general -- to espouse the young and pretty and you have the perfect storm -- and the perfect setting for a series. "I wanted that to be the foundation of the show, that mentality that is, I think, so prevalent in the gay community, especially here in L.A.: 'You're 50; turn off the switch,'" he says.
Bruce L. Hart, who plays Nathan's nemesis on Old Dogs & New Tricks, audience fave Nelson Van Eddy, says, "As an actor and as a producer, particularly of gay-themed projects, I was so grateful to see a show about men over 40." A Michigan native who's worked steadily in film and television since moving to Los Angeles in 2007, Hart knows a thing or two about the climate out here. "Most of the casting breakdowns for actors these days are for ages 20 to 30 -- 30 being the old person," he says. "Anybody over 40 is unheard of, or if there is a role, there's not much to do, and I've certainly seen enough of those." But he hadn't seen anything like Old Dogs.
You Gotta Have Friends
"I knew I wanted to do an ensemble," Acord says during our second chat. This time he's adequately rested, decently caffeinated, and, even though the play still has several more shows left, much more at peace with how it's all going. ("We've sort of ironed out the wrinkles -- and believe me, there were a lot at first.") I tell him my thoughts about his performance and how, as a gay man, I very much related to the stories that he and his three co-stars were sharing, and he responds with a polite but brief "thank you," though I swear that this time he lets himself receive the compliment.
"If you cast it well, you have to work hard, but you don't have to work as hard," he tells me, referencing some crucial foresight employed during those early days in Indiana. "I knew that if I had characters whose personalities were opposed enough, I just had to get them together and their reactions to what each other says would make up for a lot in the comedy. So I started with, 'OK, four characters. Who would they be? My character would be a talent agent. There'd be the hedonistic rock star. And we gotta have the guy who used to be a TV star but isn't anymore."
"Mid 50s actor at a career crossroads with heavy ups and downs." That's the description I get from David Pevsner for the character of Ross Stein, the perpetually conflicted former '80s TV star, ever-loyal bud to Nathan, whom the actor has played since the Old Dogs pilot in 2011. Similar to Stein, Pevsner knows what it feels like to age in a town that's allergic to the process, but with a résumé that includes gay classics like 2001's The Fluffer and 2010's Role/play, guest spots on some of the biggest shows of the past decade (Desperate Housewives, Grey's Anatomy, Criminal Minds, Modern Family) and even a blockbuster film (this year's 300: Rise of an Empire), he's much more comfortable with his professional legacy -- among other things.
"I'm a bit more free about my sexuality and physicality," Pevsner tells me in his own endearingly no-nonsense way. (A totally NSFW Google search that may have lasted a little longer than I'd first planned will confirm this.) "Ross is a lot more private about that stuff," he admits, referring to his closeted alter ego, who's currently embroiled in a difficult separation from his husband, Neal (voiced by none other than Laurence Whiting in season 1, and then portrayed by Doug Spearman in Season 2, and by Parnell Damone Marcano in the Halloween special, WeHo Horror Story, and in Season 3 after Spearman had scheduling conflicts). "But we both deal with crap using humor, and we both really appreciate our friends."
"I don't think the show would be the success that it is without Pevsner as Ross," Acord says confidently, even though things might have just as easily gone in a completely different direction. "Jim J. Bullock was interested in the part, and although he really wasn't right for Ross, we were like, 'OK, well, if he wants to do it, we're not going to say no.'" After all, how could anyone refuse the iconic Too Close for Comfort star?
Fortunately for all parties involved, fate intervened. Acord recalls, "We were two weeks away from shooting the pilot when Jim J. got an offer to be a part of a road company for Hairspray. Pevsner had come in and auditioned for the parts of Muscles and Brad and was so good at each, but we went 'another way,' as they say. He was so good, though, that I didn't even freak out when I got the call from Jim; I just immediately picked up the phone, called up Pevsner, told him the situation, and he said yes. And it was done and taken care of in like 15 minutes."
As for locating the ideal candidate to bring sweet and sexy Muscles to life, well, that was as easy as setting up an Internet profile. "I did a listing on one of the online casting sites and met Jeffrey at a Starbucks in West Hollywood," Acord reveals. "You know that scene [in season 2] where [Muscles] tops Bobby for the first time? I tell Jeffrey, 'You don't have to go all the way, but just show me in your face what expression you would use in that scene.' And, God love him, he stood up, hiked up a leg and started humping the table on the sidewalk."
Like Leon, and like the character he plays, Olson is a proud Midwesterner, a corn-fed Chicagoan who, in addition to acting steadily on stage and screen, is an award-winning body builder and physique model. And just in case you don't hate him enough already, the guy's also a certified anesthesiologist with his own cosmetic practice out here in L.A. "It's insane how perfect he is," says Acord. "He's not exactly itching for work, but you don't achieve a bio like Olson's without learning to say yes more often than not in life -- even if that means humping a Starbucks table.
I ask him if he's ever felt insecure or unsure about performing some of Muscles' more awkward bedroom encounters. "You always wonder how things are gonna look on film, and you might not be totally pleased with how your body is that particular day, especially when it's gonna live forever," he admits. "But I think you just have to put those thoughts aside, have fun, and ultimately get to work."
"He is Muscles," Leon says of his co-star. "He's not nearly as naïve, but he's just so nice and so genuine, and he certainly looks the part." Olson will concede, "I think there's a lot of me in him and vice versa. I'm a little more jaded than him. He's [exuberant] like a 21-year-old, but his emotional intelligence is pretty high as far as what he expects from people and his values. I think it's startling to him that all people don't have each other's best interests at heart, or that there are ulterior motives in the dating world."
Sadly for Muscles, there most certainly are, and nobody knows this fact better than former one-hit wonder turned WeHo welcome wagon Mr. Brad King, played with unrepentant gusto by theater vet Curt Bonnem. A friend of Acord's since they each appeared in the 2009 Theatre Asylum production Carved in Stone (ruminating on life, art, and the queer gaze as famous dandies Tennessee Williams, played by Bonnem, and Quentin Crisp, played by Acord, alongside Oscar Wilde and Truman Capote), Bonnem easily remembers his first meeting with the Old Dogs creator, then a producer on the project. "Since I was playing Tennessee Williams, I brought a rocks glass with a whisky lookalike -- probably iced tea or something -- as a prop, and Leon really loved that," he recalls. "He just thought it was very funny."
The actor considers that intro one of the main reasons he eventually landed the part of hard-partying Brad, but Acord credits another booze-infused encounter for truly allowing Bonnem to seal the deal. "Actually, before Jim J. came on, I'd talked to Curt about being Ross, but he was way more interested in Brad," he says. "In fact, we had lunch, and he got sloshed on martinis, I think, just to show me how Bradlike he was."
Bonnem says he "immediately clicked with Brad" after reading the script. "I just related to him a lot more; I loved his playfulness and his wild streak, and I loved the idea of his faux British accent," he recalls, mentioning the Madonna-esque strategy his character employs to appear edgier and more desirable.
Now it's hard to imagine anyone else besides Curt playing the ravenous King, but originally Acord had other ideas. "At first I'd imagined Patrick Bristow for Brad," he says, referring to the TV vet, Groundlings alum, and Showgirls scene-stealer. "Patrick was one of the first people I actually let read [the pilot], and he was so complimentary about the subject matter and about the fact that we had the balls to do something like this, but he was nervous because he does a lot of children's theater, so he wasn't able to really commit." (Bristow made it as far as the first table read before having to pull out of the project, although, much like Bullock, he has remained an avid supporter of the series, even appearing as Nathan's shrink in Season 1.)
If we were to indulge in the Sex and the City comparison, Brad would be the Samantha of the group (to Ross' Miranda, Muscles' Charlotte, and of course Nathan's Carrie, if for no other reason than the fact that Acord and Sarah Jessica Parker share the same enviable head of wild, flaxen curls). And just like Kim Catrall's power publicist, he's not afraid to get a little down and dirty in the bedroom. I ask Bonnem, who is openly straight, about filming some of the rocker's more ribald scenes. "Those are never a piece of cake," he replies, "but the bottom line is it's acting, and it's always fun to stretch and push your boundaries, especially with things that make you a little uncomfortable."
To this day, Leon marvels at how successfully his beloved Old Dogs made the transition from his brain to the page to the screen. "Really the biggest changes are David Pevsner doesn't want to wear argyle anymore, and I thought Muscles would be a brunette," he laughs. He credits his "dream team" of actors for making this possible and once again wonders what he's done karmically to deserve such luck. I tell him what he did was write a fantastic script, and whether or not he believes me, the comment does warrant a laugh.