I have had the opportunity to interview some of island reggae's finest in J Boog and The Green recently. The opportunity given by the Yamada brothers (Seattle) of Da 808 Entertainment to interview the Common Kings was a great way to end 2014 and bring in 2015.
Common Kings just finished opening up for Justin Timberlake on his Austrailia/ New Zealand leg of the The 20/20 Experience. Prior to going on tour with JT, the Kings already were getting their much due acclaim. They became a YouTube sensation with tracks like "Alcoholic" and "Wade in Your Water."
Thier music has elements of island reggae, R&B, soul, rock, alternative rock, and pop. I told them during my interview that it's a pretty awesome bonding experience for my 6 year old son and I to be able to sing a Common Kings track. It's the music that I can share with him much like my pops shared with me Earth, Wind, and Fire back in the day.
Let me prepare you for this interview really quick. These guys are far from being the too serious artists. I knew it from the get go and prepared my questions in that fashion. They are artists who are very professional but are humble and able to be free themselves off the stage. Also I learned that they are big time football fans so you know I had to share my fandom as well. Although I wasn't able to come back to photograph the actual show (husband duties trump anything) it was amazing to watch these guys get ready for the show. These cats were a pleasure to interview and a great way to end 2014 in Seattle.
Big thanks again to the Yamada brothers, to Pele Bennett for being my assistant, and of course to the Common Kings team.
Let's have some fun!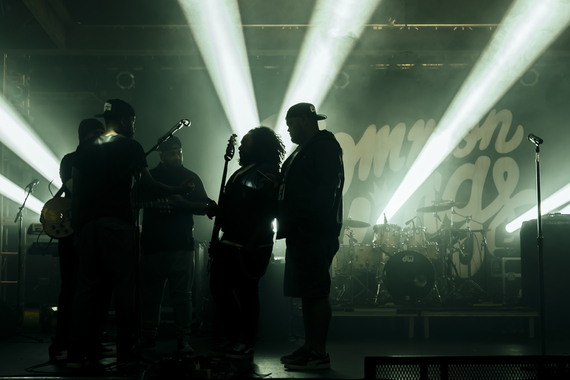 Common Kings huddle up. Photo: Brad Puet
Peace Kings!
Welcome to Seattle, Home of the Super Bowl Champion Seattle Seahawks!
(laughter)
JR: That's a great opening statement for an interview!
Mata: OK and that's a wrap. Interview done, see you later!
(laughter)
Please provide your names, your role in the band, and your pick for the Superbowl. NO worries no pressure.
Mata: My name is Mata. I am the guitar player and do some vocals as well. I moonlight when I do some Gogo dancing when things are rough. And my pick is Black and Yellow all day, Sixburgh, baby! Let's go!
(Other band members: "Wrong answer" then laughter)
JR: JR King, lead singer and I'm happy to be a part of this band. I love these guys. My pick for the Super Bowl this year because my 49ers didn't even come close, are the Seahawks. I gotta give it up to the Seahawks because they're pretty strong and they took it last year. As long as they beat the Steelers then it's all good.
Rome: Steelers aren't even going to make it past the AFC.
Mata: Ooh, What's your name sir?
Rome: My name is Jerome and I'm the drummer. My pick for the Super Bowl, of course are going to be the Ravens. They won it two years ago and they're gonna win this year...I mean...they're going to meet the Seahawks in the big game.
Uncle Lui: I'm Uncle Lui (Ivan) and I'm the bass player. I also moonlight as a bus driver for Greyhound when we're not on tour. My pick is the Seahawks because they've just been killin' everybody this year.
Mata: Not the Cowboys?!?
JR: They're not going to make it. I'm sorry.
I give you (Pittsburgh) credit for the Super Bowl in 2005, Mata. You're referees were awesome.
Mata: OOOH Can we stay on topic please?
(laughter)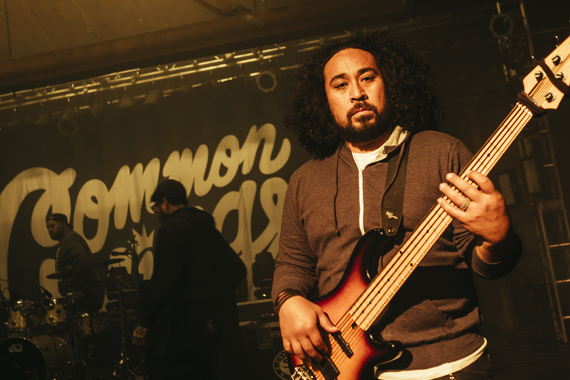 Bassist Ivan Kirimaua aka Uncle Lui, Photo: Brad Puet
What are each of ya'lls backgrounds, where you are from and the most influential person in your life as it relates to your music.
Mata: I am Samoan, French, German, Chinese, mostly Samoan. My dad has to be the most influential because he was a musician his whole life and it was inevitable that we would become musicians as well. All of my family play music so yea, it's my dad. He's definitely the most influential.
JR: For me, the most influential person for me is my mom. I'm Hawaiian Samoan. My mom's Hawaiian, my dad's Samoan. My mom's got so many flavors. She was raised in Oakland and is Hawaiian to the fullest but she listened to everything and that's how we grew up. We kinda listened to everything including some of that alternative rock flavor.
Rome: My influential person is my uncle who taught me how to play the drums. He was the first person to teach me how to play and that's how I fell in love with it. I'm Tongan. Both my parents are from the islands.
Uncle Lui: My most influential person has gotta be my math teacher in high school, David Grams. He's the first person I saw that played every single instrument in the band. He played them all. He would actually go and sit in each section and play their parts in the band. From the flute, clarinet, saxophone, trumpet, tuba, xylophone, the drums...and it was quite an experience for me to watch him do all those things. It was pretty crazy. Since then music has always been a strong part of my life. My dad and sisters play as well but I would have to say that he's the most influential. I am Fijian, Chinese, and Gilbertese.
JR: He's extra ethnic, man. Ooh you native.
Uncle Lui: I'm indigenous. Fiji wrote a song about my people.
Mata: AND we are all based out of Orange County, California.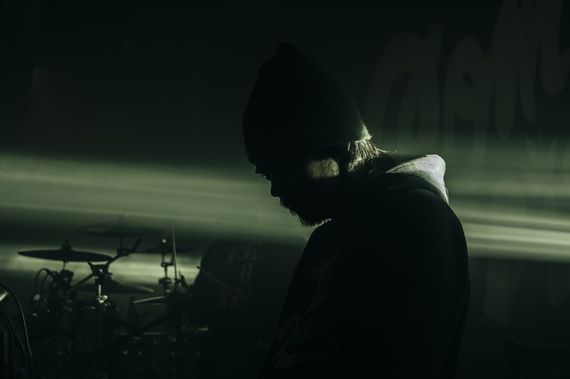 DJ Osnizzle, Photo Credit: Brad Puet
How did you all connect? Give us the story behind Common Kings - from the name to the relationships to your first show as a group.
Mata: We all met at a BBQ over at Ivan's house. Food...brought us together.
JR: It was in Newport Beach, California. This was the very first time meeting everyone. Yes, it was at Ivan's house. It wasn't only a BBQ but a jam session as well.
Uncle Lui: Everybody was just chillin'.
Jerome: You never know what you get in Newport.
JR: Jam session then one thing led to another. We all decided to start a band and started doing parties. Wedding parties, birthdays, battle of the bands...
So that was what, the first two years?
Everyone: Yes probably about right.
Mata: Yea we've known each for ten plus years and as Common Kings it's been about four solid years.
Uncle Lui: "Common Kings" was where we decided to take it more seriously. We were doing ok at the time but we figured we could definitely venture out and do more.
Mata: It was like the point where we wanted to go from hobby to career.
Uncle Lui: The name "Common Kings" is a tribute to our heritage; Samoan, Hawaiian Samoan, Tongan, Fijian. It's like when you go to PCC (Polynesian Cultural Center) in Hawaii and see the whole thing on display as far as the villages and things like that. Common Kings is like that.
Everyone outside of the show are like common people. We all have ambitions, desires, and goals just like everyone else.
It's also about where we are from. So we're happy and proud to say that we have a really deep and rich heritage.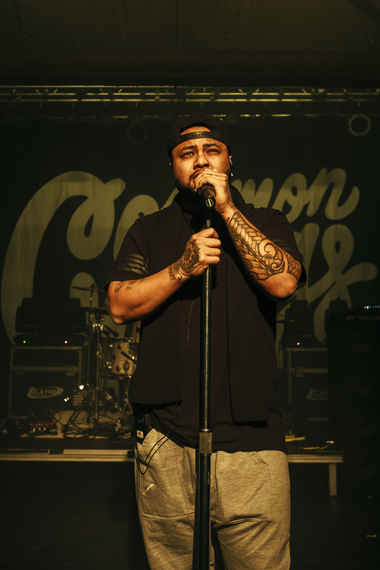 Lead singer Sasualei "JR King" Maliga, Photo Credit: Brad Puet
So what were the names prior to Common Kings?
Everyone: Natusol. Some people say Nachosol, Notyosoul.
Mata: That was the big reason why we changed our name.
(laughter)
Ok, so how many months were you that name? 2-3 months?
Rome: Oh no, we were Natusol for years. We did a lot of gigs under that name.
Mata: We did a lot of covers.
JR: From Stevie Wonder to Journey to boy bands and Justin Beiber. All of that.
Mata: We're Beliebers. Well, I'm a Belieber.
How did ya'll get discovered?
Uncle Lui: I don't know if we got discovered yet.
(laughter)
JR: I think we're still trying to get discovered.
(laughter)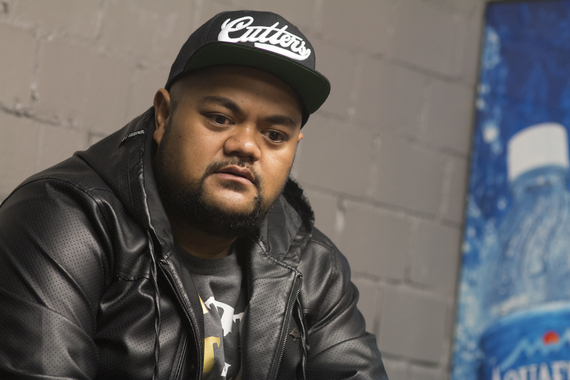 Drummer Jerome Taito, Photo Credit: Pele Bennett
Mata: Social media and our 5th member slash manager, Tautua Reed. More importantly he's been our brother for a while. Once he jumped in the picture 4 or so years ago, he helped us figure out that we can really do something and it was time for us to take it seriously. The process was all about growing. We had never been serious like this as a band and he had never managed anyone. From there we just kept growing.
We dropped "Alcoholic." We put it all on social media like Youtube. Let me tell you right now. Social media is going to outdo all these major labels. That's what got us going.
Uncle Lui: As far as who really discovered us? Hawaii discovered us.
Mata: Yes it was Hawaii as well as the social media.
JR: Hawaii discovered us and they put us on the map. They showed us love from the get. We were also strategic with the social media.
Uncle Lui: We are deeply indebted to the island of Hawaii and our 5th member, Tautua.
Ya'll are with Sony right now, right?
Mata: We are with Sony Australia and New Zealand for distribution. It's not a record deal.
Uncle Lui: Australia is the largest download of media second only to the United States.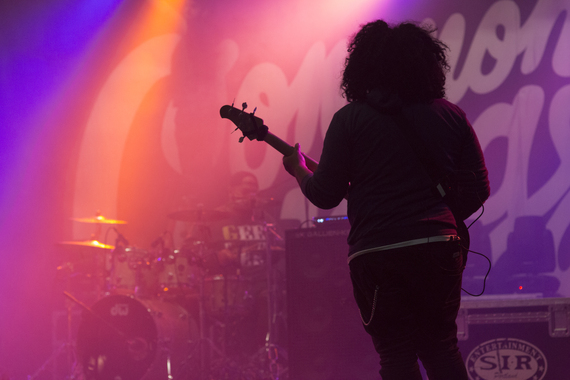 Bassist Ivan Kirimaua aka Uncle Lui, Photo: Pele Bennett
That's awesome about the signing so what can you share with others who aspire to go that route.
JR: I think the biggest thing that helped us is that we kept it original. We kept it us. I think a lot of people outside of the island community gravitate towards that.
Uncle Lui: One thing that we realized really quickly was knowing what are our strengths and weaknesses were. One of the things that is great about the band is that we are very humble and we know our strengths and weaknesses. Each one of us knows what we can do and just as important, what we can't do. So in order for us to make it work, we have to piece together our strengths to patch up any weaknesses. That's why we work together so well. And also the people we bring on are those that can help us become better because they work on things that we don't have those strengths in. They know that they are part of our team. They accomplish certain tasks that we can't necessarily do.
For example...not a lot of people know this, but "No Other Love" was released for a week in Hawaii, a key lower than what it should've been. Our manager, Tautua, listened to it and said, "Man, this just doesn't sound right. It doesn't feel right. We need to go back in and re-record it a half-step higher."
This was after it had already been released.
JR: Yup we had to all go back and re-record. Boog and Fij had to come back in and do over again. We had to do it over again. I had to sing all over again.
Uncle Lui: JR had to grab his nuts to sing that high. He pelted it out great and it was crazy. And those are the types of things we are paying attention to. Even released, we wanted to do it over again and give our 110% to make it right.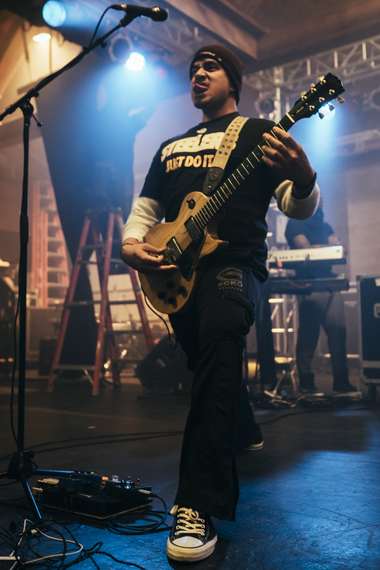 Guitarist Taumata Grey, Photo Credit: Brad Puet
Ok Justin Timberlake! Tell us what it was like to tour with him, the venues, just everything...help us be there with you!
Mata: Awesome. Top to bottom. Production. The whole crew. Staff of 200+. Everyone was amazing. They're so cool and down to earth. JT, his whole team, every city was amazing. 20K plus people all over Australia and New Zealand.
We learned so much from the team. From JT's professionalism to how cool he was. He keeps it real and at the same time he don't take no bull crap from anybody. He really, really knows his whole show from top to bottom. He knows everything from the lighting, to the dance moves, to every hit. You see a lot of glimpses of MJ (Michael Jackson) in his work. You can tell JT's influences. It was a once in a lifetime experience. Them, Tennessee Kids are bad.
JR: The dancers, the singers they also made every show awesome.
Uncle Lui: JT is very approachable. He eats with the crew. He sits down with everyone. The lighting, the grip guys, who ever.
Mata: Also my personal favorite is the catering. Hands down the catering was my personal favorite experience of the whole tour.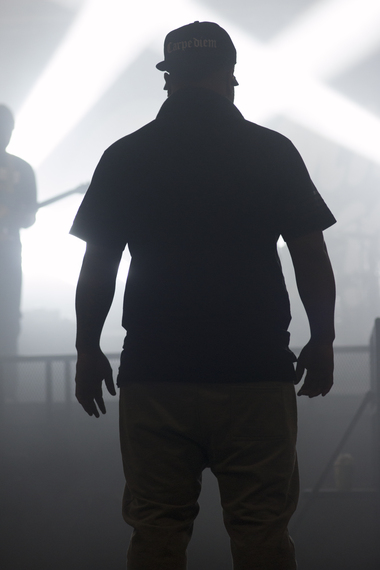 Lead singer Sasualei "JR King" Maliga, Photo Credit: Pele Bennett
Who's the writer of the group and how do you all decide what songs are moving on and what are gonna sit on the backburner and marinate?
JR: It's very much a collaborative effort. From the melody to the lyrics, everything. We all have a say.
Mata: We learned a lot from being on the road with so many others; Soja, Rebelution, and of course JT. He's so meticulous and it's not about the bad part, it really is about his professionalism. He's down to earth but he knows what he wants. That and he's cool at the same time. He knows it's about doing it for the people. You want to give them your 110%.
JR: That's the most important thing for us. Everything being on point is only good for the people who are there listening. It has to be great for them because that's what they paid their money for. That's huge for us.
Mata: For example, in JT's show, there's a bridge that goes over the crowd. In one of the shows, the bridge didn't work. It was stuck. It was chaos through the mics. He kept it moving but at the end of the night, JT punched the wall and was so upset. He was upset not because the bridge but because he felt like he cheated his fans.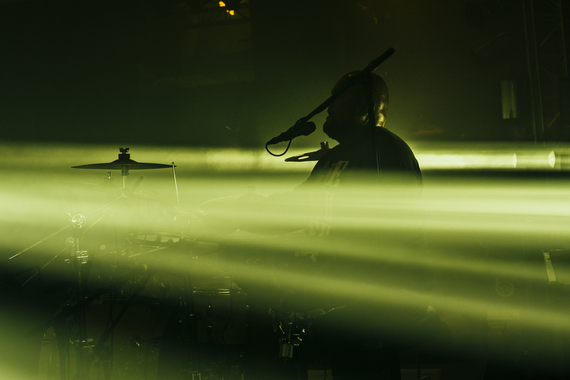 Drummer Jerome Taito, Photo Credit: Brad Puet
That's crazy. Ok so back to the songs. I've chosen a couple songs for you to give us some insight on. So if you could tell us real quick the story behind them:
Uncle Lui: This song we came up with in about three hours. This song was outside of the box for us. But basically it was a tribute to our ladies.
JR: Yea, as are all the other songs.
Uncle Lui: Yea, but this song was really more specific for them.
Mata: Well, it's another one for the ladies. (laughter) This song was co-written with Bo Napoleon. We got together and thought that we would use some landmarks from Hawaii because we have so many ties to Hawaii. It hit hard. We wanted to pay homage to Hawaii and from there it flew. It wasn't strictly with an island vibe feel but with some R&B in there too. That's what people liked a lot.
IDGAF
Mata: Everyone has a bad day. That's what this songs about.
JR: We were on tour with Katchafire when we wrote this song. It was our very first tour.
Mata: We were actually trying to write another love song. Then we looked at it and we had too many love songs and we wanted to switch it up.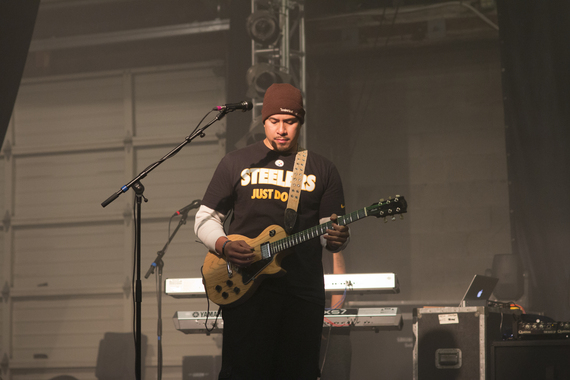 Guitarist Taumata Grey, Photo Credit: Pele Bennett
Aside from the hard work of being musicians and in a band, and being awesomely talented; break it down fellas - what's the funniest thing you've done or seen as a band?
Mata: First of all, shout out to Gabe Roland. He's our musical director and keyboardist right now. He's a bad mutha-
Uncle Lui: Shut your mouth.
JR: And of course our tour manager, Stefanie Annika Bolanos-Mataele. She is one of the hardest working people we know. She's our sister right there. She takes care of us even though we give her so much shit. I think she gets a lot of stuff from us all in the name of fun.
Mata: But she's like a dude because she can handle it, you know.
(laughter)
Mata: She's like our brother, well like our sister who we treat as our brother.
JR: She's our sister brother.
(laughter)
Mata: We have a small group. We have a handful of folks that we keep close. We keep it 100. We are a small machine. From that, we like to give her a hard time.
Uncle Lui: That sounds so bad. It really is enjoying each other's company and having fun...at her expense.
(laughter)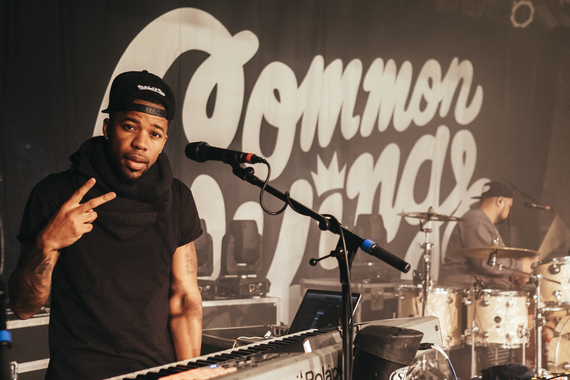 Keyboard/ Musical Director Gabe Roland, Photo Credit: Brad Puet
Ya'll are homies and like many homies can act like kids together - how fun is it being in a band and doing what you love?
Mata: We don't even see it like that. We see it as doing work.
Uncle Lui: I told you earlier before the interview that.
Mata: It's just another day we get a chance to do what we love. And its crazy because its when we go out to Fiji and other countries and experience it AND appreciate it and see when people get star struck, "Like what, we have fans here?!?! Like wait, that's just JR."
(laughter)
Mata: "Like it's just Uncle Lui!?!?" He's like the next John Lennon in Fiji.
(laughter)
Uncle Lui: Yea it's really weird. Like when you have 12 year old girls screaming at you. It's weird.
JR: It's all in a good way. We are really humbled by it all.
So wait ya'll are really like the Poly version of the Beatles?
Mata: Beatles? More like the cockroaches.
(laughter)
JR: You are so corny sometimes. We aren't no cockroaches.
(laughter)
A lot of your music is "Feel-Good-Reggae music, R&B-swoon-Soul-clash-Rock riffs, "Girl I wanna rock with ya but this is why I wanna rock with ya" type music. Ya'll got girlfriends or significant others?
JR: Yes, shout out to all of them.
Mata: It's not easy being away from our loved ones. Our wives, our kids. It's not easy being away from them but they understand the bigger goal. We just want to share our experiences so the crowd can understand us and our stories.
To whom do you give thanks and why?
All members: God.
Aside from God?
JR: Our families. That's who I think a lot of. They sacrificed a lot. Money, time. Time means a lot to us. We don't get much time with them. Along with that our brother, Tautua Reed. He's the first believer in us, man.
We hope we can make it better for all of them.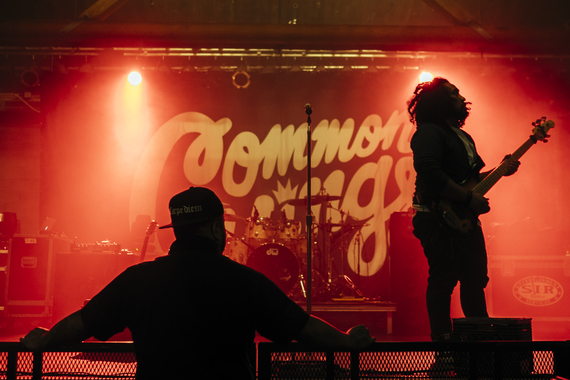 JR and Ivan, Photo Credit: Brad Puet
Lastly, lots of folks have asked about your musical influences, I wanted to go about it differently: I'm gonna give you an artist/band and you name me off your favorite song.
Stevie Wonder
Sir Duke. Superstition.Lately. Part-time Lover.
(Rome and Uncle Lui say Ribbon in the Sky at the same time, then look at each other and say, "It's like there's two ribbons in one sky." Room erupts in laughter)
Bob Marley
Waiting in Vain. Could You Be Loved. Redemption Song.
Dave Matthews
Tripping Billies.
Tupac
California Love. Dear Mama.
Jay Z
Empire State of Mind.
Justin Timberlake
Seniorita. That Girl. You Got It On.
Marvin Gaye
Rendition of the National Anthem. What's Going On. Distant Lover.
Journey
Don't Stop Believing.
J Boog
Mystery. Waiting On The Rain.
Big up fellas for the interview. Continued success and get me a pre-release of the new album! =)
----------
Be on the lookout for the Common Kings new album coming out in February 2015!
Follow Common Kings
Website :: Facebook :: YouTube :: Twitter :: Instagram