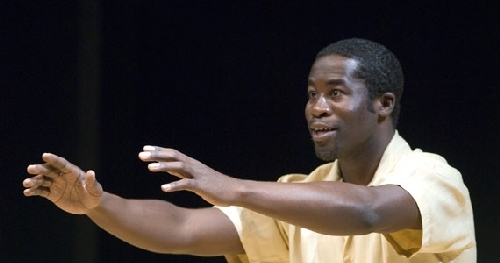 Daniel Beaty is the kind of theater artist who has Multiple Personalities -- not the disorder but the gift. His ability to use voice, posture and dialogue to create a whirlwind of characters in a novelistic one-man show is truly impressive. His 2007 Obie Award winning Emergency imagined a wildly diverse group of characters reacting to a slave ship suddenly re-emerging from the waters off modern day Manhattan.
In his latest offering, again at the Geffen Playhouse in Westwood, Beaty has his typically fast-paced, interconnected approach concentrated on the role of black American men. For Through the Night not only refers to the survival of a precocious boy, Eric, who tinkers with herbs in his father's shop to right societal wrongs and personal weaknesses, it also refers to the evolution of man. The show, subtitled A Soul Aria, features a 300-pound preacher who is addicted to Hostess Ho-Hos, his in-the-closet son whose lover is about to leave him for remaining there, and a 30-year-old first-time father-to-be who agonizes whether his child will be, like him, HIV positive.
One character claims that since Barack Obama has been elected, young men on the street greet each other, "'sup, President?" But Beaty, with his emotionally charged performance, directed flawlessly by Charles Randolph-Wright, abetted by bursts of poetry, shows the failures of the system as well as the human heart. Eric's father, about to give up on his struggling herbal store, tells him, ashamed, "There's a time for dreams. And there's a time for reality. I'll leave the dreams for you."
While Beaty's poetry is a bit more on-the-nose than that in Emergency, he still wows the audience and if his voice slides a bit from one character to another before changing body position, one has to overlook such technical twitches for the bigger picture. It is of a piece, and a piece that does not let us off the hook with a simple resolution. The potential death of Eric, to be determined by fate and a long wait through the night, is observed in a variety of spiritual ways by Beaty's main characters, without their fully understanding what has happened to the boy. Performing a variety of characters is a facility. What makes Beaty great is his artistry in creating the piece that embraces them.