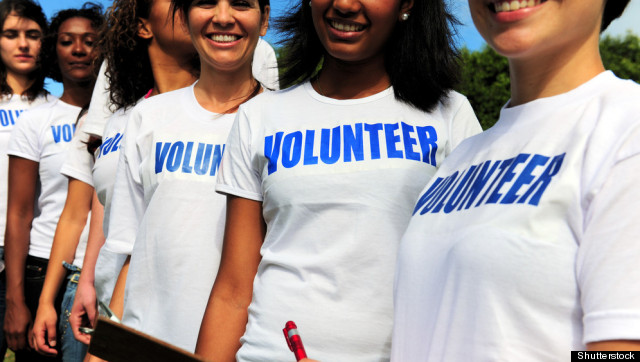 As most people prepare for the upcoming holiday gift-giving season, at Microsoft we're just wrapping up a favorite time of the year on campus, the Employee Giving Campaign. It's a time when our employees across the U.S. unleash their considerable creativity and passion to raise millions of dollars for people in real need, such as those affected by Hurricane Sandy, through hundreds of fundraising events and activities.
It's been that way ever since 1983, and just a few weeks ago, Bill Gates, our founder and chairman, came together with CEO Steve Ballmer to celebrate our 30th Employee Giving Campaign. Steve announced that employee giving at Microsoft has reached $1 billion in cash donations. Bill and Steve talked about the impact of the campaign, which can be measured not only by numbers, but by the stories from our employees on how they are supporting more than 31,000 nonprofits and community organizations around the world.
Bill explained how it all began: His mother had been very involved in United Way and consistently asked when he'd start to mobilize people at Microsoft to give back. So, he set out to develop a campaign that enabled employees the freedom to follow their passions and interests with the nonprofits they wanted to help, a factor that has proven to be critical in the success of our giving. Microsoft supports the causes our employees care about most by matching employee volunteer time at $17 per hour and dollar-for-dollar charitable contributions (up to a total of $12,000 annually) to all eligible nonprofits.
For example, Elisa and Greg Graceffo, both Microsoft employees, utilize this company match to help the Juvenile Diabetes Research Foundation's Northwest Chapter. Elisa joined the Board of Directors soon after their oldest daughter was diagnosed with Type 1 diabetes. The chapter's annual fundraising event is a walk, "Beat the Bridge to Beat Diabetes," that attracts more than 10,000 participants and raises nearly $1.5 million each year. The couple formed "Team Juliana" and raised more than $60,000 for diabetes research as a result of individual donations and the Microsoft matching program.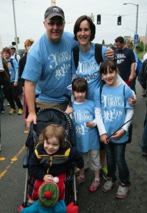 Microsoft employees Greg and Elisa Graceffo participate with their children in the 2012 "Nordstrom Beat the Bridge to Beat Diabetes" walk-run for the Northwest chapter of the Juvenile Diabetes Research Foundation.
Padma Parthasarathy, Principal Engineer based in Silicon Valley, supports the Sankara Eye Foundation (SEF), which works to eradicate curable blindness in India and reach a 20/20 vision nationwide by the year 2020. Padma serves as the CFO and is a member of the board of trustees, handling SEF's financials, audits, budget, planning and administration. During her 11 years with the organization, she's seen it grow from a $70,000 charity with one hospital to an almost $4.5M charity with nine operational hospitals.
Many of our employees choose to focus their volunteer efforts on youth. One program that I'm particularly passionate about is Technology Education and Literacy in Schools (TEALS) which was founded by Microsoft employee Kevin Wang. The lack of computer science education in schools is a tough national problem, and the expansion of TEALS allows many of our developers to apply their skills and knowledge in the classroom, by teaching computer science to middle and high school students, alongside teachers.
This is all happening amidst one of the biggest bets in our company's history with our launch of Windows 8. It's an incredibly exciting and busy time to work at Microsoft, but our people are still making time to partner with nonprofits and community organizations to help others less fortunate. At Microsoft, I'm proud to say our employees' charitable work is the gift that keeps on giving before, during and after the traditional holiday season.