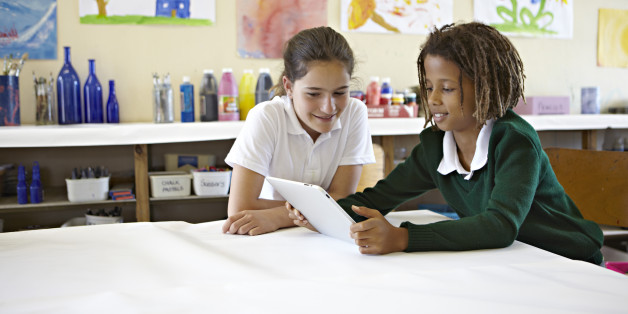 Elementary school instruction in the 21st century involves a lot more than reading, writing and arithmetic. The ability to comprehend and create media via digital and touchscreen devices will be a critical skill in the years and decades ahead. These five iPad apps, while masterful in their specific subjects, also introduce young children to new ways of learning.
Barefoot World Atlas ($4.99)
Barefoot World Atlas engages kids to explore and discover the rich diversity of our world. Young children can experience a fulfilling world journey through amazing visual and audio features such as animated graphics, photos, and narrated text. From countries to animals to weather to festivals, this app is truly a comprehensive learning opportunity for kids. Barefoot World Atlas can be used in six different languages. Kids will intuitively explore the 3-D globe and many, many interactive features, while parents will really appreciate the app's longevity. The combination of animated graphics and vivid photos with cool sound effects and regionally influenced tunes creates an audiovisual experience that feels amazingly authentic. 
Kids' Vocab - Mindsnacks (free)
Kids' Vocab - MindSnacks is a visually pleasing, attention-grabbing app that will teach children a variety of new vocabulary words. It's important that students see connections between words so Kids' Vocab groups vocabulary together in a practical and sensible way. The animation within the study games is high quality and the seamless transitions between tasks will help children stay focused on learning new vocabulary words. Kids' Vocab is perfect for upper elementary school students who need to build their vocabulary to become stronger readers. This app isn't just visually pleasing but includes enough variety of games and new words to keep children interested.
Cyberchase 3D Builder ($1.99)
The interactive features and fun storyline make Cyberchase 3D Builder are great! Kids are asked to help rebuild a town that has been accidentally reduced to 2-D shapes. One of the Common Core geometry standards requires students to create larger shapes from basic 2-D shapes. This app does exactly this in a fun, interactive manner. Kids are given a geometric net, and are asked to put it together so that it matches the "goal building." In higher levels, kids are asked to choose which 2-D figures make the "goal building."
Bobo Explores Light ($4.99)
Bobo Explores Light offers just the right mix of games, short videos, and interactive content to keep players engaged and entertained while learning about intricate concepts. All of the subject matter in this app is focused on light and how humans perceive it. Topics include lasers, auroras, photosynthesis, and bioluminescence. Bobo is a funny wingman for players to have as they explore new worlds. There is enormous detail in the form of videos and 3-D tools throughout the app, and the table of contents is comprehensive and intuitive, promoting repeat visits.
Little Bird Tales - Easy Digital Stories for Kids ($2.99)
Little Bird Tales provides young learners with an intermediary publication step. This is a great app for students that are ready to begin e-publishing, but are not quite ready for an actual e-book. Due to the simple nature of the app, students can independently create digital stories using a variety of tools that can be shared with ease. Your budding author will love seeing their stories come to life in the pages of the Little Bird Tale application. By adding familiar faces through the photo feature and recording their voices, your child can create high quality digital stories all on their own!
Educational apps in this article were curated by appoLearning Experts Kasey Taylor, Monica Burns, Leslie Morris, and Kate Peila.