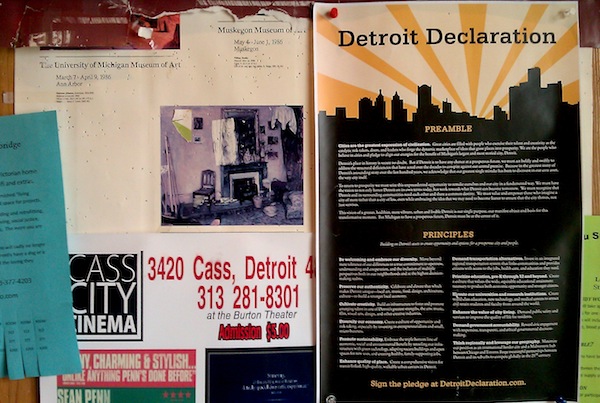 Over the Martin Luther King Day weekend, we proudly celebrated our nation's civic ideals.
As an AmeriCorps alum passionate about social justice and community, MLK Day has long felt like the "real" New Year -- a time when, instead of washing away the year past, we took a day to declare our commitments to our community, took civic action and affirmed our common humanity.

In that spirit, lots of us now call MLK Day "a day on" instead of "a day off." We volunteer. We dialogue together. We celebrate our progress towards justice, equality and equal opportunity. It's a day when we put our best civic muscles to work.
But, in a way, I fear we have lost some of the potency behind Dr. King's example. In the feel good hangover from doing civic deeds this past weekend far too many of us will fade into civic atrophy. (Not you, of course, but everyone else!)
My pitch to you is this: make 2013 a year on in Detroit's public square.
See, the beauty of Dr. King's example wasn't merely that he stood up for justice and painted a vision we all could share as one nation united by The Dream; it's that he stared down injustice and confronted blind bigotry head on through marches, demonstrations and strategic campaigns. He risked life and limb in the name of his principles. Indeed, he paid the ultimate price for them.
But, of all the inspiration we take from Dr. King, I believe this was his greatest legacy: civic inaction is the strongest recipe for injustice to persist.
Inaction is as potent, if not more potent, a force in the public square than anything else.
However, civic action -- the direct practice of engaging in the struggle for a just and progressive community -- is difficult, conflicting, arduous work, with uncertain but potentially promising results.
Before I sound preachy, allow me just to say this: your power is your ability to act. You can decide to engage, mobilize, and commit to making Detroit's public square more accountable.

And, in 2013, Detroit needs your civic action more than ever.
A day on just isn't going to cut it.
Most people do this every day in their personal lives -- they volunteer, coach, mentor, and role-model. They work diligently and honor their obligations. They raise children. Pay their taxes.
And yet our public sphere feels so hallow. It feels so blindly out of step to our needs the vast majority of the time.
Moreover, we rugged individualists, entrepreneurs, and creatives slogging it out in Detroit by the skin of our teeth too often see civic engagement in the public sphere as jaded, corrupt and unworthy of our time and energy. Indeed, the closer we get to it the more distasteful it can be -- the money, egos, inertia, and the glacial pace of change.
But instead of turning away, now is the time for all of us to lean into the punch.
How you ask? Start by locking in Aug. 6 and Nov. 5 on your calendar: Commit to voting as a Detroit resident for the city's next mayor and city council representatives.
But, try to do more. Attend a city council session, which are open to the public every Tuesday at 10 a.m. As issues arise that you're passionate about -- city finances, land use, public transit, etc. -- please go and speak reason to power.
Or, join Declare Detroit, a civic band of Detroit professionals that are committed to identifying strong Detroit candidates in 2013. Candidates who will put solving problems above rhetoric, results over inaction, and who will be laser-focused on getting a job done over keeping a job. To find these candidates and offer them the best shot at winning, we need your talent, energy, and resources. Start by donating to our Political Action Committee (PAC) and help us identify leaders who should run and serve us -- all of us -- in Detroit's public square.
2013 is Detroit's moment. We are at the apex--the most profound inflection point in a generation. And, if ever a moment existed for you to decide to take civic action in this city, now is the time.
We have the perfect storm -- a municipal infrastructure so broke we're inches away from an Emergency Financial Manager yet a civic platform so ripe, we published Detroit Future City and a framework to see this Detroit through its next transformative era with purpose and vision.
This year, the mayoral election is likely to test our resolve for building and encouraging racial harmony and to evaluate all of our candidates not by the color of their skin, but the content of their character and their ability to secure Detroit's future.
And, perhaps most significant of all, we have a new council by districts in Detroit. These leaders will have defined local constituencies to answer to, and we must pay full-scale attention to the quality, disposition and integrity of the candidates that emerge in the August primary if we are going to get public leadership worthy of our cause.
But, unless we all commit to being fully engaged in the struggle for Detroit -- in our personal lives, our work and in the public square -- we're likely to risk more of the same.
What power do you have?
Please commit to a year on in Detroit and find out. Donate to campaigns you believe in. Sign up. Hell, run for office! But, minimally, engage, participate and take action.
Share your perspective. Mobilize as a community.
Engage in the struggle for Detroit's future.
Act now before this opportunity evaporates.
Bradford Frost is a steering team member of Declare Detroit.