If you haven't heard by now, history was made this year. Harlem's Fashion Row (HFR) teamed up with McCafe to offer HBCU fashion students a chance of a lifetime.
Yes, you read that right: HBCUs fashion students. If that caught you by surprise, you aren't alone. Many HBCUs have great fashion departments and robust programs that people aren't aware of. Though I did not attend an HBCU, as a former student of color in fashion merchandising, I can attest, the journey to a fashion career can feel lonely. Needless to say, I didn't get the same industry support as my friends in medicine or accounting. Fashion has yet to be accepted as a major that leads to a "real" job.
I can actually understand why: This industry is tough, not easily accessible and may not pay a lot at first. That's enough to make any parent steer their children aware. But it does offer lots of really amazing job opportunities and life experiences. And if someone puts in the hard work and stays committed, the payoff is worth the wait. The challenge is, students are not always aware of the opportunities. This is why we started Harlem's Fashion Row University (HFR-U). It's a way to expose students of color to the many opportunities in fashion.
This spring we partnered with McCafe to launch a Student Design Competition. The winner will collaborate with HFR and Project Runway alumni Kimberly Goldson to create the red carpet look for the McDonald's 11th annual 365Black Awards host Janell Snowden.
The competition for the awards was stiff, but a winner emerged: TraVonne Walker from Bowie State University. We sat down to ask TraVonne a few questions about winning the award: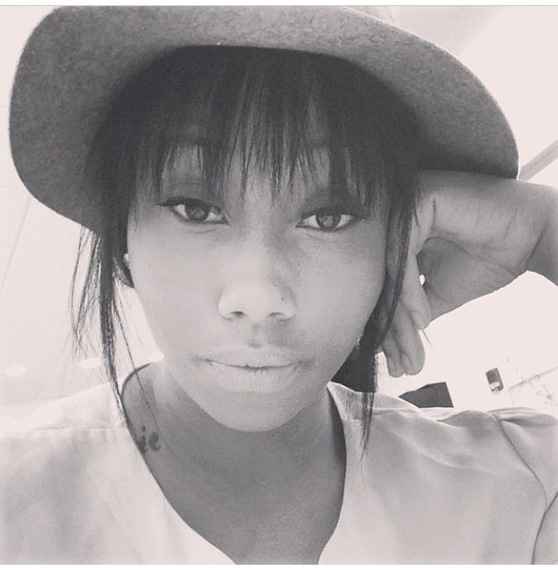 TraVonne Walker, fashion student from Bowie State University
HFR: Congratulations, TraVonne. We are so excited about giving back to HBCU schools and can't wait for our Fall program. What does winning this competition mean for you?
TW: Winning this competition means a lot to me. It is a chance for me to step out of my box, take a chance and gain confidence in myself. This competition will also allow me the wonderful opportunity to travel, which will only expand my knowledge and inspiration for fashion. And lastly, I get to show my daughter that success is only measured by the steps you take to get there and achievement is possible for anyone who tries.
HFR: Why do you think it's important to have these types of competitions for HBCU students?
TW: I truly appreciate Harlem's Fashion Row and McCafe for this opportunity. It is important to have these types of competitions available for HBCU students because it gives us a chance to be seen. There aren't many HBCU students exposed to different opportunities, which can greatly limit how far we see ourselves going in the future. With these opportunities, we are allowed chances and that's truly all we need.
HFR: What do you hope to gain by winning this competition?
TW: By winning this competition I hope to gain more insight on how the fashion world works. I also want to acquire the skills of working under someone in the industry so I am well prepared for internships and jobs to build up to my career.