You can read Part One here and Part Two here.
My father apologized to me over the pulpit, Brandon. He said that he didn't know. He said 'I'm an electrician. Your mother is a teacher. You were bringing home $20,000 every two weeks. I am sorry that we had no plans for you. No solutions on how to manage your money. We were ignorant. I'm sorry. We didn't know.
'
"Damn, how did that make you feel?" I asked.
"He didn't have to apologize. I was the one who played football in the NFL."
People think that because you play on television you're rich. Not the case. The rollercoaster of the NFL is a culture all its own. There is a pecking order and if you don't watch it you'll leave with money pressures. Pastor Scott "Scottie" Galbraith understands this very well.
He speaks in a preacher's meter. He was a bruising tight end who was the funniest player on the team. The Preacher part is new... well, new to me. Galbraith was drafted the same year as Seau. A bit lower. The 173rd pick in the 7th round. He started with Cleveland, then to Dallas, then to Washington, and back to Dallas before that next year brought just one call and that was from Green Bay -- six games into the season.
"All I wanted to do was make the team. They offered me a contract and then all I wanted to do was stretch out my contract. Then all I wanted to do was play six years."
Galbraith ended up playing nine. Oh yeah, and he has what Seau didn't... a Super Bowl ring.
They remained friends over the years. Seau seemed to have become MORE of the guy he was back there and then.
"[At USC] Junior ran off the field during a game to give him [another player] a chance to play because he knew that his parents were there," Galbraith said in a local news interview.
This superstar even remained a surfer who would sit atop a board and just listen to the waves. For the waves.
I don't know why this happened. I don't think concussions made this happen. Junior stayed hungry. That's hard to do for 20 years with concussions. Some men have to stay broke to stay hungry. Seau was successful and hungry.
Galbraith speaks eloquently about his concern regarding playing in the pros.
A pro life is a thousand miles a minute. It's hard to understand the adjustments you make. Your life. In money. Even tougher for someone in their early 20s to comprehend. Then, all of a sudden you hit a wall of maturation and after a while it's about dealing with a crash landing of a lifestyle that's over. Brotha, I've lived it.
Maybe Seau, too, hit that wall, along with that BIG-40 review of all things called "a life". You begin to say goodbye to elders. Begin to understand the difference between giving your kids instruction and sharing advice. At 40, you count your friends and begin to tally the dos and don'ts of your life's journey. You might even sit down and replay past mistakes just to make sure you're not repeating any of them at that moment.
Seau played long enough to have made many mistakes and still bounce back. So what was it?
Galbraith breaths deeply. "The Bible says, Jesus says, 'some things happen because of time and chance...'. Only God knows why. Now we have to make the choice to help the next [generation] understand what they are going through."
Optimism flows from him. Several careers (teacher, coach, part-time sheriff) after playing in the league, this son of a preacher finally has his own ministry in San Francisco at the Jerusalem Church of God in Christ. He wanted to be the team Chaplin for the Oakland Raiders, however that went to Napoleon McCallum.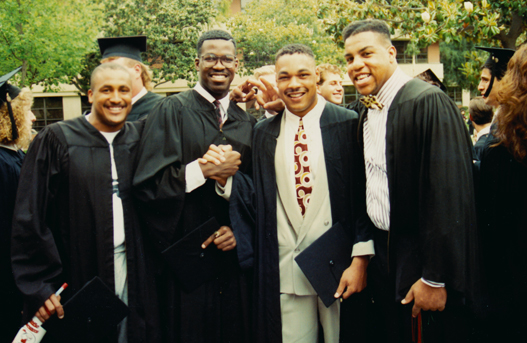 Graduation Day at USC. (LtoR) Brandon Bowlin (S), Michael "Tex" Williams(OLB), Dwayne Garner(S), Scott Galbraith(TE).
But I think he will do better on his own... outside of the game. Pastor Galbraith ain't no punk. He speaks in stark tones about what he believes in a way only a life before the pulpit can offer and almost had me tithing. Still, it hasn't been perfect. He was an average Joe in the league, but a family of educators and preachers would supply him with the support he needed just long enough to deal with his playing pangs and to get past his regrets. That is the gift his father gave him. Breathing room.
So here we are. Days after the shocking news and I'm still rooting through others' lives. Trying to see the light between despair and determination. Yet, and please forgive my gruesomeness, I have a belief that every great human endeavor, every great movement, requires a sacrifice. A loss that inspires us, at the very least, to collectively stand and change the world.
Whether or not you agree with me doesn't really matter. For in a couple of hours, men, women, and children from every corner the nation will stream into a strangely quiet stadium in San Diego and turn it into a temple. On a sunny day in May, memories -- joyous and painful -- will bask alike. Not to watch this graceful and violent sport called Football or even to enjoy a Super Bowl victory. But to offer respect and celebrate the life of a human being. This man.
The lesson? Every death can bring us together. I've talked to people I haven't spoken with in over 10 or 20 years. Rummaged through pictures and videos. Tapped down memory lane a bit. But I've also seen that we continuously have choices. Even when you lose the game you love. Or a lifestyle you desire. Or a home. A career. Even when fate snatches you into new territory, you have choices.
And yes, the kids will play on the stadium steps. People will cry, hug, laugh, and smile. Maybe a band will play off in the distance. All before a moment of silence.
To listen for the waves. And hopefully, together...
...find some breathing room.