The battle has begun with Entenmann's, one of the companies showcasing its wares at Snack Attack.
The 2015 Summer Fancy Food Show officially takes over Manhattan's Javits Center from June 28 -- 30. This annual event that places both gourmands and run-of-the mill comfort-eaters into hyperdrive apparently represents 15% of all U.S. retail food sales, a percentage ringing in $109 billion at the cash register, according to the Specialty Food Association.
When the Javits's doors open that Sunday, Sweet Basil, one of the "first Greek-inspired frozen entrée brands," will be trying to entice vendors with its Vegetable Pastitsio and Vegetable Moussaka. A few aisles down, PB Crave, known for its "artisanal, all-natural peanut butter," will be featuring the characters of the upcoming summer feature, Fantastic Four, on its new labels for Cookie Nookie, Coco Bananas, Razzle Dazzle, and Choco Choco. Meanwhile, former college roommates Aaron Wallach, Eric Golman, and Ryan Schueler will be hawking the products of their company Javazen that combines "coffee with tea and superfoods," a perfect household treat for spiritual couples comprised of both a Brit and a Starbucks aficionado.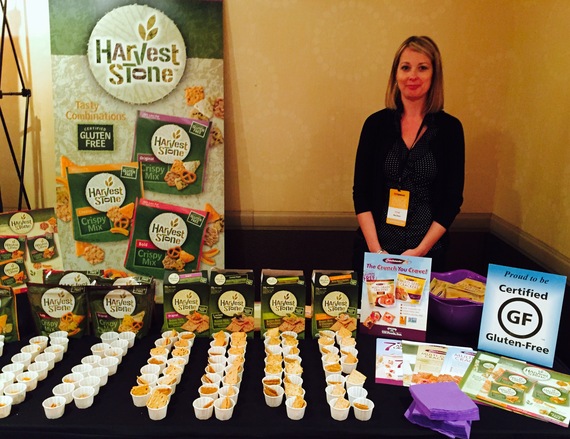 Harvest Stone expands the gluten-free market with savory treats. Photo: B. Judell
But why sit tight until the end of the month when you have a yogurt or energy drink to kvell about? So this past Wednesday at the Marriott Marquis, New York was already being taken over by companies who couldn't wait to start showcasing their hopefully scrumptious edibles. Yes, 28 enterprises, under the guidance of Fast Forward Events, previewed their notably finger-licking goodies at Snack Attack, a wingding of sorts that showcased "the latest sweet, salty, and indulgent snacks, along with to-go convenience foods and beverages for adults and children alike."
Having been diagnosed with diabetes just two weeks ago, I swallowed some Metformin, put on my helmet, and bravely stalked amongst the purveyors of some pretty nifty and perilous culinary delicacies.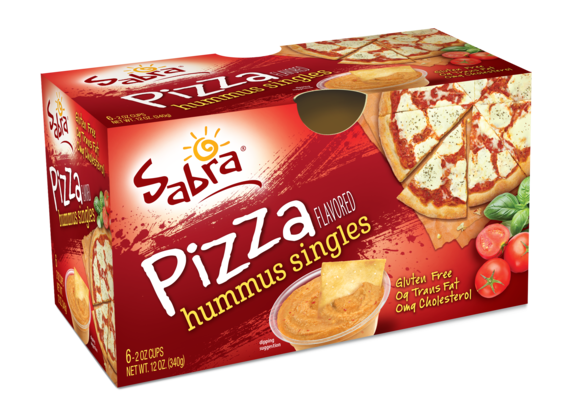 On the healthy side was the Sabra Dipping Company, renowned for its top-selling hummus that comes in more than 12 flavors. Its most au courant product, "2 ounce Pizza Hummus Singles," will be launched with much fanfare in August. Apparently, its "Classic Hummus has been blended with fresh pizza-inspired flavor kids love." Served here in plastic tasting cups with celery sticks, there was nothing not to relish.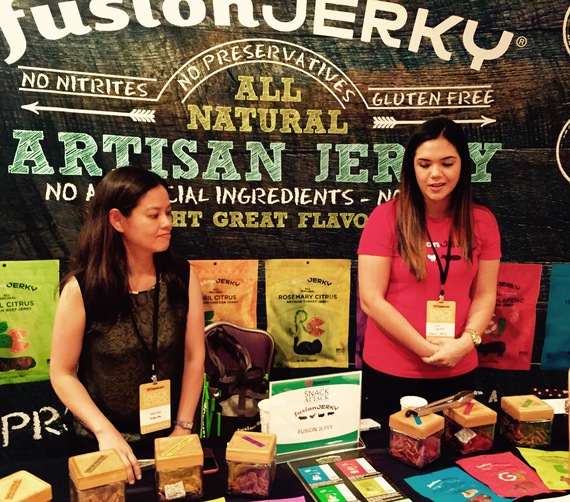 Are you ready for Fusion Jerky's gluten-free Garlic Jalapeño Artisan Pork Jerky? Photo: B. Judell
Three tables over were the gals of Fusion Jerky. Being an 85% veggie and a fan of Babe in the City, I rebuffed their kind offers to sample their Garlic Jalapeño Artisan Pork Jerky and their Basil Citrus Artisan Beef Jerky, but the All Natural Rosemary Citrus Artisan Turkey Jerky was exquisite and fun to say aloud. "Turkey Jerky. Turkey Jerky." Their Lemon Pepper Artisan Chicken Jerky, which is in my mouth at the moment, is a winner, too.
"Artisan" is nowhere to be seen on Jack Link's jerky packaging. While the Fusion offerings are bite size, Jack Link's are a handful. You have to pull, bite down, and chew. This is a more butch indulgence. Although healthy with 13 grams of protein and only 80 calories per serving, I felt I had to don my motorcycle chaps as I digested this treat. Sadly, the Chicken Jerky didn't leave me clucking, but that might really have to do with my growing up in the jerky-less Bronx where my fowls were more than likely to be situated quite near matzo balls and not have a leather belt texture. I could see myself, though, possibly developing a fondness for Jack's linguistically pleasing Turkey Jerky. (See previous paragraph.)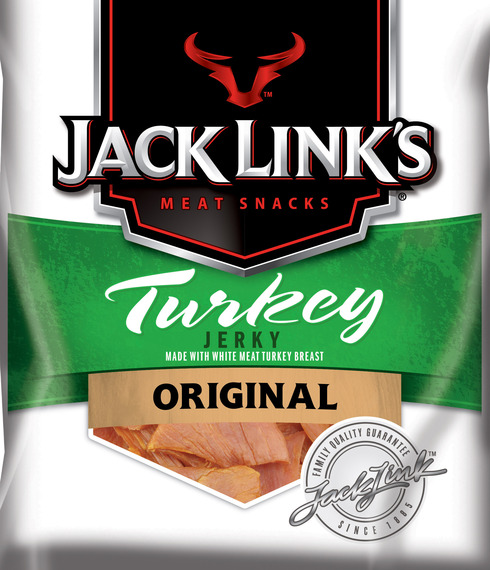 Macho Jerky from Jack Link's. Low in fat and carbs. Strong teeth needed.
Not surprisingly, there was only one fruit brave enough to compete against the pretzels, ice creams, and pastries on display. That was the KIKU, which is accompanied by the slogan "Fresh Apple Emotion." Its New Zealand spokeswoman Rochelle van den Broek noted that the KIKU, which was only discovered in 1990 in a Japanese orchard, is "a relatively new apple in the apple landscape. We hope it will become a top ten apple variety." She also noted that Red Delicious, once a favorite, is faltering. It's so "mealy."
What makes the KIKU so special is its sweetness, and according to the fructose levels measured with a device called a refractometer, the KIKU is evidently the sweetest apple on the market, stealing the crown from the Fuji, the Ambrosia, and even the Gala. And if the truth is in the tasting, I have to concur with Ms. Van den Broek's findings.
Mrs. Freshley's was there, too, with two new products, Cinnamon Twirls and Cinnamon MiniDonuts, both made with Cinnabon. The duo tasted quite fine, especially with a morning coffee. What's strange though is I have never heard of the lady before, and she apparently has a "retail value approaching $300 million" and has been a frequent winner of New Product of the Year awards. So if you savor prolonged sugar rushes, these will certainly get you going.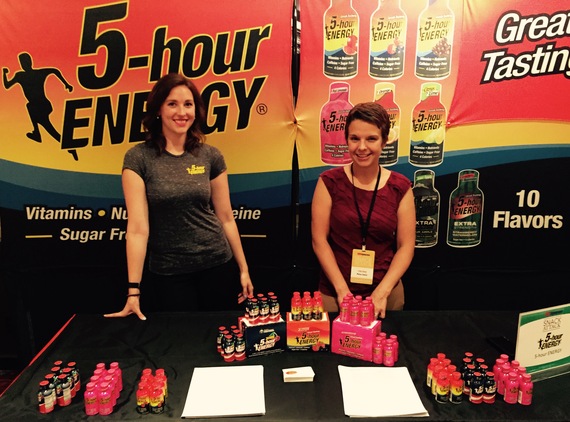 5-Hour Energy reveals its new cherry flavor and the improvement of its products' taste overall. Photo: B. Judell
Some of my favorite yogurteers, the Chobani folks, were in attendance, and the company is now following the Beanie Babies route with limited editions. Yes, there will only be restricted amount of batches of both plum and watermelon yogurts so you better stock up. There are also new July offerings in their "Flip" line. If the thought of Peanut Butter Dream, Strawberry Summer Crisp, and Coffee Break Bliss don't get you salivating, it's coffin-purchase time.
Next to Chobani stood quite proudly Teddy Graham spokesman Jared Moran. He announced, "This is our new Teddy flavor, which is Birthday Cake, from Honey Maid. The great thing about this flavor is that it gives you an excuse to celebrate your birthday the other 364 days of the year. Additionally, it's a flavor kids like and mom appreciates because it has eight grams of whole grain, is low in trans fat, it's a good source of calcium, and it's also very affordable."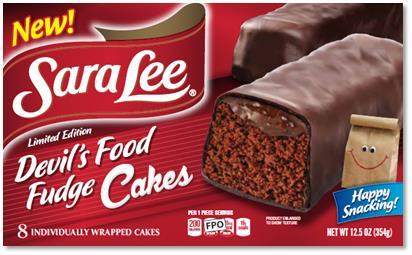 Sara Lee brings back happy memories as she showcases her offerings both new and old.
Not to be overlooked is the Nomoo Cookie Company. All of its offerings are natural, certified Kosher, and dairy-free. Yes, although Nomoo makes you think of cows with laryngitis, this Bucks County, Pennsylvania, operation utilizes Earth Balance butter substitutes for the lactose intolerant and vegans. If you love yourself, you just have to place their Flyin' Hawaiian and the Oat-Rageous cookies on your Bucket List. Tastykake was there, too, with its Mini Peanut Butter Swirl Cupcakes made with Reese's Brand Peanut Butter as was AmongFriends with its hand-crafted baking mixes, several of which are gluten free and inordinately delectable. And you can't forget Biena that has reinvented the chickpea by offering it in numerous flavors including habanero and honey roasted. But possibly most memorable is Boulder Canyon's Turkey & Gravy kettle-cooked potato chips. Happily, no turkeys died in the endeavor to bring you this savory indulgence.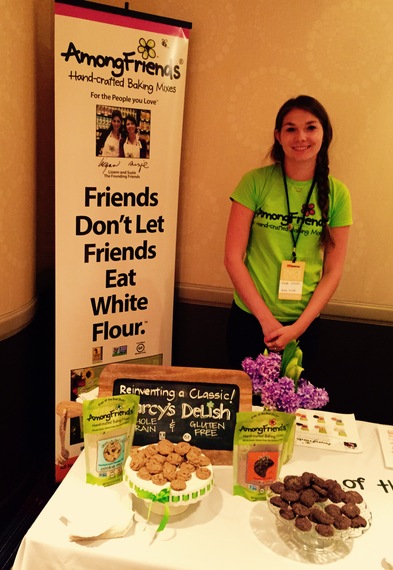 AmongFriends, a women-owned business, offers up whole grain, gluten-free cake batters. Photo: B. Judell