Want to heat things up in the kitchen? We're here to help! We have looked at some of the most amazing chefs in their very own kitchens to find the best inspiration. Let these be a guide to your kitchen design and in your ventures in home chefery (is that even a word?).
1. Wolfgang Puck - Restaurants include: Spago, Chinois and Cut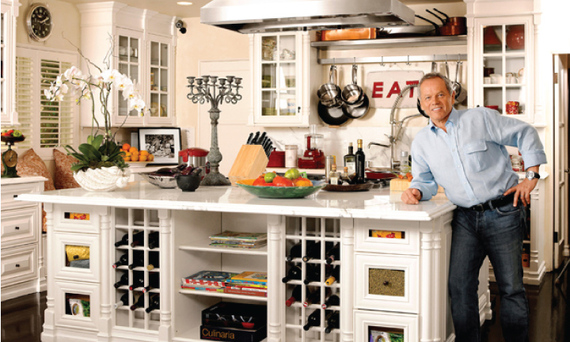 Why We Love It: This looks like a casual traditional kitchen which rightly matches the personality of famed chef Wolfgang Puck. It's simple, comfortable and classic in design, with a few pops of color and eclectic accents such as the "EAT" sign and the retro clock.
2. Giada De Laurentiis - Restaurant: Giada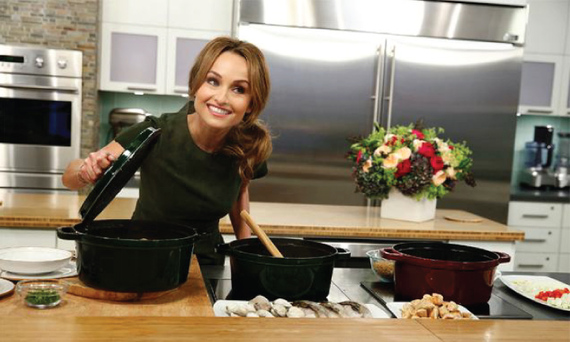 Why We Love It: This classy lady likes to mix things up with her cooking as well as her kitchen design. The warm wood butcher block counters, stainless steel appliances and ledge stone features all add character. Meanwhile the teal backsplash and modern white cabinetry offer a fresh take on a traditional style.
3. Bobby Flay - Restaurants include: Masa Grill, Gato and Bar Americain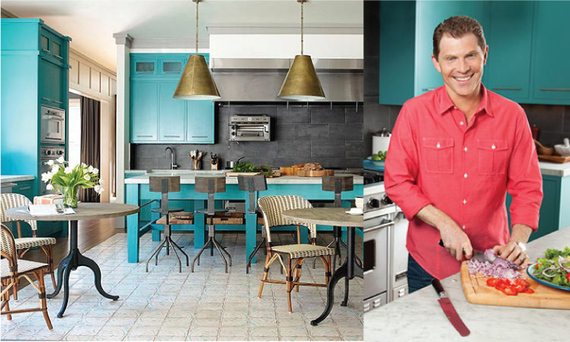 Why We Love It: This contemporary kitchen in bright teal is stunning! The brass fixtures are the perfect visual complement to the bold color and slate backsplash. The tiled floors are a beautiful pattern and the riviera chairs with casual french bistro tables are the perfect touch to soften the overall feel.
4. Buddy Valastro - Cake Boss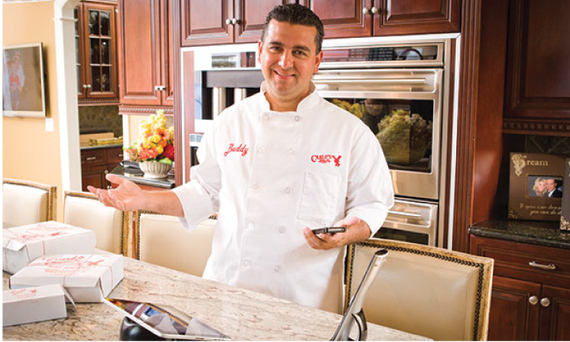 Why We Love It: Dark wood cabinets, smooth stainless appliances, warm tones, granite counters and detailed bar seating give this traditional kitchen the warm and cozy feeling that you can taste in his cakes! We have a feeling the whole family is often gathered around this roomy island!
5. Scott Conant - Restaurants include: Scarpetta and D.O.C.G Enoteca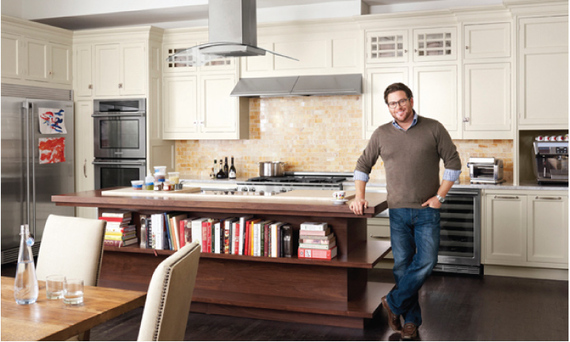 Why We Love It: This contemporary kitchen is an interesting mix of new and old. It's bright and airy yet the darker floors, wood island and earthy brick tone wall tile offer balance and visual interest.
6. Tyler Florence - Food Network, Executive Chef at Cibo and has his own kitchen retail shop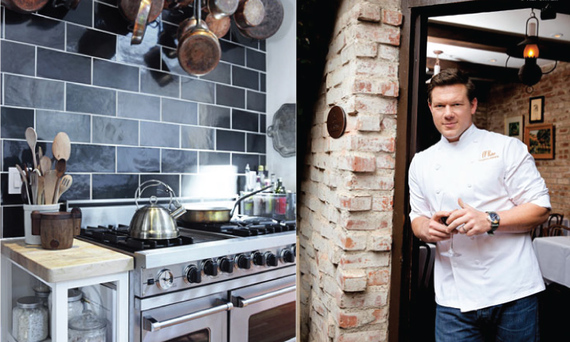 Why We Love It: This industrial and rustic kitchen looks as yummy as his food...it also could be that Tyler is just adorable too. The visual of well worn materials give this kitchen style extra "taste" points and a lot of character. The pans are displayed casually and the vintage vibe we get from the antique tray on the wall all pull this look together.
7. Barefoot Contessa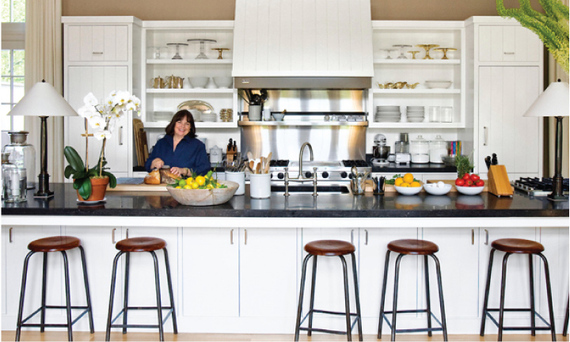 Why We Love It: Clean contemporary style with charm! The clean white cabinetry, gorgeous hardware and open display style shelves are truly elegant. The dark granite counters pair perfectly with the white cabinets. Finally, the gorgeous cognac leather bar seats give this kitchen the perfect amount of visual interest.
8. Gordon Ramsey - Restaurants include: Maze, Foxtrot and Restaurant Gordon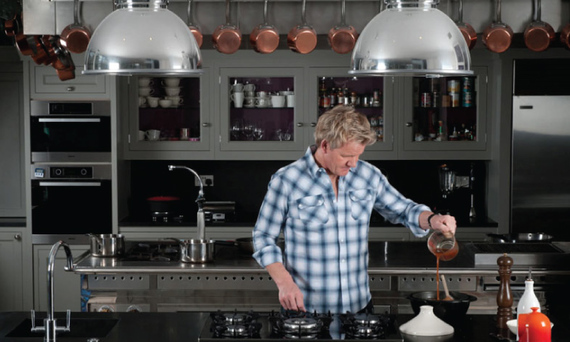 Why We Love It: It's apparent that the kitchen reflects the personality and tastes that each chef brings to their art. Here we see a moody, rich modern kitchen with beautiful metal finishes. The clear cabinetry displays items in a casual functional way that match this chef's no-nonsense approach to his cooking.
Hungry yet? We hope we've wet your appetite for fabulous kitchen design!
Happy cooking!
#GetYourDesignOn
xo,
Laurel & Wolf