It was surprising that there was no strong opposition to Nerdrum's Kitsch philosophy or toward Scruton's ideas of beauty at TRAC2014. Could it be that all are in basic agreement of the cultural direction in which this group wants to take us?
Such ambiguous, commonly misunderstood and slippery words such as beauty and kitsch are what we have to work with to talk about the phenomenon before us. No matter what you call it, we are talking about the emergence of an authentic perspective in our culture that demands our attention. It comes about out of a need that our society has and that need is being filled.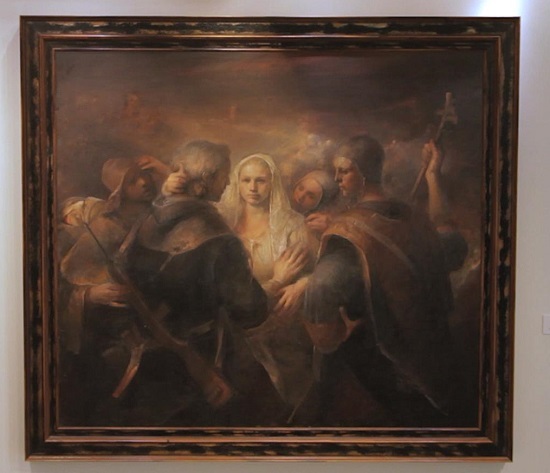 The Poacher by Odd Nerdrum, from the Resonating Images III exhibition at the William Rolland Gallery of Fine Art in Thousand Oaks, California.
Pam Hawkes, who gave a demonstration at the conference, and whose work is part of the current exhibition Women by Women at Kwan Fong Gallery in Thousand Oaks had this to say, "Firstly, the conference was well organised and I thought there was a wide variety of papers. You are right, there was no opposition or questioning of either Odd Nerdrum or Roger Scruton, and that's why I'm surprised, and irritated, at some of the comments I've been reading on social media. Why weren't these issues raised at the correct time? We were all encouraged to do it and the end of every paper."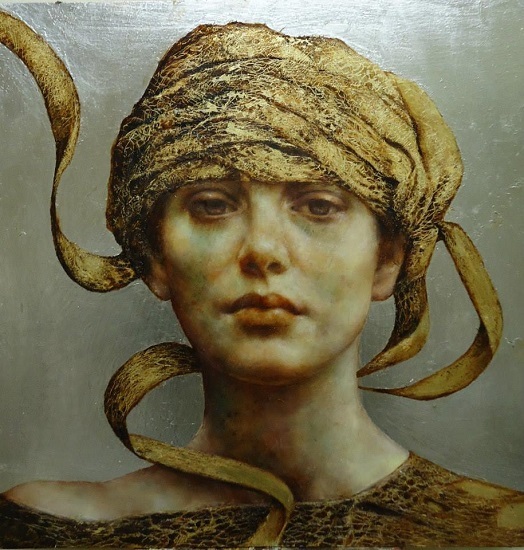 Unraveling by Pam Hawkes, oil, beeswax and metal leaf on board
Greg Escalante, a co-founder of Juxtapoz magazine, also praised the conference but didn't necessarily feel that it was the place for opposition. "I couldn't believe there was such a well organized event in support of figurative/representational painting. An event that could bring out Odd Nerdrum on top of everything else. As far as a voice of opposition, I would vote against it. To me the voice of opposition is the Art world in general that is all around us, so the voice against it is already here, we all know what it is."
"I was surprised more people did not try to contest Nerdrum's Kitsch theory at the conference." Escalante added, "From what I know of it, I love it! The thing I find very interesting are the parallels to Robert William's and his Low Brow Art theory. The both came up with self effacing names for their movement, they both battled the establishment and the thinking of their times. They both fought fiercely with tremendous skill and concept to change the face of the art world. Where Nerdrum in Europe had his apprentices to give back and leverage his philosophy of painting, Williams created a magazine."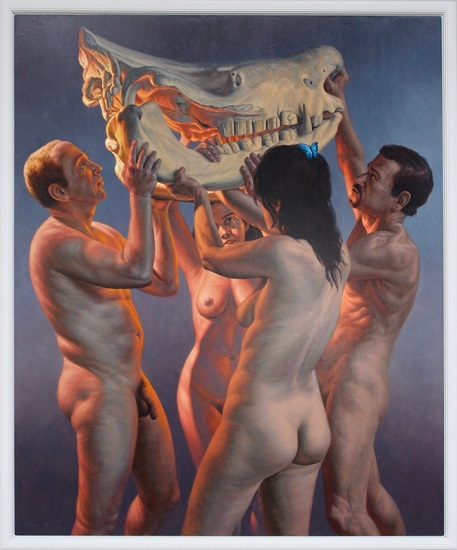 Lift by F Scott Hess who has recently had a retrospective exhibition at the Los Angeles Municiple Art Gallery, a solo exhibition at Koplin Del Rio Gallery and a feature article in Juxtapoz Magazine.
There is reason for all of us to be looking at the fruition of these painters labor. It is beautiful, but even more than that, once I met with the those producing the work and talked to them, learned their story, I saw that these people are following the heroic path. Not just theirs, but ours. These painters are living lives that others do not dare. they have honed in on their talents and developed the skill to bring back to us genuine stories carved from their experiences. They are striving to reach their potential as human beings and using that potential to engage us in a dialog that our culture needs to hear. As Peter Trippi, editor of Fine Art Connoisseur said, "The word here is authentic".
Several times while viewing the various exhibitions that accompanied the panel discussions at TRAC2014, I was stopped in my tracks by the work, which is ultimately what we must return to when the dialog falls silent.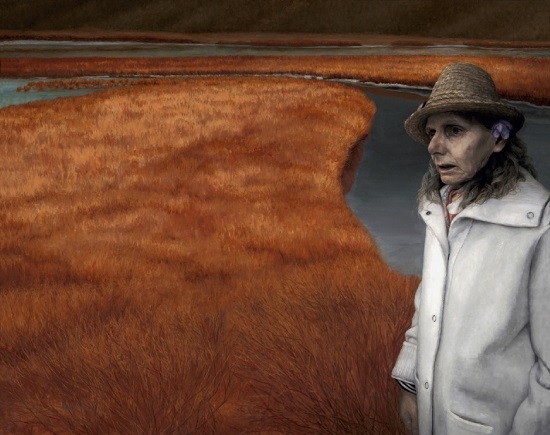 Dementia by Candice Bohannon Reyes
Dementia, by Candice Bohannon Reyes, was one such painting. I felt like I was being presented with a more dignified way of dying, the expression on the face felt like one of my own someday, and in spite of the loss of memory, I am flooded with them. They ebb and flow as I look at the painting and I just wanted to stand there and enjoy that pleasant state of being with a great painting. When I asked Candice about this she said that this was a friend of hers, someone she spent time with, connected with and took the time to address this friends situation in a sincere way. There is a deep rooted human attachment here.
And then, just a few steps away, the feeling continued in the soft self portrait by Sadie Valerie. What a beautiful portrait! And then with Teresa Oaxaca, a lounging, living doll. The feeling was that I was witness to a building wave, a powerful, necessary revitalization of painting, sculpture and even more so, at it's best, a revamping of our cultural aesthetic. Notice I said at it's best, for quality craftsmanship here is paramount.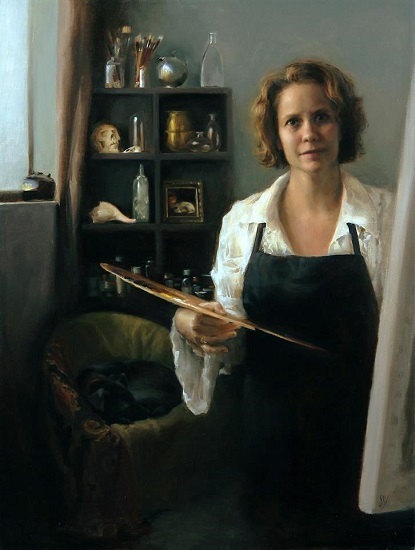 Self Portrait at 41 in the Studio (with Dog) by Sadie Valerie.
Julio Reyes, in his panel presentation spoke straight from the heart, telling a story about his grandmother who would tell him stories about her youth, about how life was for her, about real experience. The humanness that we feel when an elder tells a story needs to show in the work, and come across as authentic, and I see this in Julio's work. Here is a painter with something to say and he says it elegantly, just on the other side of the fence, where industry ends and the rolling hills begin. Here is a man who really understands that there is something that travels from one generation to the next and what it means to respect that which continues and honor its presence, and pass it on. There is an article about Candice and Julio in the March 2014 issue of Fine Art Connoisseur.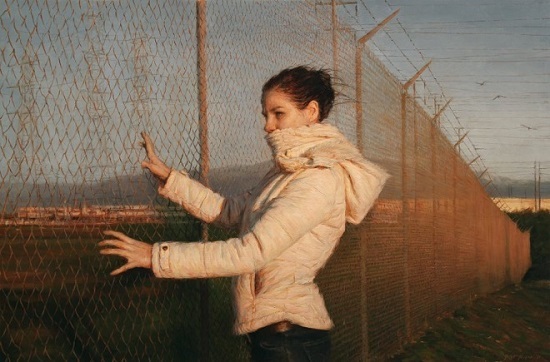 Headwinds by Julio Reyes, oil on canvas
Heidi Wastweet, who is serving a four year term on the Citizens Coinage Advisory Committee, which acts as a conduit between the public and the US Mint, had this to say about TRAC2014, "I understand where Odd is coming from (Kitsch-wise) but I don't think it applies to all generations and cultures. Generally I think Scruton is just a little too narrow in his views. I prefer Odd's ability to find beauty in the unusual vs overdone cliche beauty. In Scruton's talk I found some of his example of art he likes to be a bit boring to me. None the less I strongly admire his and Odd's willingness to stand up against the established art world.
Overall, I haven't been convinced that the art world should be divided into two schools of thought and/or teaching. Isn't this world divided enough as it is? The Traditionalists are bitter for being excluded but now some want to in turn exclude the post-modernists. An eye for an eye leaves all the artists blind. There is plenty of common ground between the extremes of art. I think of it as a bridge of inspiration.I loved the camaraderie and the hope that when we band together what we do can actually have a positive impact on humankind."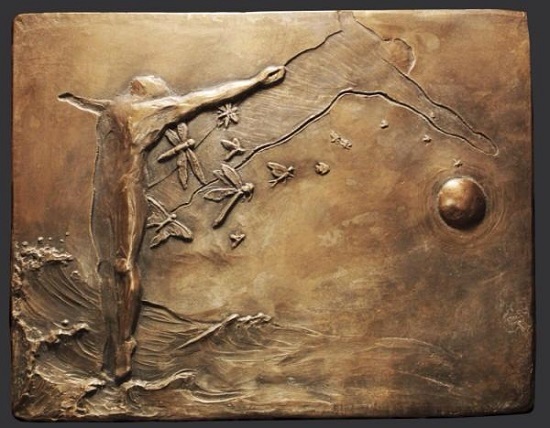 Letting Go by Heidi Wastweet, bronze
There are some questions about what this new classically oriented work should be called and how we can talk about it in the post modern era, how it should be taught in our schools, but, aside from the discussions, what is important is that the work is made and that it is here for us to enjoy. Institutions, such as the Art Renewal Center as well as colleges and ateliers around the world are focusing on this, the kind of art that we can be proud of and that addresses our needs.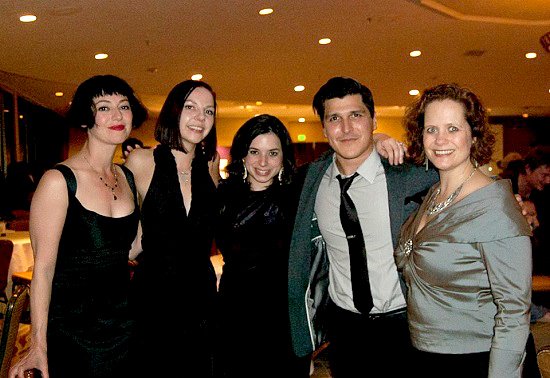 Felicia Forte, Candice Bohannon Reyes, Kara Ross (of the Art Renewal Center), Julio Reyes, and Sadie Valeri at TRAC2014, photo by Brittany McGinley
In route to TRAC2014 from the Classical Underground headquarters in LA, there was a lively discussion in Alexey Steele's Bronco that came to rest on the importance of the work and its need to be seen. Richard T. Scott put forth that we need to go to the people, that it is with the people that we find sympathy, and understanding. What we are talking about here needs to be more than an art movement, it needs to be a cultural shift.
"It is a new way of accepting and dealing with reality" agreed Alexey reinforcing the words with drama and volume, "And there is much Waaaaaaay much to be done"!
The reconstruction has begun. The work is being done. One painting at a time, one sculpture at a time. The need for genuine talent and authenticity on the cultural landscape is being filled and TRAC2015 is already in the planning stages.
For those of you who are creators, get off the net and do your work! For the rest of you, I encourage you to seek out what these fresh old masters are creating and share it with those who need to see it.