Throughout decades of wondering, wishing, and hoping that the direction of art would change, that we would begin to see work that touched us on a human level, that a sense of integrity would emerge, we did not imagine that we would ever experience the sort of coming together, the kind camaraderie that was experienced at The Representational Art Conference last week in Ventura.
TRAC2014 exceeded all expectations! With such high profile participants as Roger Scruton, Odd Nerdrum and Juliette Aristides it was sure to be a stellar event but there were many surprises that put the entire conference over the top for those who were there, and on the map for those who were not.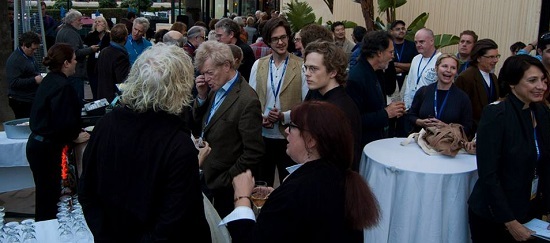 Odd Nerdrum and Roger Scruton attended the opening of TRAC2014 at the Crown Plaza Hotel. photo by Brittany McGinley
Over the past few decades representational painting has seen a resurgence in popularity, and quality, that has made it the most important movement in art today. As Kara Ross of the Art Renewal Society said, we are taking back humanity and communicating across borders in a universal language.
Roger Scruton, visiting professor in Philosophy at the University of Oxford and author of Beauty pointed out that beauty is a genuine, deep and healthy human need and that art should engage the full range of human experience. Odd Nerdrum, whose work has influenced an entire generation or two of American painters and who participated in a discussion with Scruton at TRAC, has told me many times, "We must paint what is missing here", and Peter Trippi, editor of Fine Art Connoisseur magazine stated, that something is authenticity.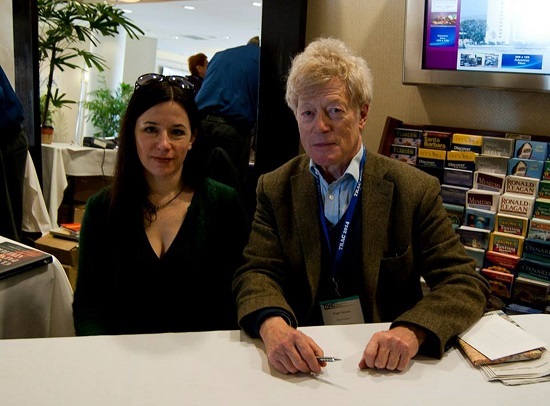 Julietter Aristidesand Roger Scruton were the keynote speakers at this years conference. Photo by Brittany McGinley
Even those who know nothing of Art and the philosophies that created it, can see that the Art world is corrupt and that it has lost credibility with the public and now, even more importantly, with collectors, which is evident by the fact that notable collectors, such as David Geffen, are dumping their collections before the bottom falls out. A structure based on false values is a house of cards and it was clear from the many conversations at TRAC2014 that we are longing for a cultural paradigm that is solid and based on real human values.
As might be expected, there were many brilliant painters and sculptors present at the conference but Michael Pearce and Michael Lynn Adams, the men who founded and organized this historic conference, were smart enough to include a wide range of academic paper presentations which dug below the surface and addressed the philosophy that drives the movement and which calls to light that every artistic movement throughout history has had a solid philosophy to support it. Their arguments were compelling.

It was a fullhouse at the Crwon Plaza hotel in Ventura. photo by Brittany McGinley
Stephen Hicks, Professor of philosophy at Rockford College and author of several books on the subject, gave an insightful presentation with regards as to how philosophy influences culture. He explained that when we talk about the so called "greats" of American literature, for example, Robert Frost, Ernest Hemingway, Tennessee Williams or F. Scott Fitzgerald, we end up with adjectives to describe their work, and thus their ideas, such as disillusionment, bleakness, cynicism and spiritual desolation. He gave examples directly from these authors write ups in the Norton Anthology of American Literature and then compared this "great" American literary tradition with the inexplicable behavior of human beings in the 20th century from the world wars, through the "great" depression, right on up to the present day and then he addressed us, "Okay class, now lets make some Art!"
He then showed us the twisted faces of Picasso, the scribbling of DeKooning and the screaming reality of Francis Bacon and then forward into the the Chapman brothers and, the whipping boy of the conference, Jeff Koons. It was clear that the Art work produced in the past 100 or so years paralleled, and in fact was the direct result of, the philosophies we have embraced. Modernism distorted the forms to illustrate 20th Century perceptions of reality. The philosophers told us that God was dead. If that is the case then I think we need smarter philosophers.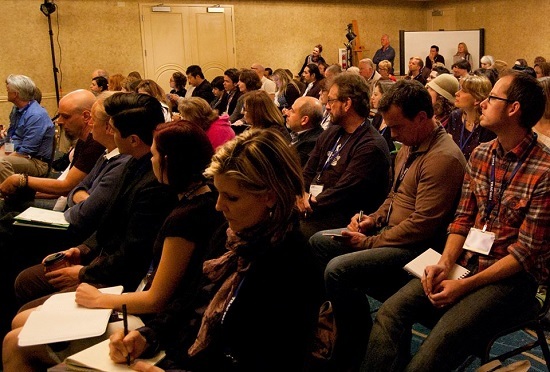 Attendance was up 400% over TRAC2012. Here a standing room only crowd listens to Peter Trippi deliver his paper titled, So, Great Art is Being Made Today: Who's selling it and Buying it, Why and How? Photo by Brittany McGinley
We can change this. We are not just animals as Darwin put forth, We do not necessarily have to accept an existence of alienation and exploitation. It is up to us to decide what really matters.
Hicks closed by reminding us that we have numerous reasons to be optimistic, should we train our intelligence to do so. Poverty in India has declined by millions in the past decade, life expectancy has risen dramatically since Pollocks day and the opportunities for women, gays, and minorities has never been greater. This should give the skeptics pause.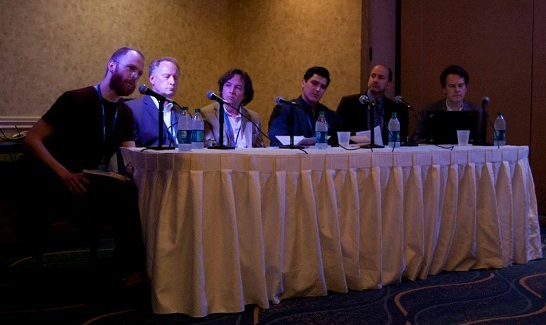 The panel discussion on The Aesthetics of the 21st centuty Representational Art with, Jan-Ove Tuv, William Havlicek, Alan Lawson, Julio Reyes, Moderator Peter Trippi and Steven Hicks. Photo by Brittany McGinley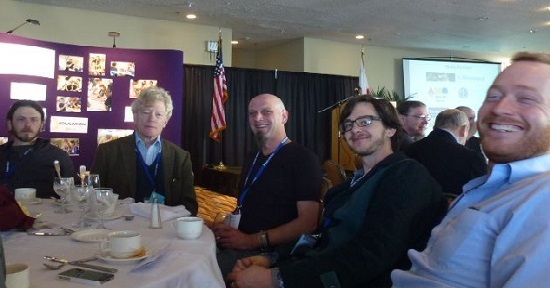 Breakfast with Roger Scruton at TRAC2014. Luke Hillestad, Roger Scruton, Brandon Kralik, David Molesky, and Richard T. Scott. Photo by Brenda Mercado
Other philosophers, writers and educators were on hand for the conference. Jan-Ove Tuv gave a well thought out talk about Odd Nerdrum's Kitsch philosophy which is most likely not what you think it is. He explained, that Art is an invention and referenced Kant and Hegel as the source of misconceptions that we have about our cultural aims and the world of Art as investment. He backed up Nerdrum's claim to be a Kitsch painter by revealing that it has been the critics of Nerdrums style that ultimately gave rise to him separating himself from the Art world altogether. Nerdrum has written several books and a number of essays and plays about his philosophy of Kitsch. There was uneasiness among the crowd with the word, but it seemed that they were in agreement with the principles it seeks to define.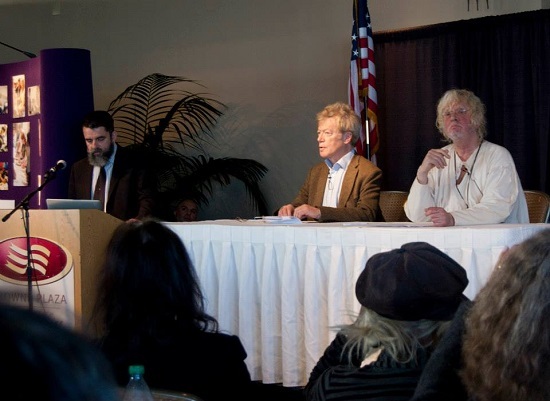 TRAC co-founder Michael Pearce with Roger Scruton and Odd Nerdrum
Nerdrum himself proposed the idea of having two departments in the universities, one which deals with the presentation of ideas in a post modern fashion and one that addresses the needs of students who desire a classical training. That is not to say that these young painters want to paint what the old masters painted and are content with mere memesis. Not at all. By listening to the many academic paper presentations at TRAC2014, it was clear that they have something important to say and which address our needs as human beings today. As Juliette Aristides said, "People who live in ugliness cannot produce beauty".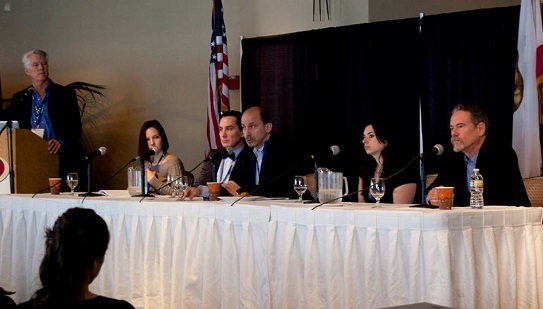 John Seed hosts a panel discussion with Candice Bohannan Reyes, Graydon Parrish, Peter Trippi, Kara Ross and F. Scott Hess about the future of representational art. Photo by Brittany McGinley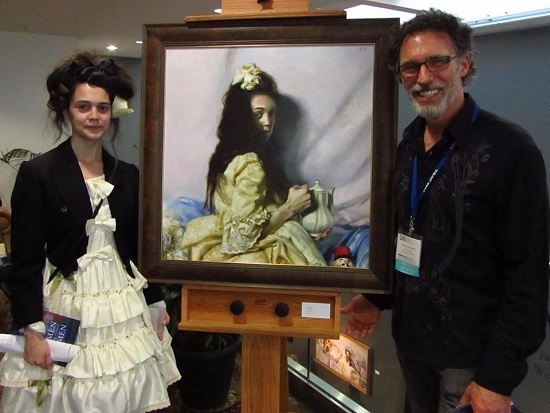 Teresa Oaxaca with her painting and TRAC co-founder Michael Lynn Adams, photo by Penny Yost
TRAC2014 should give the skeptics pause. After 100 plus years of deconstruction it is apparent that there is a reconstruction going on here. In a recent interview, Juliette Aristides, who is the founder of Atelier Aristides at the Gage Academy in Seattle and a keynote speaker at TRAC2014, said, "We are now getting a large body of well-trained painters.This is the perfect time to start discussing content, meaning, and philosophy."
In her excellent keynote presentation, on the final day of the four day conference she reminded this exceptionally intelligent audience that we are designed for beautiful environments and to do meaningful work. Aristides spoke of a new narrative and the creation of a compelling story about who we are. By working with symbols of humanity, which are universal, and to keep up the mantle by focusing on beauty. It is a real thing, it exists! People who live in ugliness cannot produce beauty she insisted, and these reconstructionists, these talented painters are poised to deliver art that helps us meet the truth of suffering and which has the potential tolead us toward a more intelligent way of loving each other.
It is about time.
California Luthern University, which granted funding for TRAC2014 will publish a book of the academic papers later this year.