Syzygy is the name of a two-man show opening on April 4th, north of New York City, in Lakeville, Connecticut. It is an alignment of two aesthetic visions. Those of Richard T Scott and those of myself, Brandon Kralik. Although we write extensively, we are both, first and foremost, painters. For years Richard and I have been working to much the same aim, to tell our individual stories in such a way that they resonate with a larger audience and to convey them using the classical techniques of oil paint.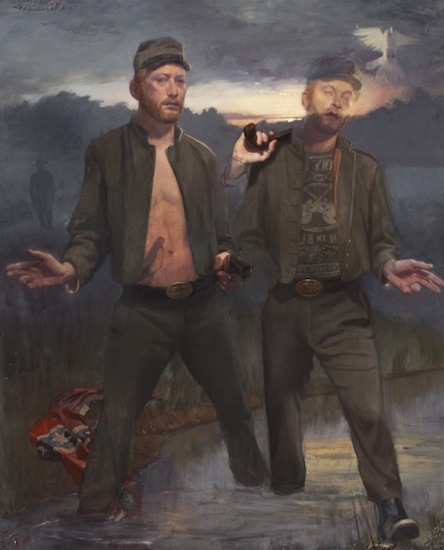 When the Man Comes Around by Richard T Scott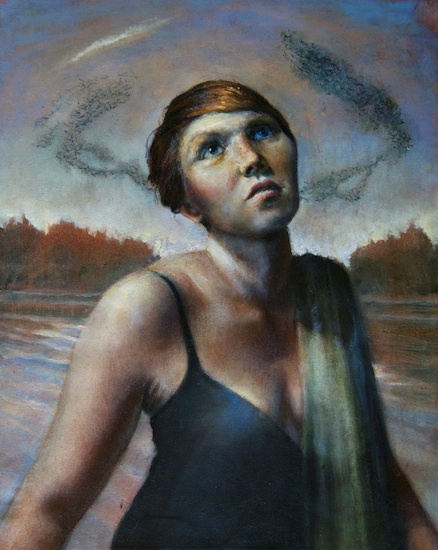 Murmuration by Brandon Kralik
In many ways to have a show of our work together was inevitable. Both Richard and I spent several years painting in the studios of Odd Nerdrum, myself in Norway and Richard in Paris. It was in Paris that we met 4 years ago and we have been collaborating in one way or another ever since. Both of our work can be found in the recently published coffee table book, The Nerdrum School as well as other publications. Syzygy is a summation of our work up until this point, which, for all of us is a critical point, for we as human beings are entering uncharted waters.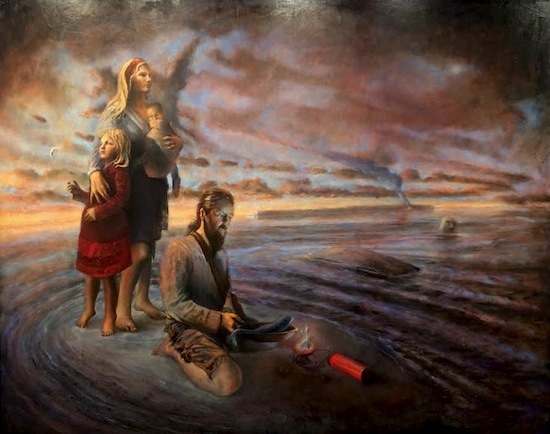 The Last Supper by Brandon Kralik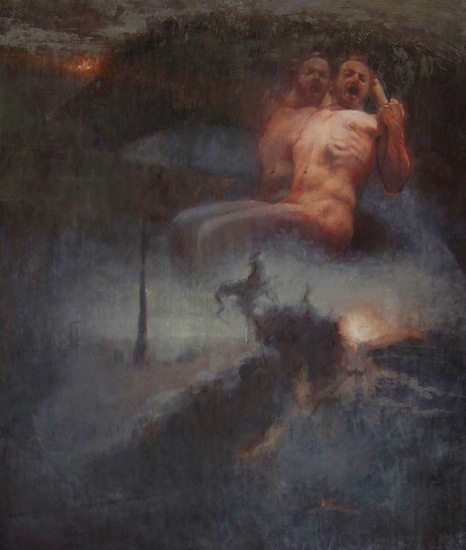 Atlas by Richard T Scott
Last spring at TRAC2014 in Ventura, California, where we both gave presentations, there was a definite forward thinking momentum within the representational painting community. There were hundreds of philosophers, educators, writers and painters who came together to discuss what organizer Michel Pearce called a shift in the cultural ocean liner and the realignment of our aesthetic values. Things have changed since the Post Modern philosophy took hold on the Art world and we share the hope that we can work together with other groups of painters to achieve effective and constructive results in this still young millennium. We hope to help deliver classically crafted paintings to a broader audience, a viewing public who not only has an interest in, a craving for what is happening here but is actually in need of what we have to offer.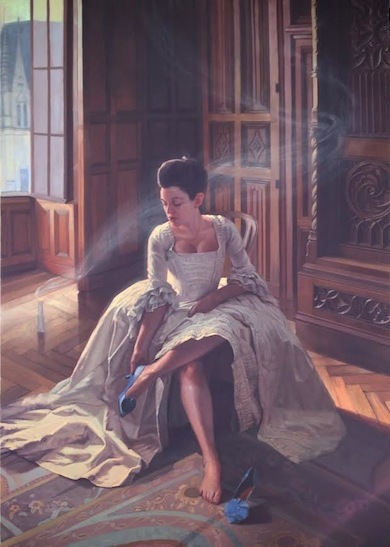 Impermanence of Time by Richard T Scott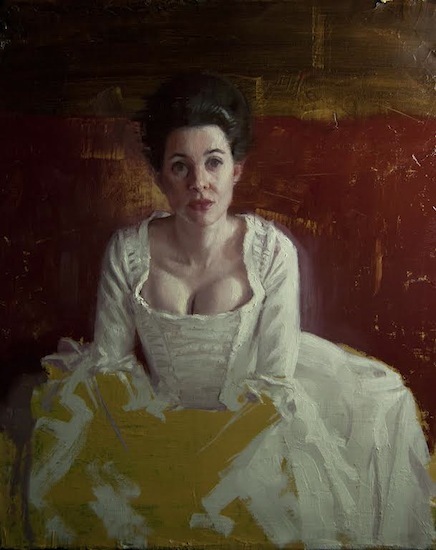 Kat by Richard T Scott
Richard T Scott and myself have noted that many of the cultural shifts, or peaks, that have occurred throughout history have coincided with changing world views, inventions and the ability for people to access information. The Greek civilization rose from an influx of knowledge and the expanded use of written language, as did the renaissance with the invention of the printing press. The industrial revolution allowed for global trade and the mass distribution of books and so we had the birth of a new aesthetic structure, Modernism. So now, decades into the information age it is inevitable that a new philosophy should emerge and with it a realignment of our aesthetic values.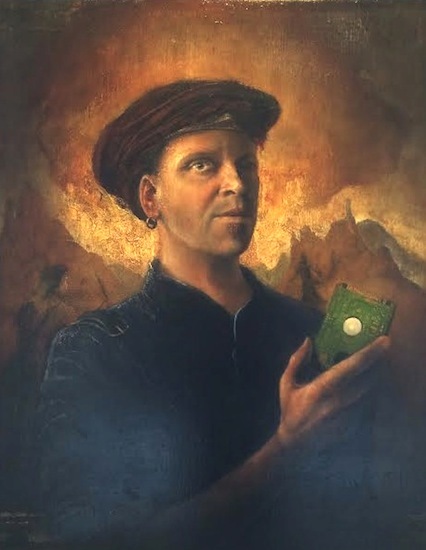 Man With a Hard Drive by Brandon Kralik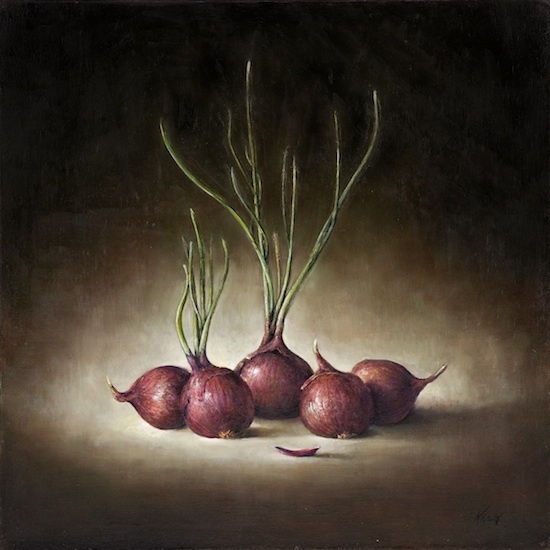 Transition by Brandon Kralik
Syzygy can also mean an alignment of celestial bodies and the visual image of the Earthrise is one that Richard and I discuss with excitement and curiosity. It has only been some 45 years since mankind first saw the Earth from outside our atmosphere and that symbol has become one of unity among the various nationalities, ethnic groups as well as for the environment. It goes to follow that a forward thinking philosophy is developing out of this new perspective and it is our hope that there is a place in it for paintings that are derived from a position of empathy and which speak to humanity in a dignified, symbolic language that is unique to painting. This perspective differs dramatically from the Post Modern aesthetic, which was firmly established before the new world view. Before we saw ourselves as a little blue dot.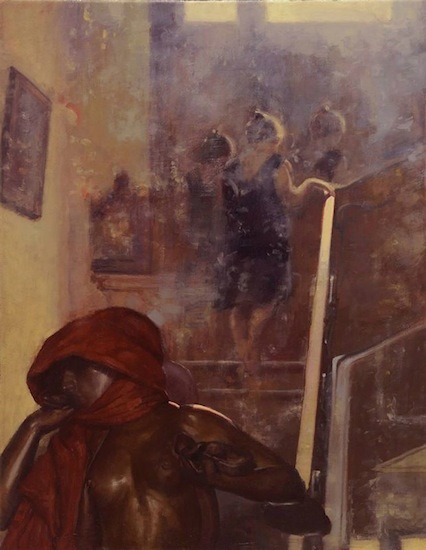 Ascension by Richard T Scott
The idea behind this exhibition is one of hope, one that combines classical painting techniques of the past and brings them with us into the 21st Century, into what we call a post contemporary paradigm. Painting is very much alive and now, more than ever, it can offer us a reprieve, a contemplative comfort, a place to rest the eye, even to counter the stress in our lives and relax the health threats posed by electromagnetic radiation, which the National Institute of Environmental Health Sciences concluded, "should be regarded as possible carcinogens."
Whether or not the power of painting includes the ability to heal, it certainly can help balance us in an world leaning dangerously toward imbalance. To be in the company of well crafted oil paintings is indeed a comfort. If you live with original oil paintings then you probably know what we are talking about. Richard and I have both heard this from collectors and viewers of our work for years. It is our aim to continue to work toward the masterpiece, to add benefits to individuals and to our society as a whole with our work and this exhibition, Syzygy, is right on target.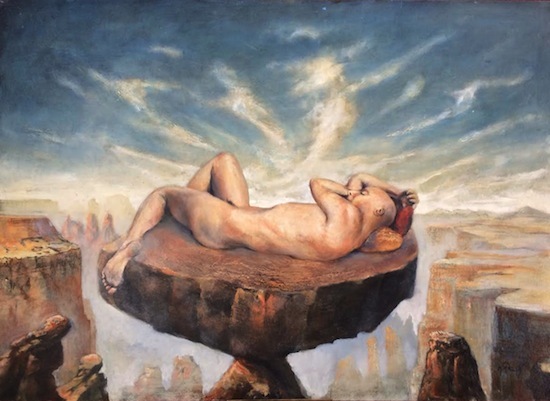 Sisyphus' Success by Brandon Kralik
Richard T. Scott earned his BFA from the University of Georgia an MFA from the New York Academy of Art. His painting Baptism won first place in Sattchi online's painting contest, earning him the privilege of having his work presented at the Grand Palais in Paris. His work is in collections around the world including the collection of the Museum of Contemporary Art Sicily and locally his painting What Remains has recently been added to the collection of the New Britain Museum of American Art.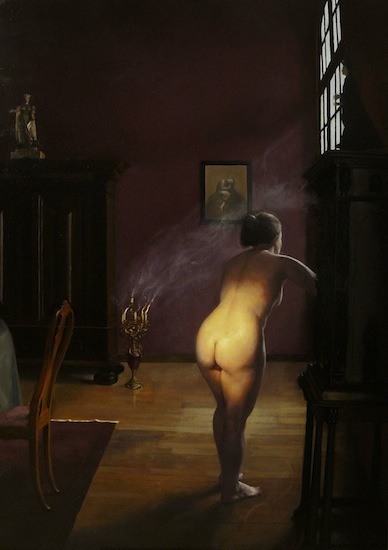 What Remains by Richard T Scott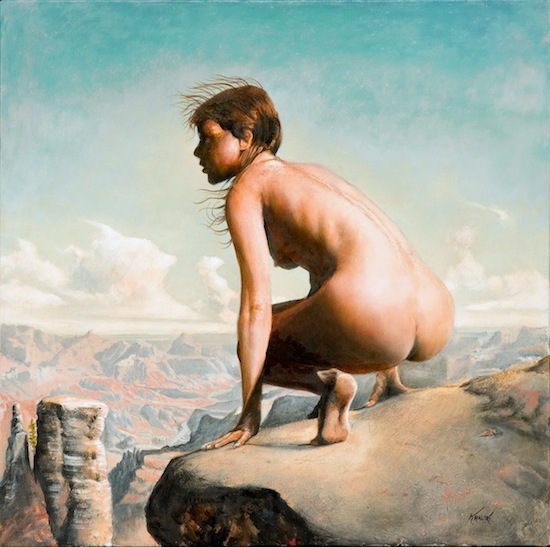 Young Shaman at the Canyon by Brandon Kralik
After a series of epic adventures, poetic jaunts to the far corners of the world, as well as an education in Fine Art at Western State College of Colorado and Hunter College in New York City, I came to Nerdrum's in Norway and afterwards opened my own studio in Sweden ten years ago. During this time my paintings have appeared in group shows in Europe and in the States as well as numerous solo shows including four in Stockholm. My work is in the collection of the Royal Family of Sweden, the Governor's Office of Jönköping and Steven Tyler, among others. Syzygy is my first major show in the United States.
Syzygy opens Saturday April 4th, in Lakeville, Connecticut with beverages and snacks served from 4pm until 7pm. The show will be up until May 3rd. Contact the Tremaine Gallery at Hotchkiss for opening hours, directions and purchasing information.