Odd Nerdrum has been painting figuratively, in a classical way for 50 years. When there were very few other painters who dared to do so, Nerdrum was at the easel, with the model, developing his style and story telling ability in such a way that has made him one of the world´s greatest living painters. People from all over the world have come to study with him and like other movements throughout history, his Kitsch movement has attracted not only great painters but musicians, composers, sculptors and writers as well.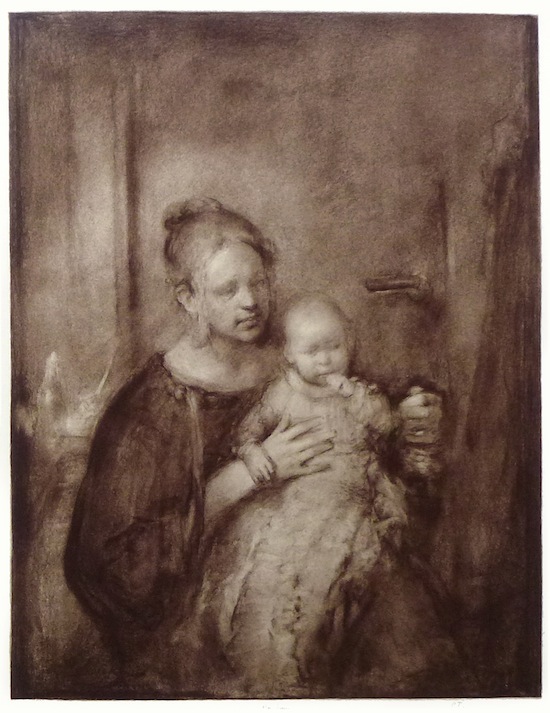 First Birthday by Odd Nerdrum

"Odd Nerdrum & Colleagues" a very special exhibition which brings together several painters from around the world who have spent considerable time working with the master in his studio and who have gone on to start their own studios, with students of their own. I am happy to be exhibiting in the company of such a close and valued group of friends.
Some of you know that when I left Hawaii to study with Nerdrum, which is a tale of epic proportions in and of its self, there in Odd's studio I met Nanne Nyander which of course changed my life in an unpredictable and beautiful way. We spent our first few years together painting in Norway and then we flew from one tropical island to another for a year or two before buying a house in Sweden, where we now live and have our studios.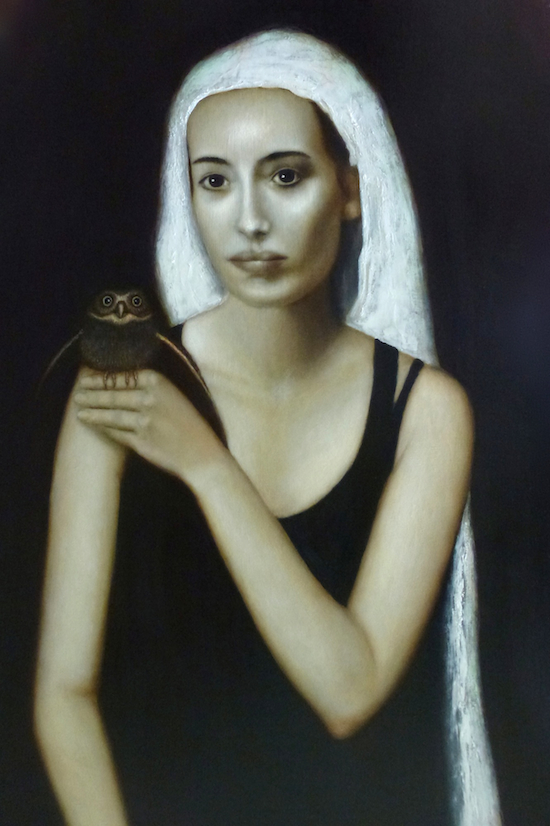 Wisdom by Nanne Nyander
Nanne Nyander came to Nerdrums from the Florence Academy in Italy and she has harmonized these diverse methods of painting together in concert to create her own style. Her paintings create a calm, collected presence for the viewer and with it they bring a message of courage and hope. They whisper truths.
She uses angels as a metaphorical messengers, as protectors, of ourselves and of the world we live in. She paints angelic expressions at a glance, and provides us with a long, smooth, appreciation for the life that we so desire to live.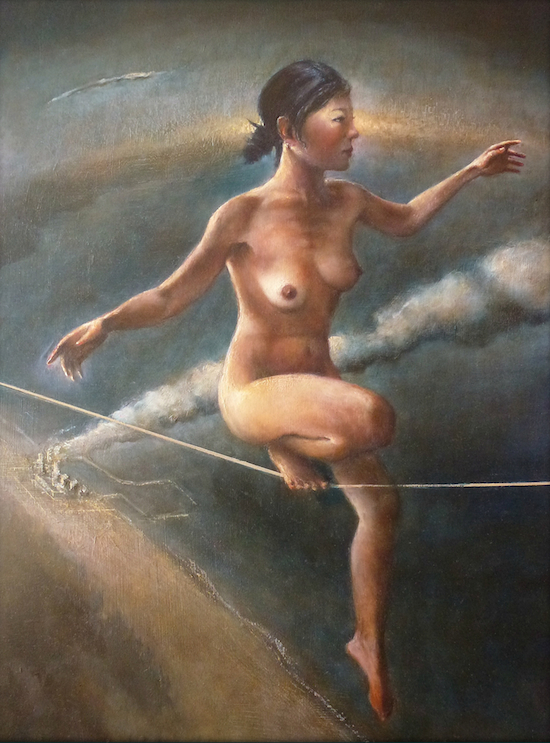 Hope and Balance by Brandon Kralik
My work is currently focused on the theme of balance and concentration. A slow steady knowing, the understanding that this is the right path, that this is the correct decision no matter how perilous the situation seems. These paintings are here as reminders of what we are capable of. I am fascinated with what human beings can achieve when they set their minds to it and personally want that idea to reverberate in my studio so I paint as much for me as for anyone else. I paint what I want to see and am happy to find others who like looking in this way.
Like Nanne, I strive to create paintings that help us celebrate life. With an underlying sentiment of dignity composed to affect our lives in a positive way. Painting is powerful that way.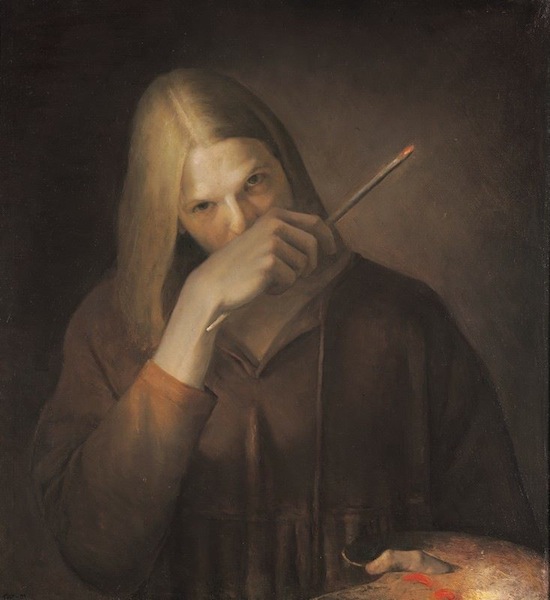 Ego by Jan-Ove Tuv
Jan-Ove Tuv was also working with Odd when I arrived at Nerdrum´s studio in the summer of '01. He had been giving lectures with Odd in the United States and co-authored the book On Kitsch with Nerdrum. He is a great man to talk with about the dichotomy between art and kitsch and a host of other things. He has a dedication to the classics, to the ancients that is rarely seen, unless of course you are spending time at Nerdrum's place. Tuv now has his own studio and teaches his students near his home in Norway.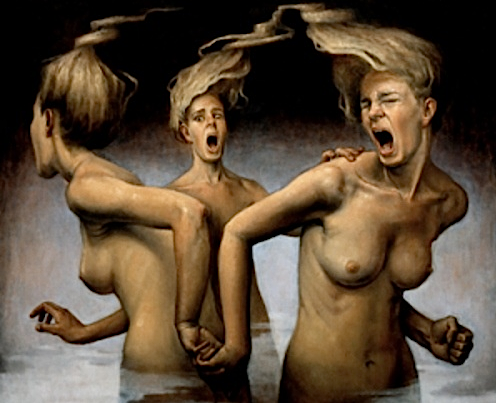 by Monika Helgesen
Monika Helgesen came to Nerdrum's at the same time and began exhibiting with the "group" in some of the first Kitsch exhibitions in the summer of 01 and 02. Monika's work is very introspective. She is bold and honest in her subject manner and she comes up with some lovely rollercoaster like compositions that lead the eye on a journey around and inward, powered with emotion. After studying with Nerdrum she was one of the first westerners to attend the Russian Academy of Art in St. Petersburg.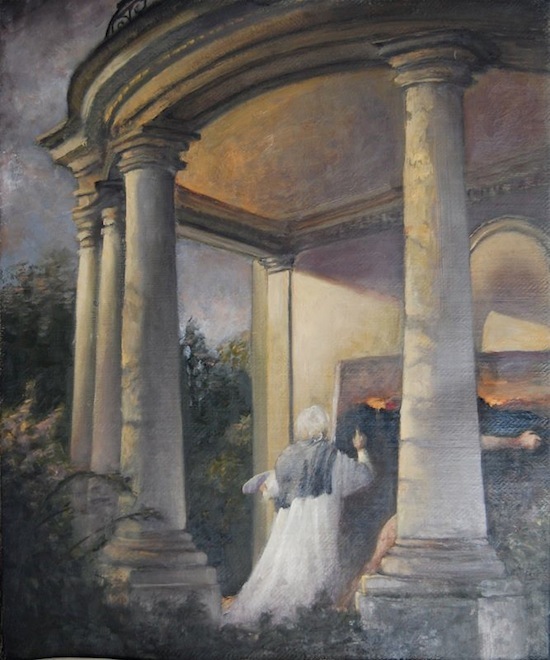 The Master at Work by Gunnar Haslund
The other two of the seven exhibitors I will be meeting for the first time when the exhibition opens this Saturday July 6th. Gunnar Hasland who will be exhibiting this beautiful picture of the master painting at his home in Maissons-Laffitte has spent a number of years painting with Nerdrum both in Norway and in France. In addition to his oil painting he is also an accomplished tattoo artist working in Norway and a number of books have been published of his work.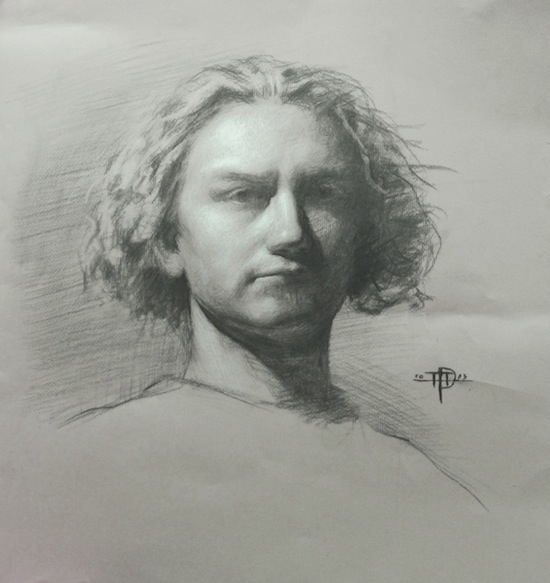 Self Portrait by Tor Petter Tobru
Tor Petter Tobru has been drawing and painting at the Florence Academy of Art in Sweden and his philosophy of quality and beauty harmonize directly with those friends of mine who I have been talking about. One of the best things about the Nerdrum Academy is the steady flow of fresh talent.
These are painters who have been working, day in and day out for the past decade, even decades in order to make manifest their ideas, to refine their technique, learn the materials and to bring you this exclusive show. When all is said and done, Odd Nerdrum and Colleagues deliver a fresh perspective on the human condition in a good old-fashioned way.
Odd Nerdrum & Colleagues opens Saturday July 6, at Raugland Gård Atelier in Stavern, Norway and continues until July 28th. More information can be found on Raugland´s website.