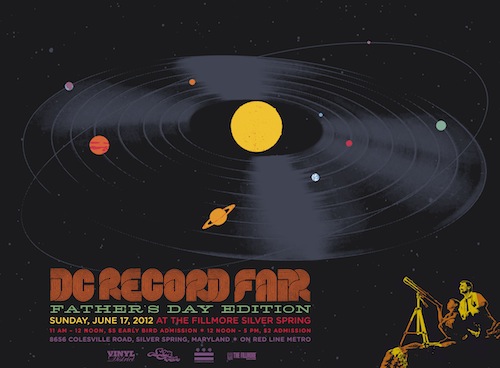 Jon Meyers, mastermind behind the very good music blog The Vinyl District and even better The Vinyl District app, along with Neal Becton from Som, Kevin Coombe from DC Soul Recordings and DJ Chris Knottbrings, brings the D.C. Record Fair to the Fillmore Silver Spring this Sunday.
Jon was kind enough to appear on my talk show in 2011 and game show earlier this year. We chatted about vinyl and collecting and the weird obsession that is buying things that sound inferior. I'll occasionally email the professional music appreciator about records I've purchased or am looking for. His app helped direct me to the correct store to purchase the Lee Hazlewood Record Store Day exclusive The LHI Years: Singles, Nudes, & Backsides (1968-71). (I found the record at Crooked Beat.) Because of our love of vinyl, Jon asked me to DJ at this Sunday's record fair. Expect a lot of soul and garage rock from Chicago. Not the band Chicago. I can almost guarantee I won't play any music from the band Chicago. Maybe "Make Me Smile." Or "25 or 6 to 4." That one's too obvious. I probably won't play any Chicago.
The next D.C. Record Fair will be at the Fillmore Silver Spring for the first time. This is especially cool because after Sunday I will be able to say I've played the Fillmore. Now in its third year, 12th fair overall, this event will be at vendor capacity. Forty collectors from up and down the eastern seaboard will unload their treasures to a slightly less cluttered public.
Jon told me that while the hardcore collectors will be at the Fillmore bright and early at the very rock star opening at 11 a.m., the general not uber-fan public should not be scared away. Rather than summarize an eloquent man, I'll let Meyers explain how the record collecting novice should approach the fair.
As a newby, it may be a bit overwhelming. The notion of record fairs is that they're in a Holiday Inn ballroom, full of a bunch of fat dudes. We're not that. There will be a lot of competing interests. There are DJs, there's a bar, there's screened merchandise.

If you know your personal niche, you'll find that. If you're into soul or classic rock, you'll find that stuff. Cursory digging will help you figure out who has what.

Two things should be on your radar, the early bird hour, 11 a.m. to noon, earlier on, the gems are there and once they're picked through, they're gone. If you're looking for something specific, you should come for the first hour.

The other end of the spectrum, towards the end of the day, you'll find a lot of guys willing to haggle. They don't want to take everything back home.

You can come without being into vinyl or even having a record player. A lot of people come and leave without records and have a great time.
In case you were worried that Meyers is too cool to be trusted, his most prized record purchase of the last six months is a sealed, second pressing of Kiss's "Alive" on Casablanca Records.
The Father's Day edition of the D.C. Record Fair is on Sunday, June 17 at the Fillmore Silver Spring. Admission for the first hour is $5, $2 after that. I'll be spinning records (putting records on a turntable) during the 1 p.m. hour. Expect to hear Bo Diddley, Al Scorch, Daniel Knox, Rock Falls, Ministry, Da Brat (if I can find it), Howlin' Wolf and more. Not the band Chicago.