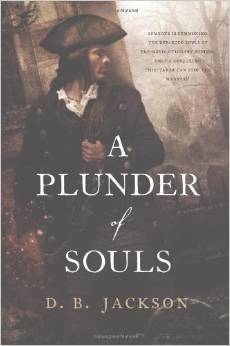 I am convinced that Ethan Kaille, a Boston thieftaker with supernatural abilities (circa 1769), is a real person. He'd better be. I just spend two evenings talking to the man--and several other characters from D.B. Jackson's Thieftaker Chronicles. It's not like I invited them; they came unannounced, peeping into my conscious thoughts for days after finishing Jackson's latest, A Plunder of Souls. Writing a letter? Ethan Kaille. Picking up dinner? Ethan Kaille. Shouting at traffic? Sephira Pryce. No matter what else I've done this week, I've also hosted the entire motley cast from Revolutionary-era Boston (and a share of gaunt-looking undead, too). That, my friends, is the power of brilliant characters in a brilliant book!
Something has gone wrong in Boston, and it's not just the rumblings of revolution. Graves have been desecrated, bodies mutilated, and the dead are rising. Someone, somewhere, is using the souls of the dear departed for dark schemes, and meanwhile, those conjurers who have the will to stop it find their own powers suddenly draining away. Ethan, who has been using his ability to stop criminals, finds himself suddenly in need of friends... even friends like deadly Sephira, who, let's face it, isn't exactly one of the good guys. Then again, terms like "good" and "bad" don't ring true in Jackson's works. It's one of his greatest strengths: These characters, whatever their intentions, whatever their powers, are driven forward by very human (and all too familiar) motivations. Who among us hasn't felt the dread of loss? The pinch of suspicion? The gnawing of want -- of greed, lust, and need?
I came to A Plunder of Souls without having read the other books in the series. Given that the books are set in a distant historical past, one that introduces an unusual kind of "magic," I might have found myself entirely lost. Yet, in very short order I understood, first, that the source of Ethan's conjuring powers has to do with the tenuous boundary between the land of the living and that of the dead -- and second, that "conjuring" requires sacrifices of the user's blood. While other fantasy novels take pains to instruct the reader on the exactitudes of magical ability (I am thinking of The Magic of Recluse, for instance), Jackson's novels instead invite you to trust the characters' own perspective. We learn with them, in action, under threat, and without the need for an omnipotent narration of how and why things work. And that, I think, is what builds the bond a reader feels almost immediately with the characters, and with Ethan in particular. He is fallible. He is middle-aged. He's a man with a past. And yet, like Sephira's own conjurer, we find ourselves willing to trust him. There is something real behind Ethan, something tangible, and we realize that nobility comes not from always doing right, but in the ceaseless turning away from wrongs. There are no super heroes in this supernatural tale; instead we find the potentially mad, the elderly, the coward, the hired gun, all joining in an attempt to halt a fate quite literally 'worse than death.'
A ship with a horrifying cargo, a madman with delusions of grandeur, a suspicious town gripped by another outbreak of very real disease: A Plunder of Souls toys with the uncertain barrier between here and the great beyond. The plot is gripping -- fast moving -- and a very worthy read (I should know, I read it in a single breathless day). But it doesn't stop there. Readers will find that the characters remain sharp and tangible long after the plot has come to a (rather uncertain?) close. The snap of dialogue, the crossed glance, the coarse texture of fabric and feather, wood, and leather all coalesce to make these some of the brightest and best characters I've encountered in a long while. I would watch them do laundry. But it's much better when they are running rough-shod through a warehouse district thick with the disturbed dead. Not only am I anxious for the next in the Thieftaker series, but I'm going to go back and catch up -- which means, of course, I'll be having mental company.
I better put on the kettle.