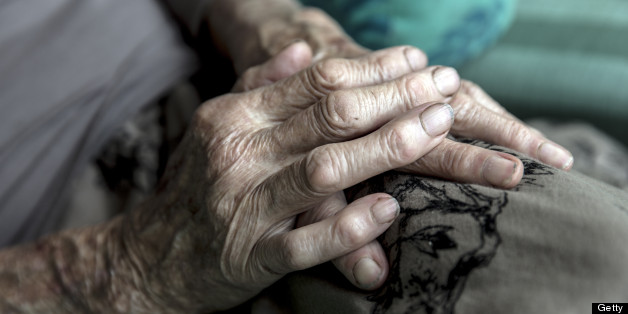 All my life, I've instinctively sought out elders. I longed for their patient, thoughtful scrutiny -- to be truly seen by someone who is wise. Someone who is critically detached, perceptive and yet very fond.
I've apprenticed to elders, even when I was very young. In my 20s, when I was working at The New Yorker magazine, I was one of the few staff members under the age of 30. Down the hall was a revered fiction editor, Rachel MacKenzie. Everyone was in awe of "Miss MacKenzie," who worked with such luminaries as John Jersey, Muriel Spark, Phillip Roth and Isaac Bashevis Singer. Her book, Risk, was one of the first accounts of open-heart surgery. The last lines of this harrowing and luminous book are: "Dear God, the miracle."
It took me five years as an editorial assistant at the magazine to work up the courage to submit my first novel to Miss MacKenzie. And only after I had given notice to move out West again. At my going away party, Miss MacKenzie called from her hospital bed to say she would edit my novel. In her precise, flowing hand, she "met me in the margins," and bought my book to its "highest light."
One day several years later, I was visiting Rachel MacKenzie in her Upper West Side apartment. She was dying of congestive heart failure. Rachel's silver hair was swept up in her trademark bun. In contrast to her hair, her strong black eyebrows seemed perpetually arched, as if in some private observation. Rachel is how I imagine an omniscient narrator.
"It doesn't really matter to me what people believe," Rachel said softly. She took off her huge glasses and gave me a look that I recognized as pure knowledge. "Nothing else matters so long as we find a way to be kind to one another."
When Rachel died, in 1980, I sat up straight in my bed in my Colorado farmhouse. I'd seen her in a dream that felt utterly real. She was perched at the end of my bed, but was still rather professional in her attitude -- as if editing me, but from another world.
"I'm in quite a different place now," she said in her delicate voice. "And I want to tell you something very important."
"What?"
"Where I am now, there is still suffering," she said. "But my dear, you understand... everything."
Since that night, I've thought of death as simply another chapter -- one in which I've already had a very fine editor. Rachel taught me not only to listen to my elders, but also to cherish them. Elders can be our true partners, long after other bonds break. An elder's love may well be the most far-sighted of all. And often more useful.
Some of the wisest counsel I've ever received is from a 93-year-old Russian immigrant, Sonya. She is a bit like a sphinx or a Delphic Oracle, since I've never met her in person, just spoken broken Russian on the phone with her. But through her daughter, my dear friend, Dianochka, I reap the benefits of Sonya's advice on everything from family issues to career decisions.
Sometimes her revelations are more like riddles than advice. Recently, she said, "God gives us everything we can handle. If we cannot handle what He gives us, it means it is not our problem. And we must forget about it."
I'm still working out that one. How can a woman from a Soviet culture, and someone who has never laid eyes on me, offer such persuasive insights into my life? Anyone who has read a Russian novel knows why. Sonya has never been wrong about anything.
Another of my elder-mentors is one of my long-time students, Mary-san. She is a Japanese American who was imprisoned in the WWII internment camps when she was a teenager. Her memoir, Looking Like the Enemy, was published when she was 80; and now at 88, she's just published Becoming Mama-san: Eighty Years of Wisdom. This remarkable book offers life lessons that are at once profound and practical, with chapters such as "The Privilege of a Simple Life" and "How Much is Enough?"
For over a decade I've taught and been taught by Mary-san. One of the most vital gifts she offered was what her Mama-san advised to fend off despair in the interment camps.
"Twenty years from now," Mama-san advised, "we may have nothing more than memories of how we conducted ourselves with dignity and courage during this difficult time. What kind of memories do we want to have then of how we faced these difficulties now?"
Another elder, Beata, passed down to me a very valuable lesson in giving. An immigrant to New York City in the 1940s, Beata had lost much of her family to the German WWII concentration camps.
In her early 70's, Beata was about to take off on her first trip to the Himalayas -- to hike. At her age, who knew if she'd come back? So, before she left on her journey, Beata handed me a beautiful bound 1921 edition of W. B. Yeats The Tower. This was the visionary Irish poet's last book published before he died. It was Yeats who once wrote, "Bodily decrepitude is wisdom."
We sat in Beata's spacious, light-filled New York apartment. It was full of bookshelves -- that's mostly what her family brought to this country when they escaped Hitler.
"Mein hand ist var," Beata said softly in her native German.
"What does that mean?" I asked.
"It means I'm giving you this now with my warm hand... not when I'm cold in the grave."
Beata smiled. In German, her name means, "beautiful." She reached out and took my hand and held it for a long time. Then I understood. Like all the elders in my life, she was offering me the greatest legacy of all: a glimpse of maturity as I grow older.
We look to inherit material goods from our elders. But for me, the real legacy is learning how to love -- during a world at war, when we lose our way or when we find ourselves in a new country. A territory we can only navigate by knowing who traveled here before us.
Brenda Peterson is the author of 17 books, including Duck and Cover, a New York Times "Notable Book of the Year." Her recent memoir, I Want To Be Left Behind: Finding Rapture Here on Earth, was named by The Christian Science Monitor as a "Best Top Ten Non-Fiction Book of the Year." Her new novel is The Drowning World. www.BrendaPetersonBooks.com