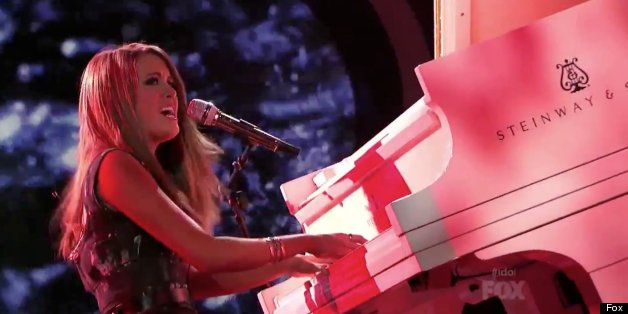 It's down to the Top 4 on "American Idol" and every contestant is fair game to make it to the finale. With stellar vocals from all, this week the judges critiqued the contestants more on their personality and presence than anything else. This week, each girl sang three times, once singing a song of their choice, next singing a duet with another contestant, and finally, singing a one-hit wonder (a theme voted on by the audience). The decision for the voters got even harder, with early favorites falling behind and underdogs pulling ahead. So who were the stars of the night? And who could face elimination?
Amber started off the night with Celine Dion's "Power of Love" and had all of the judges marveling at her growth as a performer. "You came in as a baby and you're now a pro," Randy told her. Nicki agreed, telling her she didn't even feel like a contestant anymore. Amber chose Richard Harris' "MacArthur Park" as her one-hit wonder, and once again, amazed the judges with her confidence. Keith told her that she was dominating and Mariah agreed, saying she was developing true star quality.
After meeting Drake last year, Candice was inspired to add a personal twist on his hit, "Find Your Love." All of the judges agreed that vocally, Candice is perfection, but Nicki and Randy both wished she had stuck more to the original melody of the song. Mariah and Keith, however, loved the performance, with Mariah telling her, "Please don't veer from taking those musical choices." For her next song, Candice chose to sing Samantha Sang's "Emotion." The judges felt that it was more contemporary than her first performance, with Nicki telling her she "didn't feel like it was 50 years ago" and Mariah calling her a superstar.
Kree took on the classic "Hurt So Bad" and while the judges were impressed by the vocal performance, they felt that she needed more emotion in order to truly stand out. Mariah told her that she loved that way she connected with the audience, but Nicki was not as pleased, telling her it was not a Top 4-worthy performance. Kree's one hit wonder was Procol Harum's "A Whiter Shade of Pale." Randy, Mariah, and Nicki loved the performance, with Nicki calling it angelic and Mariah telling her she wanted to download it. Keith, however, didn't think she truly showed off what she does best.
Angie chose to sing one of her favorite songs: Jessie J's "Who You Are." Sitting at the piano and easily belting out every note, Angie received a round of standing ovations, with Randy calling it "sheer perfection" and Mariah telling her that the caliber of her performance was beyond. "There's no one that compares to you in this competition when you're behind the piano," Nicki said. In her final performance of the night, Angie won over the judges with Julie London's "Cry Me a River." Keith called it celestially powerful and Nicki and Randy both declared Angie to be the winner of the night.
For their duet, Kree and Amber performed Adele's "Rumour Has It." Keith thought it was good, but wished they would cut loose a bit more and Nicki feared that Kree was losing some of her personality. "I want you to get back to a place where you're in the song," Nicki told her.
Angie and Candice effortlessly blended their styles with Rihanna's "Stay," receiving standing ovations from the judges. "Unbelievable! That's the way you do a duet," Randy exclaimed.
"American Idol" airs Wednesdays and Thursdays at 8 p.m. ET on Fox.
PHOTO GALLERY
"American Idol" Season 12