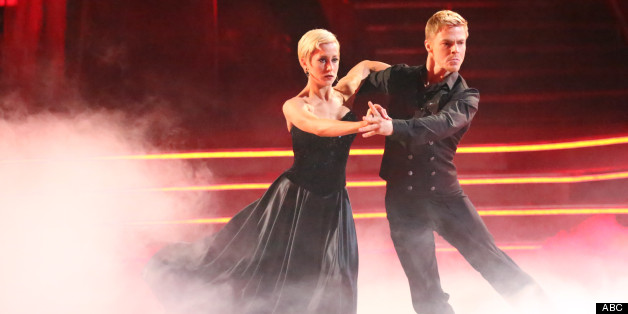 "Dancing with the Stars" is down to just five couples and it's the contestants' last chance to prove they belong in the finale. This week each couple danced twice, first taking on a traditional ballroom number and then a dance style voted on by the audience. With an eclectic mix of routines that included everything from afrojazz to the lindy hop, the night delivered some of the strongest performances yet, with practically every couple earning at least one perfect score. Still, someone has to go home tonight. So who's one step closer to winning the mirrorball trophy? And who's going to be packing their bags?
The Couples of the Night:
Aly Raisman and Mark Ballas: Aly and Mark took on a rumba that had the judges raving about her growth; Carrie Ann called her "all woman" and Bruno told her that her transformation was complete.
Score: 30
Aly's final dance was afrojazz, and though she wasn't sure what to expect from the dance style, the energetic routine captured the audience and judges alike. "That was ridiculous!" Carrie Ann exclaimed. Bruno agreed, telling Aly that she had exceeded all expectations.
Score: 29
Total Score: 59
Jacoby Jones and Karina Smirnoff: Desperate to earn the coveted "ten from Len," Jacoby gave it his all in his suave Argentine Tango and not only earned a perfect score from ALL judges, but even had Len leaping from his chair, screaming, "right on the money!" Carrie Ann enjoyed the routine so much that she couldn't even comment, nearly passing out when Jacoby gave her a kiss on the cheek.
Score: 30
Jacoby tackled the lindy hop next, and the high-energy performance had all of the judges raving. Bruno told him that he had nailed the routine and Carrie Ann named him the number one entertainer of the season.
Score: 29
Total Score: 59
The Standouts:
Kellie Pickler and Derek Hough: After their non-traditional paso doble last week had Len ranting, Kellie and Derek decided to stick to a straightforward routine for their Argentine Tango. The performance did it for the judges, with Len calling it fantastic and Carrie Ann telling her, "it's absurd that you can obtain that level of perfection."
Score: 30
In their second routine of the night, Kellie and Derek took on the flamenco, a dance that was unfamiliar to both Kellie AND Derek. The couple delivered, with Len telling her that, as far as he was concerned, she had just earned a spot in the finals. Carrie Ann and Bruno felt that she was a bit tense, but overall, they thought it was a great performance.
Score: 28
Total Score: 58
The Good:
Zendaya and Val Chmerkovskiy: Usually dominating the leader board, Zendaya and Val struggled with their impossibly fast quickstep. "That was kind of a mess," Carrie Ann told her, with Len and Bruno agreeing that they had a missed a few steps. Still, the judges admitted that, for the intense speed of the routine, they did what they could.
Score: 25
Zendaya ended the night with hip-hop, a style that she was much more familiar with than Val. As expected, she dominated the routine, and even traditional Len couldn't deny that it was a fantastic number.
Score: 30
Total Score: 55
The Mediocre
Ingo Rademacher and Kym Johnson: Ingo started off his night with a samba and had all of the judges applauding his determination. Len thought he did a great job with such a difficult routine, but Carrie Ann pointed out that Ingo is the definite underdog of the competition.
Score: 24
Ingo took on the Charleston next, and the upbeat number was just what he needed to impress the judges, with Len calling it his best dance of the season and Carrie Ann saying that he had perfectly captured the essence of the roaring twenties.
Score: 27
Total Score: 51
"Dancing with the Stars" airs Mondays at 8 p.m. ET and Tuesdays at 9 p.m. ET on ABC.
Which was your favorite performance of the night and who do you think is going home? Weigh in below!
PHOTO GALLERY
"Dancing With The Stars" Season 16 Cast