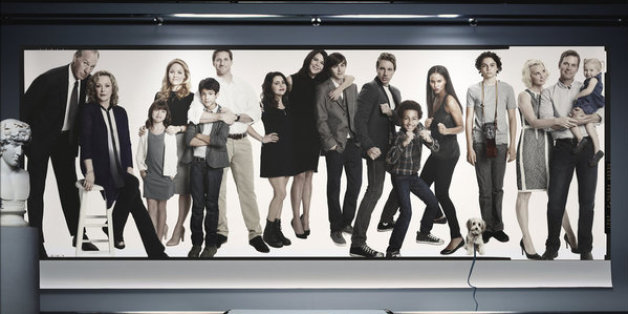 This week's episode of "Parenthood" struck a balance between the supportive Bravermans and the dysfunctional Bravermans. While there were obviously hugs and emotional talks a plenty, there may have been even more angry silences and tension-filled sighs.
Let's start with the heartwarming plotlines of the night...
Jasmine has convinced Jabbar to start taking ballet classes and, much to Crosby's dismay, he actually likes it. It's not that Crosby has an issue with Jabbar dancing, he's just afraid they won't have shared interests. Obviously a heart to heart with super-dad Adam ensues and Crosby learns to accept his ballet-dancing son. Plus, we get to see Jabbar plie and pirouette all over the place and it's obviously adorable.
Meanwhile, Sarah's obnoxious tenant, Carl, invites Sarah to his party in a surprisingly unobnoxious way. He seems to genuinely want her to come. Sarah declines his invitation and instead decides to spend the night watching football with Zeek. But when Zeek politely tells her to get a life, she realizes that she probably shouldn't be spending her Saturday nights alone with her dad. So she bravely shows up alone, much to Carl's surprise. The romance is definitely blooming, but what about Hank? Sarah does have a tendency to stick to old habits.
Tension builds in the mayoral race when Bob Little starts to get aggressive with his campaign tactics. A few years back, Adam punched a man in the face for calling Max a retard and Bob decides to bring it to the press' attention. The Bravermans are immediately under fire, with their so-called family values suddenly in question. Everyone wants Kristina to attack Bob right back. She has plenty of dirt on him and even Amber is pushing for Kristina to use his affair with Amber against him. But when it comes down to it, Kristina can't do it. Instead she calmly explains to the press why Adam had done what he did and that she had no comments on Bob's nasty tactics. Unfortunately, Kristina's polls go down four points... such is the price of being a moral Braverman.
Amber and Ryan's relationship continues to stumble when Ryan buys her an enormous rock for her engagement ring. Of course she appreciates the gesture but she can't help but feel confused and a little embarrassed. She doesn't know why he would blow all of his savings on a ring that she doesn't even care about. Amber finally manages to bring it up to him, telling him that she would rather save the money for traveling or starting a family. Ryan is obviously hurt and defensive, but immediately agrees to take it back to the store. He doesn't want her to have it she doesn't want it. Amber tries to move past the fight, but instead it drives a wedge between them and Ryan starts to push her away. Yikes, things aren't looking very good for the couple.
On the subject of troubled relationships, Julia and Joel's marriage isn't exactly thriving. Julia finally hears the official word from Victor's teacher that they want to hold Victor back a grade. Julia tries to talk to Joel about it, but he immediately explodes, telling her that she is constantly making decisions without talking to him about it. So instead of Joel supporting her through this (and vice versa), it's Ed that ends up comforting her (uh oh). Even Sydney has noticed that their relationship is struggling, asking Julia if Victor is the reason her and Joel have been fighting so much. Julia doesn't know what to say to Sydney, but it's obvious that it's not just Victor that's creating tension between Julia and Joel. When it finally comes time to give Victor the news, it's even harder than Julia expected. Victor is humiliated and angry, and immediately bursts into tears. It's one of the most effective "Parenthood" cry-scenes yet, which is really saying a lot. Joel leaves Julia without saying word, ending the episode on a slightly hopeless note.
"Parenthood" airs on Thursdays at 10 p.m. ET on NBC.