This blog is part of a series organized by The Huffington Post and the NGO alliance InterAction around the London 2012 Olympics.
Samsam and Mohamed's is an Olympic story most people won't get to hear. They may not even get the chance to compete in London. But, for me, their story is the most inspiring at this summer's Olympics. I'm their biggest fan.
I first saw the two Somali Olympians in a photo. At a stadium only half-standing after two decades of civil war -- walls pocked with bullet holes -- the Somali Olympic trials were underway. On a dirt track, Samsam Farah edged her teammate to grab the ladies' spot on the team. Her neon laces glowed but the bottoms of her shoes were worn flat. Mohamed Mohamed won his race, too. In the photo, he was perched on a pile of rubble, tying up his well-worn racing spikes.
Now, I'm in London at the 30th Olympiad, covering the Somali Olympic team for the worldwide I AM A STAR community. The I AM A STAR campaign partners with the worldwide Somali diaspora and their neighbors around the world to change the global narrative on Somalia while providing lifesaving relief to families in Somalia. The I AM A STAR community has succeeded in securing critical food, water and medical care for tens of thousands of families in Somalia over the last 12 months.
At 50,000 strong, this campaign's stars span the globe, and shortly before the London games, Samsam and Mohamed joined the team. I'm here to meet these two athletes who continued to train in Mogadishu amid death threats and gunfire. I wanted to hear how they motivated themselves under such difficult circumstances. Taking their lives in their hands every time they trained, they had to be incredibly driven. What an amazing story for Somalia. I wanted to be in the stands when they ran.
*****
Just before coming to London, I received a photo taken in the team's weight room. Samsam and Mohamed wore tentative smiles, two young people resisting joy in favor of caution. The two were leaving war-torn Somalia and heading to the Olympics, joining the most prestigious athletic assembly in the world to compete on the world's most intimidating stage.
The night before the Opening Ceremonies, I went with Somali friends to a local restaurant for Iftar dinner, the sundown meal when Muslims break their fast during the holy month of Ramadan. It was also to be my first meeting with Samsam and Mohamed. I was nervous. I approached them with a bit of my own Olympic-star-struck awe and some reserve, wondering if they were really the intense, driven athletes I'd imagined.
It took five minutes to see theirs wasn't just a story about personal achievement and dogged determination. For these two athletes, being at the Olympics is about making an impact for their country. "I feel that I can really make a difference through sport," Mohamed told me.
Mohamed and Samsam are taking it head on. "I have realized that as an athlete during this Olympic games is the perfect time to help my community and country," Samsam explained.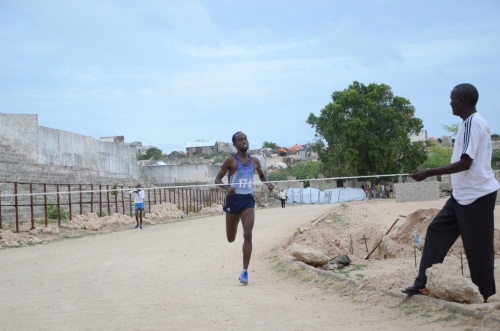 Later, when I asked Mohamed why he got involved with I AM A STAR, he told me, "I had some ideas of NGOs and had met a few people who work for them before, but it was different when I heard about I AM A STAR. I was happy to know that there are people -- around the world -- who want to help Somalia. I wanted to add my cheers and let all my fans and friends know about the campaign. I'm proud to be a part of that."
"It is so kind of people around the globe who don't have any connection to Somalia to put energy and money to help us. I was really surprised to hear it," Samsam said. "Now, I feel that I'm not alone. I never imagined that people in places like Malaysia or Taiwan are thinking about Somali people. I used to hear that the world had forgotten us."
Right now , the I AM A STAR campaign is encouraging the world to cheer for Somalia during the London games. Each 'cheer' on the I AM A STAR Facebook page (www.facebook.com/iamastarforsomalia) provides one ring on a paper chain built-in Minneapolis, MN. A cheer can be as simple as posting 'Go Somalia. Go Samsam and Mohamed.' Or even just liking the page.
Once we have 50,000 cheers and 50,000 rings, $50,000 will be donated by Somalia-based Hormuud Telecommunications to programs that are helping rebuild Somalia.
Sitting here writing this, I remember the first photos of timid Samsam and cautious Mohamed. After eating Iftar, we posed for a picture that sits on my desk now. In the photo are two confident, young athletes whose Olympic dream is not only a race but a leading role in a global movement to do good and take it home.