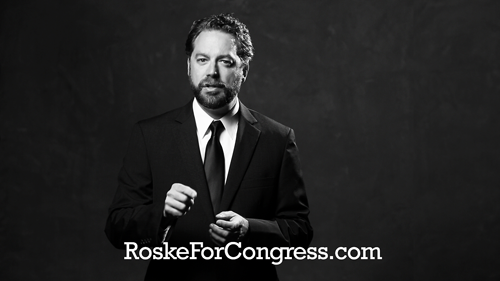 VIDEO BELOW: Filmed in one take with no teleprompter, Congressional candidate Brent Roske offers three concepts he'll implement if elected to Congress, including the creation of a Congressional District Council, filming his time in Congress and giving a weekly speech on the steps of the Capitol.
"3 New Ideas - TV Spot" (transcribed)
Hi - I'm Brent Roske and I'm running for U.S. Congress. I don't know about you but I'm sick of the partisan games in politics. I'm sick of the fighting -- I'm sick of the bickering -- and I don't know about you, but I want to be proud of our government.
I was the first one in this race -- a few months after that Marianne Williamson joined -- and then sometime after that, the impossible happened: Henry Waxman retired. And then a whole busload of candidates showed up. And it's up to you to decide if these new faces really want to represent this district or they were just looking for any open seat to fill.
As they say in my business, let's cut to the chase. Here are three original ideas you will only get if you elect me to Congress: first, I would create a Congressional District Council, made up of other candidates to help give this district the benefit of all of all their areas of expertise. I'm not an expert in everything and neither are they. To be clear, I haven't asked any of them about this and some may say no, but I bet if I get elected, they'll show up. These weekly meetings will be taped and put on the internet and the public's interaction will be encouraged. I'd ask Wendy Greuel, Elan Carr and former candidate Bill Bloomfield for their help on fiscal issues. I'd ask State Senator Ted Lieu for his help on legislation and district issues. I'd ask Barbara Mulvaney and Matt Miller for their help on policy. And just as important I would ask Marianne Williamson for her help creating more cooperation in Congress, because, in fact, that's the reason I'm running. Did you know that out of 435 members in the House of Representatives there's not one Independent? I'm what they call on both sides of the aisle the 'squishy middle'. During my work in entertainment, we called it just being reasonable.
Second original idea: if you elect me to Congress I'm going to have TV cameras come along with me -- real accessible, open Congress. You're going to be in every meeting and you'll be able to see who's working for themselves and who's working for their constituency.
Third original idea, if you elect me to Congress, every Wednesday morning at 7am I would walk to the steps of the Capitol and I'm going to give a speech on America. Field trips from all over the country and tourists from all over the world -- they'll be able to get energized again about American patriotism and they'll see that our Government was created by the people -- to serve the people -- and is accessible.
My campaign is a low money campaign -- why? Because I don't believe you should need millions or have to be a millionaire to run for Congress. In fact, I think just the opposite is true. The Founders of our country created the job of Representative to be a mirror of the people from that area -- shopkeepers, farmers, househusbands and housewives -- and in this district, the entertainment capital of the world, a writer/ director like me, well, I fit the bill.
This is a low money campaign so if you like this clip, send it to your friends and family and say 'On June 3rd, I'm voting this guy for Congress and you should too'. If you think the task is too great, if you think Congress is too broken, and that one Patriotic American citizen can't start to revolutionize the way our Congress works, then just try me. I don't think it should be Red versus Blue anymore. This commercial was filmed in black and white, but what you're actually seeing are shades of gray. I'm Brent Roske and I'm running for Congress. I wrote and directed this commercial, so yeah, I guess you could say I approve it's message.
Brent Roske is a candidate for California's 33rd Congressional District, along with Wendy Greuel, Marianne Williamson, Ted Lieu and Matt Miller. Learn more at RoskeForCongress.com