2011 was a year of loss but also renewal and new discovery in painting.
It was sad to see so many great painters pass away -- from under-known artists Gabriel Laderman, Pat Passlof, Hedda Sterne, George Tooker, and John Hoyland to internationally renowned painters Cy Twombly, Lucian Freud, and Helen Frankenthaler. The work of these artists demonstrated the vitality and possibility of the medium, and we celebrated and rediscovered their work as we lamented their passing.
New exhibitions introduced audiences to younger painters such as Josephine Halvorson and re-introduced masters like Willem de Kooning, whose retrospective at the Museum of Modern Art remains on view until January 9. The 2011 exhibition season also highlighted the rich history of painting including the Metropolitan Museum's current exhibitions Wonder of the Age: Master Painters of India, 1100-1900 and The Renaissance Portrait from Donatello to Bellini (on view through January 8, 2012 and March 18, 2012, respectively). Finally, a museum dedicated to the nearly complete oeuvre of a single artist, painter Clyfford Still, opened in Denver.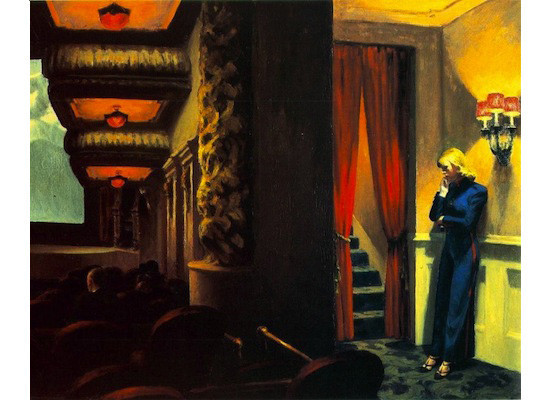 Edward Hopper, New York Movie, 1939, Oil on canvas, 32 1/4 x 40 1/8 inches, The Museum of Modern Art, New York
The year in painting was also one of the most thoroughly documented in recent years. The loss of high profile painters combined with the excellent painting on view resulted in more reviews and media attention, with Art in America magazine devoting its September issue to painting. There was also an upsurge in the number of artists blogging and sharing work (theirs and their colleagues') online -- providing a more intimate view of current studio practice and a more personal level of response to exhibitions and events.
From the nearly 700 posts featured on Painters' Table in 2011 (selected from both the mainstream media and the blogosphere), the following twenty represent a unique take on the state of painting in 2011. They include the voices of both professional art writers and artists, themselves. Criticism and exhibition reviews from art writers put contemporary paintings in context with work in other mediums and assess the impact of painting on the art world as a whole. Artist blogs, on the other hand, provide unique views of to what artists are responding to, what visually interests them, what trends ring true to them, and what is influencing their work in progress - work that will likely be on view in 2012. Taken together, the professional critical voice and the voice of the artist have provided a fuller, richer picture of the art of painting in 2011 and the possibilities for 2012.
PHOTO GALLERY
Painters' Table: Top 21 Best Posts of 2011